Best Binoculars for Surveillance (Reviews & Buying Guide)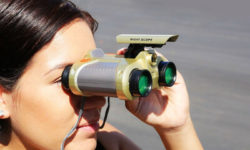 Buying the best binocular for surveillance can be a tricky task but reading this review and guide should make the process much easier.
Considering the fact that the human eye doesn't provide clear images of faraway objects and even gets worse over time, a great pair of binoculars can be your best casual and professional companion. The best binocular for each individual depends on the preferences of that individual but below is a generalized list of awesome binoculars that are ideal for surveillance purposes.
Top 10 Quick List of the Best Binoculars for Surveillance
1. Bushnell PowerView Super High-Powered Surveillance Binoculars
2. Feihe 7×35 PowerView High-Powered Binoculars
3. GuangYing Super High-Powered Surveillance Binoculars
4. G4Free 12×25 Super High-Powered Field Surveillance Binoculars
5. Carson MiniZoom 5-15x17mm Compact Zoom Binoculars 
6. Bushnell LYNX Gen 1 Night Vision Binocular, 2.5x 40mm
7. BIAL 20×50 Portable Super High-powered Surveillance Binoculars
8. Steiner 10×42 mm Police Binoculars
9. Olympus Outback 8×21 RC1 Binoculars
10. CAIDU PowerView Super High-Powered Surveillance Binoculars
 Reviews of the Top 5 Best Binoculars for Surveillance
If you are looking for high magnification binocular with an impressive imaging performance, then this Bushnell Powerview binocular is your best bet. The 20x magnification power brings ever detail amazingly close to you while the large 50 mm lenses make your views bright in low light.
The design is unique and ergonomically well thought. The device comes with an instafocus system which makes focusing on distant and moving objects much more pleasant.

The Porro prisms and lenses have anti-reflection coatings which keep your views sharp and color true while the fold-down eyecups make the 10×50 PowerView binocular well suited for eyeglass wearers.
The sleek black rubber armor on the exterior prevents damage from shock upon accidental drops and also provides a nice non-slip grip when your binocular is wet. As with all high powered binoculars, the field of view is not as wide as you get with standard binoculars; it measures 57 meters at 1000 meters.
The binocular is tripod adaptable but it is not waterproof or fog proof. But this is still one of the best binoculars for surveillance; add it to your list.
Okay, we know GuangYing is not the first name that comes to mind when you think of binocular manufacturers but for all its great features, their Super High Powered binocular earns a place on our list. It is a versatile binocular that's suitable for various outdoor activities.
It is one of the best binoculars for police surveillance as it provides crisp and bright 10x magnified views. It also features an insta-focus system which focuses all the way to 5.0 meters. Any cop will appreciate the fog and waterproof features and the excellent durability of the device.

It is great for use at low light conditions such as at dawn, dusk and even performs satisfactorily at night; thanks to its exit pupil of 5 mm. All included accessories are quality too and the binocular is very easy to use.
The binoculars are quite heavy at 1150 grams and that's mostly due to large objectives and use of a Porro prism system. Lenses are fully multicoated which makes this binocular almost perfect for a budget-friendly option.
We just had to include the Carson MiniZoom 5-15x17mm Compact Zoom Binoculars to the list, it is unique and provides a good value for your money. It considers one of the best surveillance binoculars in the market available now. The binocular provides a 5x magnification of views which can be easily increased up to 15x using a smooth zoom wheel.
The dimensions are 4.1-in x 1.3-in x 3.4-in, and it weighs just 6.1 ounces (172.9 grams) so you can have this in your uniform pocket and not even notice it's there till you need the superb views it provides.
The objectives are quite small with diameters of just 17mm so this might not offer pleasant views in low light conditions. Depending on your set level of zoom, the field of view ranges from 183 ft. to 315 ft. per 1000 yards.
The internal prisms are the BaK-4 type while the lenses are fully coated for the highest level of imaging performance.
This awesome binocular has the backing of the renowned name Bushnell, which offers so many great binoculars and this is one that wouldn't disappoint you even on the darkest nights when you wouldn't see anything with normal binoculars.
It comes in a lightweight build which makes the binocular comfortable to use for extended periods. The built-in infrared (IR) sensor which offers great long-lasting night views is powered by just two replaceable AAA batteries.

The viewing range of the infrared illuminator reaches up to 90 yards which puts this binocular in a league of its own.
The binocular can be used in a wide range of applications such as wildlife viewing and bird watching and it's without a doubt, one of the best binoculars for cops and other law enforcers especially for short-range surveillance.
Quality materials were used in the construction of this device and it features wonderful ergonomics. Views are highly stable and the 40mm objectives make sure you get the brightest versions of the images.
You instantly realize how great binoculars should feel in your hands when you hold the Steiner 10×42 police binocular for the first time.
But comfort is not all this device offers, the views it provides are stunning and by far, among the sharpest, you'd see through any pair of binocular lenses. The fast focus system makes it very easy to observe moving targets and this can contribute immensely to the success of your missions.

The housing is made of Makrolon polycarbonate which is very durable but relatively heavier than magnesium and aluminum alloy chassis. The dimensions of the Steiner 10×42 police binocular are 4 x 8 x 7. In while the weight is 2.2 lbs. (997.9 grams).
There is hardly anything to complain about the wide 328 ft. field of view.    If you've ever asked "what are the best binoculars for surveillance?" you've just found your answers.
Conclusion
Binoculars are commonly used for various fun activities like bird watching, wildlife exploration, hiking and so much more. However, law enforcers also need dependable surveillance binoculars that can make their jobs much easier. There are loads of binoculars to choose from and it can be daunting to settle for one which is why we've done all the necessary research and brought you a list of the best binoculars for surveillance.