This article will help you to consider all the best features in this Vanguard Spirit XF 10×42 Binoculars Review.
No matter what purpose you want to use binoculars, you should pay attention to the quality and price. Furthermore, there are several points to be considered when purchasing binoculars.
In this review, you will find out about all the details of the Vanguard Spirit XF.
Best Features of Vanguard Spirit XF 10×42 Binoculars
Rubber Armored Magnesium Body- durable, scratch-resistant, slip-resistant, and easy to clean.
Waterproof and fog proof.
Fully multi-coated lenses.
Lightweight, open bridge body design.
Ergonomic grip with large focus adjustment wheel.
Excellent near focus- A short close focus is beneficial for seeing sharp images of an object that is near you.

Long eye relief- for those who wear glasses, spirit XF's 2 stage twist-out eyecups provide long eye relief and a full field of view.
Bak4 Prism- A Bak4 prism provides a circular field of view for a better observation experience, and it creates a sharper edge to edge clarity.
Tripod adaptor- This enables you to mount your binoculars to a tripod for stable viewing easily.
Edge to edge clarity – high contrast images and brilliant color reproduction.
Technical Specification
Dimensions: 15x13x4.2 cm
Magnification: 10x
Weight: 667 g
Objective Lens: 42mm
Warranty: Premium Lifetime
Eye Cup: twist-out eyecups
Field of View @1000m: 111m
Focus System: Center Focus
Lens Coating: Fully multi-coated
Ocular Adjustment: ±4
Phase Coating: Yes
Color: Black
Prism Type: BaK4 Roof Prism
Relative Brightness: 17.6
Twilight Factor: 20.4
View Angle: 6.3
Waterproof: Yes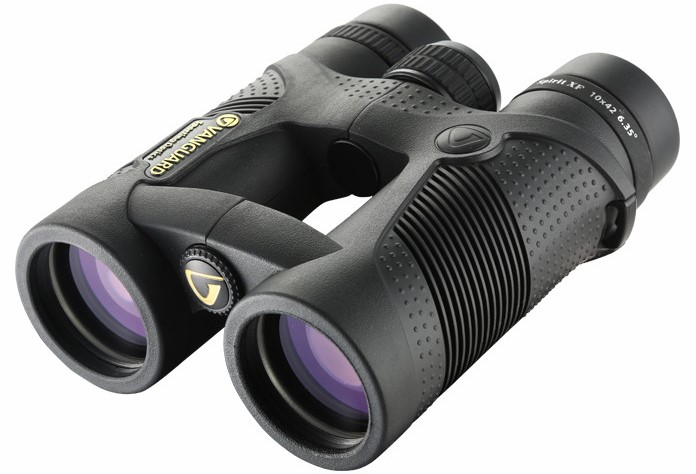 Pros
Impressive picture quality.
Comfortable open bridge design.
Adjustable eyecups with a long spacer ring.
Slip-free and well-rubberized cover.
The focus is very simple.
Cons
Commissioning
We opened the original box and took the binoculars. The binoculars were in another carton, which was for extra protection from getting any damage, as much as possible, through the transport.
This cardboard was still intact. So we took the Vanguard Spirit XF and freed it from another plastic film. To use the binoculars, we took out the protective flaps, and we were about to start our practice test.
Facts & Figures
The Vanguard Spirit XF has a weight of 667 grams. With the dimensions of 15x13x4.2 cm, it possesses the average size and is pleasant for many hand sizes of users. The lightweight is convenient for outdoor use and thanks to a nice comfort bridge that the use is enjoyable.
The wheels for the different settings are very easy to operate and can even be adjusted easily. This is a very handy item, especially in the cold months. Especially the wheel for focusing is to be mentioned, which is most frequently used and is easily adjustable. Even with a single finger, the appropriate settings can be found.
Operation and Functions:
The Vanguard Spirit XF has been designed to be waterproof and is not only splash-resistant but also can remain a few meters underwater without water penetrating into the enclosure. Although the binoculars are more expensive to the midfield, it belongs to the upper class from the optical quality.
The entire field of view is very sharp, and users do not have to worry about edge shading. The 10x magnification offers the possibility to see objects better over long distances.
The outdoor unit was conceived as daylight binoculars and can, therefore, be seen clearly during the day, but it can also be used comfortably during the night. It does not offer the same features like a night vision device, but with sufficient residual or moonlight, the visibility can also be significantly improved even in complete darkness.
Comfort
The wearing comfort is also excellent: the binoculars have been non-slip and lay very well in hand. A carrying strap is also available, which has been designed as a collar, but with a few simple handgrips can also be converted to a shoulder strap for the storage bag.
The glasses on the front are protected by rubber covers that are attached directly to the glass. So you can take them down and just leave them hanging. The lens cover on the backside must be attached directly to the strap since it has not been attached to the binoculars. If necessary, you can also put them in the storage box so that you don't lose them.
Handling
The handling of the binoculars is optimal. The manufacturer has integrated a perfect solution. Due to the rubber coating, no other disturbing factors are applied to the eye, so that one can see particularly clear. In the settings, possibly there is no problem to recognize. When using, all settings can be made directly on the binoculars.
Even the focus is very simple. You can use the focusing wheel to adjust the desired sharpness by finger. Since the wheel is very easy to move, you can move it with just one catch. Also, spectacle wearers have some of the binoculars because the equipment makes it ideal for people with visual treatment. There is a diopter compensation in the device.
Service of the Manufacturer
If you have any queries about the Vanguard Spirit XF, you can contact the manufacturer by hotline or by mail. We have also tested this point and addressed us with a few questions to the hotline. They were very friendly, and our questions at the end of the conversation were optimally answered.
Are there Accessories:
In addition to the actual binoculars, two dust caps are also included to protect the lenses from dirt and should be used when you are storing the device for a long period of time. In addition, there is a carrying strap, which can even be removed if necessary and a carrying bag is also available for making your traveling easy.
The carrying bag has a belt loop on the back, and two short straps with a click-through closure have been integrated. For cleaning, a lens polishing cloth is included, and a detailed description helps you with the use of all functions.
Read More: Steiner Safari Ultrasharp 8×30 Binoculars Review
Conclusion
The Vanguard Spirit XF 10×42 Binoculars Review ensures us that the device is extremely robust and easy to handle. The images are transmitted optimally, and the focus can be adjusted correctly. The binoculars do not allow reflections and shading which is especially pleasant. The easy handling has caused us to place the Vanguard Spirit XF in second place in our test series.