With a 10×50 binocular you have the unique possibility to look at small things at a great distance.
Particularly, in the fields of hunting, observation in the open and on holiday, 10×50 binoculars are the ideal equipment for experiencing things from an entirely new perspective. But what do you have to consider when choosing the best 10×50 binoculars?
An important factor is first of all your personal requirement because depending on the purpose of the use of the binoculars; differing models are suitable. There are different magnifications, and the diameter of the lens plays an important role.
Do you need binoculars 10×50 only in daylight, or do you want to use it even at dawn? Also in the nature of the housing, there are differences. Small models are often more practical and easy to transport. Waterproof binoculars can be used in any weather. We have summarized some models for you here.
Top-Rated 10×50 Binoculars for 2018
Best 10×50 Binoculars Review 2018
1. Eschenbach Arena D+ 10×50 Waterproof Binoculars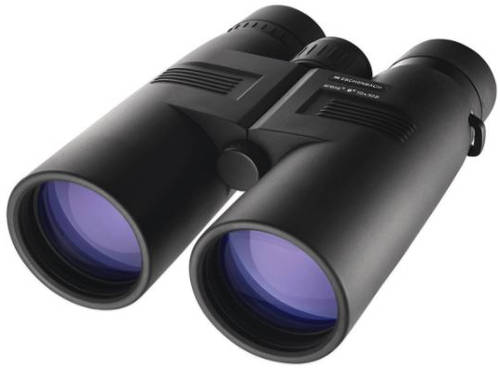 Are you looking for high-quality binoculars and attach great importance to the best quality? Then Eschenbach arena D+ 10×50 BaK will be right for you. Eschenbach offers innovative and high-quality products in the area of telemetry. These best value 10×50 binoculars are a universal model.
With this modern binocular, you will be able to observe animals and plants in the wild or to get to know your surroundings from an entirely new perspective on your holiday trip. With 10x enlargement, the smallest things suddenly become quite large.
This roof-top glass has a little weight so you can transport it easily on journeys or longer hiking tours. The fifty-millimeter lenses of the binoculars provide plenty of light, making the image incredibly powerful.
Due to its waterproof feature, you can use this model also in bad weather. With the adjustable eyepieces, you have the possibility to adjust the ideal distance.
With this high-quality Eschenbach binoculars every hiking tour, every trip or sporting event will become a very special experience.
Special Features:
Field of view at 1000m: 94m
Near point: 3m
Waterproof (up to 3 minutes at 1-meter depth)
Spectacle eyepieces
BaK-4 prisms
Suitable for travel, nature and sports.
Nitrogen filled (no fogging of the interior optics).
Tripod thread.
5 years manufacturing warranty.
Summary
The modern Arena D Plus binoculars 10×50 convince by an optimal viewing result and excellent quality. This handy and waterproof model is perfect for all kind of hunting, hiking, sports or sports events, and allows you to have an extraordinary experience.
2. Nikon Action 10×50 EX Extreme All-Terrain Binocular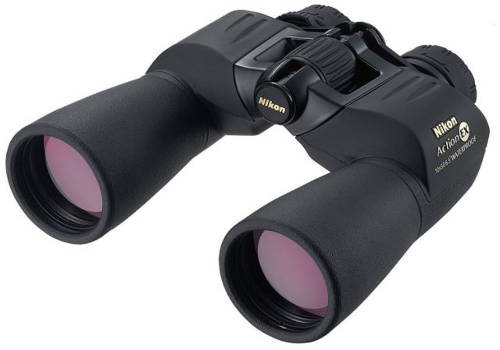 Would you like to observe plants and animals in the wild or have planned a holiday with a hiking tour? Then the Nikon Action 10×50 Binoculars is the perfect equipment for you. These high-quality binoculars offer numerous applications. Thanks to the large lens diameter, the visual acuity is particularly good and provides an optimal viewing result even in low light.
So, you can also go in the early morning hours of observation through the woods. Also, thanks to the large exit pupil distance, the Nikon binoculars are the high quality 10×50 binoculars for stargazing that are also ideal for spectacle wearers.
For hikes or extended stays in the forest at different times you are often also exposed to temperature fluctuations. So that you can still enjoy bright and clear vision and do not fog the binoculars.
The Nikon model has a high-quality nitrogen filling. It's waterproof nature also allows you to use in any weather since rain cannot affect it.
The multi-layer coated lenses promise the perfect sharpness and a high-contrast image. Comparatively lightweight Nikon binoculars offer a significant advantage during transportation, as it will not be a burden for you on a long journey.
Special Features:
Field of view @1000 m: 114 m
Dimensions (LxWxH): 178x196x68 mm
Water resistant up to 1 meter for 5 minutes.
Nitrogen gas (fog-free interior optics).
Large exit pupil distance.
Well suited for spectacle wearers.
Rotating and sliding eyecups.
Multilayer-coated lenses.
Rubber armoring.
Summary
The Nikon Action EX binoculars 10×50 combines versatility with high functionality and the best quality. It is universally applicable and offers a sharp and contrasting viewing pleasure in any weather. For outdoor activities or long trips, it is excellent as it is light and waterproof.
3. Nikon ACULON A211 10×50 Binocular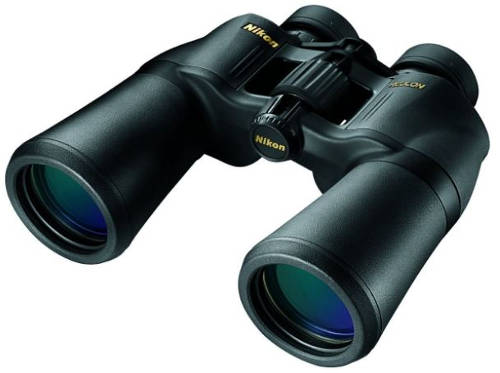 Are you looking for a high-quality and robust 10×50 binoculars? The quality brand Nikon stands for first-class quality and offers first-class products in the field of long-distance optics.
The Nikon Aculon A211 Binoculars 10×50 has an unusually large lens diameter so that you can enjoy a bright view and a pleasantly wide field of view. Thus, a sharp image transmission is ensured, if the light conditions are sometimes not optimal.
The high-quality Eco-glass lenses are free of lead and arsenic. They promise a precise picture and let you look at things from an entirely new perspective. Thanks to the innovative optical system of the Nikon binoculars with multi-layer-coated lenses, you will experience a particularly high resolution with this model.
Thus, every look into the distance becomes a unique experience. The ergonomic best compact 10×50 binoculars can be transported comfortably.
Thanks to the rubber armoring, it is very handy and does not slip out of your hand even in wet weather and is shock-resistant and sturdy. This high-quality 10×50 binoculars cannot be damaged in any weather.
Special Features:
Field of view @1000 m: 66 m
Focusing distance: 15 m
Weight 960 g
Dimensions (LxWxH): 197x197x68 mm
Large field of view
Multilayer coating quality.
Eco-glass lenses for the precise picture.
Adjustable rubber eyecups for optimum distance.
Rubber armoring for grip.
Tripod adapter.
Summary
The innovative Nikon Aculon 10×50 binoculars convince by the first-class quality and high-quality processing. The large lenses guarantee a perfect viewing result, and the modern optical technology guarantees a broad range of functions.
Nikon Aculon A211 10×50 Binoculars Video Review
4. Bresser Corvette 10×50 Binoculars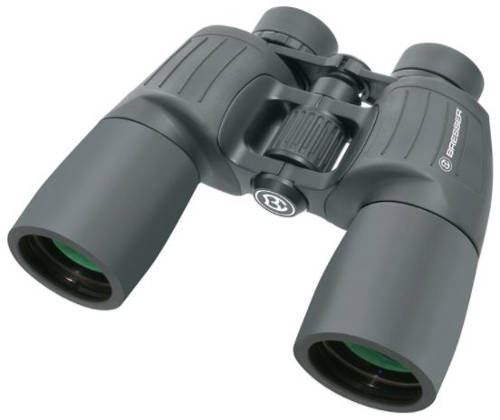 Are you looking for a high-quality binoculars 10×50, which is also suitable for long-term observations? Then the Bresser Corvette will be the best rated 10×50 binoculars for you. This model is not just traditional binoculars, but scores with its unique and particularly sharp image reproduction.
The innovative and precise working mechanism guarantees an optimal viewing result. The Corvette 10×50 binoculars are made of high-quality BaK-4 glass material coated with a multilayer coating that increases both contrast and brightness. For this reason, the modern binoculars 10×50 are also suitable for use at dusk.
Due to the increased eye-point, the large LE-eyepieces also allow spectacle wearers a wide field of vision. However, not only the sharp and brilliant magnification makes these binoculars a unique model, the rubber armoring and the light weight of the case promise grip and an optimal transport possibility on trips or longer trips.
With this universally applicable 10×50 binoculars, you are optimally equipped for observations in nature or holiday trips. When purchasing this model, you will get a nylon bag, a practical cleaning cloth as well as a detailed instruction manual.
Special Features:
Field of view @1000 m: 114 m
Weight: 980 g
Dimensions (LxWxH): 170x194x63 mm.
Extremely sharp image reproduction.
Precise working and mechanical design.
BaK-4 glass material with multi-layer coating for high contrast and maximum brightness.
Long eyepieces for the wide field of view.
Rubber armoring.
Twist-up eyecups.
Summary
The modern Bresser Corvette 10×50 binoculars combine functionality with innovative mechanics and lets you get to know your environment from a completely new perspective. It is easy to handle and allows you to have a clear view even in low light conditions. Let yourself be convinced by this powerful 10×50 binoculars from Bresser.
5. Tasco Essentials 10×50 Binoculars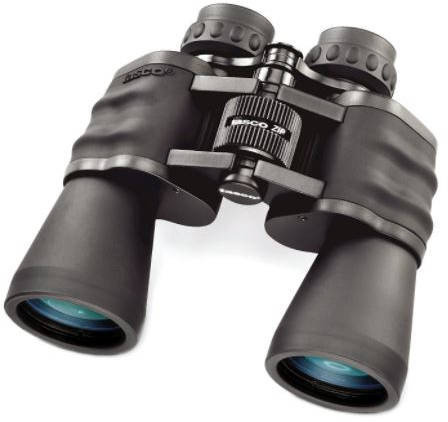 Tasco Essentials binocular 10×50 was designed with the beginner astronomer in mind. At just a fraction of the cost, this binocular brings the same performance as those of high-priced models.
Not only is it suitable for astronomical applications, but it is also versatile enough to be used for Birding, Hunting and Nature viewing. It is equipped with an array of innovative features designed to deliver unrivaled power and performance.
Tasco Essentials 10×50 is designed to meet the needs of the users. After hours of research, analyzing and testing the features, we consider Tasco Essentials 10×50 Binoculars as one of the top-rated 10×50 binoculars for hunting game.
Tasco Essentials 10×50 Binocular does not only enable you to view the long-range targets, but it also gives crystal clear and sharper images. This binocular displays pictures at a higher detail compared to the most conventional models on the market available now.
It provides the ideal level of brightness without compromising on the image quality. The binocular brings objects in close view without any distortion. It features no reflections inside, even when you are exposed to extreme sunlight conditions.
Special Features:
Durable long-lasting construction.
Highly portable.
Lightweight and compact for easy handling.
Outstanding image clarity.
Powerful magnification for mid-range viewing.
Capable of using in any type of weather.
High-quality optics with stunning HD clarity.
100% quality materials used and tested extensively.
Beautiful ergonomic design and durability built to last.
Fully multicoated lenses optimize clarity and brightness.
Rugged, weather-resistant housing coated with rubber armor.
Tripod-adaptable.
Fold-down eyecups.
Summary
Tasco Essentials 10×50 Binocular is a definitive choice for both professionals and amateur. This binocular is a perfect blend of style, robustness and great functionality. It is one of the most cost-effective binoculars you can ever think on the market. Its price is actually hard to beat, especially when you consider the exceptional performance it provides. This binocular is suitable for hunting, star watching, bird watching.
Read More: Best 8×56 Binoculars Review
6. Olympus Trooper 10×50 DPS I Binocular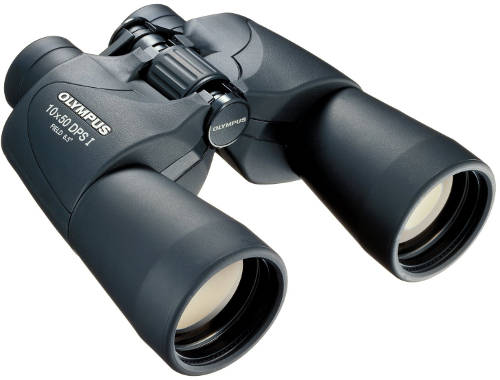 The Olympus 10×50 DPS I binoculars are the perfect combination of top quality, endurance, 10-fold optical power and affordability. Users will love the wide-angle view when they use them to view objects moving fast such as the football and players at your favorite game.
Olympus 10×50 DPS I binoculars also work well for all outdoor activities including bird-watching, hunting, hiking or other sporting events.
Unlike many other binocular options of similar power and quality, these Olympus Binoculars will not break the bank. They are priced at a reasonable price point that makes them much more affordable the competitors' options.
Olympus 10×50 DPS I is designed to meet the needs of the consumers. After hours of research, testing and analyzing the features, we put Olympus 10×50 DPS I binoculars as a best 10×50 binoculars for birding.
Special Features:
Easy & Fast Focusing.
Lightweight binoculars at 1.88 pounds.
More affordable than similar high-quality models.
They fit securely in the user's hand.
Very clear and bright viewing.
Comes with a carrying case.
Large center focus knob for fast, easy focusing.
Wide-angle field of view for fast moving objects.
Anti-reflective lens coating for better image brightness, contrast and quality.
Built-in dioptric correction adjusts to individual eyesight.
UV Protection for worry-free viewing.
New rugged, high-quality body with sure-grip rubber coating.
Summary
Overall, the Olympus 10×50 DPS I binoculars are an incredible one and are highly recommended. It is important to understand that these binoculars are made to enhance the viewing experience at daytime. It is also suitable for nature watching, sporting events or other outdoor activities. The wide-angle view is perfect for seeing the fast objects and larger areas. The images are clear, crisp, and bright. When the zoom is high, the object will not be distorted likewise on many low-quality models.
Read More: Best 10×42 Binoculars Reviews
Conclusion
10×50 binoculars are ideal for hiking, hunting, sports and all other outdoor activity. 10×50 binoculars help you to add extra attention to your activity. We have broadly reviewed top 6 best 10×50 binoculars for you so that you can save your time and choose one from the list. Also, to make sure that you are not choosing a low-quality binocular. So, pick one and go hunting, hiking or wherever you want.