Binoculars are optical devices used for making an image bigger for better observation. There are instances where vibrations and tremors limit the use of other optical devices.
Fortunately, this is not the case with these image-stabilized binoculars. They can be used to observe both fixed and moving objects without having to worry about any form of tremors or vibrations, even at higher magnification.
These binoculars improve clarity and sharpness and create more astonishing optical views. They reduce every unwanted movement delivering better and highly stable images.
Top-rated Image Stabilized Binoculars
What are the Image Stabilizer Binoculars?
Image stabilized binoculars are those binoculars that are equipped with image stabilizers.
These image stabilizers are electric sensors that eliminate all unwanted movement forms, which helps these binoculars deliver stable images. The best-rated image stabilized binoculars deliver sharp and clear images even at higher magnification.
They are recommended to be used for viewing unsteady platforms like moving boats, planes, or yachts, also to those with shaky hands and eyeglass wearers.
Types of Image Stabilized Binoculars
Basically, only two types of image-stabilized binoculars:- The passive system and the active system.
1. Active System
The picture is adjusted automatically by an electronic sensor that detects changes in the binocular's altitude in the active system. This restores the image view by altering some parts of the system, e.g., changing the prism's angle or the lens.
2. Passive system
A passive system is not equipped with an electronic sensor. The picture's adjustment is manually using a gyroscope or simply by separating the prism from the casing. This ensures that any form of movement does not affect the focus. The passive system differs from the active system in the sense that the latter uses an electronic sensor.
The mechanism of image stabilization is more useful and extremely important, especially for high magnification binoculars. These image stabilizers can also be used in camera and video lenses. The image-stabilized binoculars are more importantly used for viewing moving objects such as boats and planes.
Advantages of using the Image Stabilizing Binoculars
Binoculars are handheld devices used for larger and better image views. If used for a long period, especially while observing stars or other shaky images, the result is sometimes not satisfactory. Still, the image-stabilized binoculars can overcome this shortcoming.
The two major advantages of using image-stabilized binoculars are the larger view and a stable image view.
The image-stabilized binoculars offer clearer, sharper, and more contrasting images than other conventional binoculars. Image stabilized binoculars also offer higher image quality even in low-cost models.
The higher magnification and larger view of this image stabilize binoculars, making it feasible to track moving objects for longer periods even when they are in constant motion at great speeds. Therefore, it is important to point out that if you are to use binoculars for a very long time, it will be a nice idea to get yourself a pair of image-stabilized binoculars.
Disadvantages of Image Stabilized Binoculars
As we all know, everything that has an advantage most has its disadvantage. This is also true in image-stabilized binoculars.
One Disadvantage of image-stabilized binoculars is their extra weight and size. This makes them less comfortable to be used and may not be easily carried along.
Another thing of concern is their higher price. These improved models of binoculars have a higher price than the regular conventional binoculars.
The reason for their higher price is the additional features and technology inbuilt in them.
Another shortcoming is the use of batteries, which is so because the image stabilizers require electrical energy to function properly.
You can still make use of your binocular even if there are no batteries inside, only that the image stabilizer will not function.
Recommended Image Stabilized Binocular Reviews
1. Canon 12×36 IS Image Stabilized III –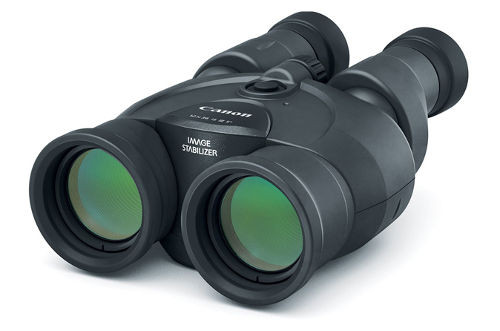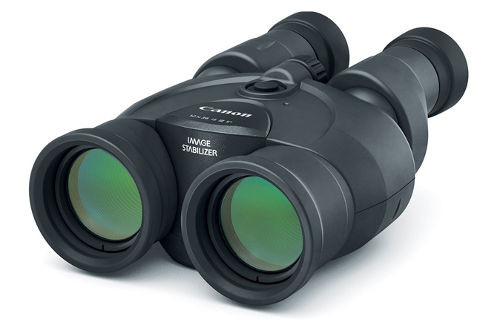 For clearer, sharper, and image-stabilized operation, the 12×36 canon IS III binocular has no match.
These binoculars offer excellent image quality, a speedy and elegant Compact design whether for hunting, stargazing, bird watching, or watching sporting events.
The Canon 12×36 IS III features image stabilizer technology, which helps deliver smooth, steady images and extended viewing even on shaky platforms without using a tripod. The canon optics help provide sharp, colorful, bright, and vibrations-free viewing.
This binocular is also friendly to eyeglass wearers as it features long eye-relief for comfortable use—the high magnification multicoated optics extra bright and wide field of view.
An image stabilizer ensures that you have a stable picture in every situation. With the Canon Super Spectra coating, high-resolution images are achieved with these binoculars.
Its doublet field Flattener helps give a sharp image from edge to edge. The optional AA lithium batteries coupled with enhanced power-saving technology provide about 12 hours of continuous optimum performance.
Things we liked
Compact and highly portable binoculars that are great for hunting, birdwatching, and lots more
Excellent Image Stabilization using improved optics technology
High magnification power.
The 36mm objective lens diameter helps provide bright, clear, and high resolution.
The Porro II roof Prisms minimize loss of light, and this helps provide superb image resolution.
Has Doublet field-flattener for clear, and distortion-free images.
Things we disliked
The inbuilt image stabilizer requires the use of batteries for proper function.
No lens cap
2. Carl Zeiss 20×60 Image Stabilization –
Best High-end IS Binoculars.

The Zeis optical 20×60 IS Binocular features superb design and super solid exterior construction as the second on the list. Carl Zeiss 20×60 IS one of the best high-end and high-performing binoculars available in the market now.
Having 6.3x 6.3x 1.8 inches dimension, this binocular is compatible and relatively small. With 20X magnification, 60mm objective lens diameter couple with a mechanical stabilizing system using a gyroscope, this device allows you to LOCK an image in a place with just a press of a button.
On the other hand, the high-performance optical lenses and multicoated optics offer amazing, brilliant, and sharp images. A classic waterproof housing and rubber amour mean you can use this binocular in all kinds of weather conditions.
The chassis of this binocular is tough and built to withstand rough and heavy usage. The image stabilization gyroscope allows this device to produce a stable and distortion-free image.
Finally the water-resistant feature mean u can use this device even in extreme weather conditions.
Things we liked
20x magnification coupled with image stabilizing gyroscope provides vibration-free and long distance viewing.
Long eye-relief helps give comfort and friendliness to eyeglass wearers.
Lead-free glass.
Outstanding low light
Premium lens-coatings and high-performance optical glass for bright and razor-sharp image quality.
Comes with a rugged carrying case to allow easy transport.
Things we disliked
No cap to protect the lens from dust and scratches.
Only black colors are available for sale in the Market.
3. Canon 18×50 IS AW –
Best Image Stabilized Binoculars for Astronomy.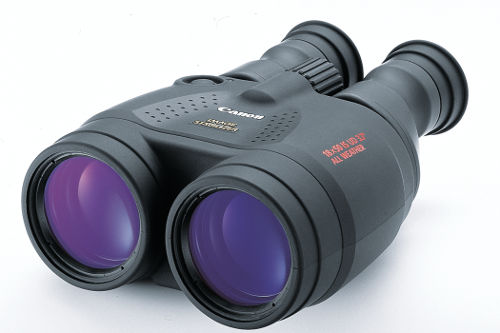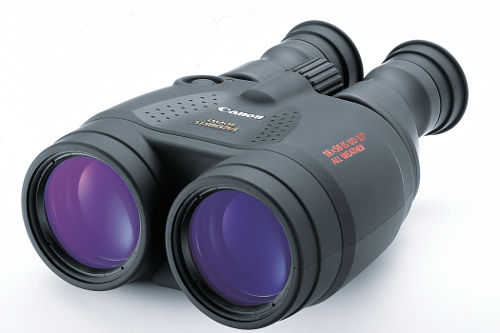 Most people experience frustrating image shake with any high magnification conventional binoculars unless fixed to a tripod.
But the Canon Image stabilized technology effectively eliminates this problem. The canon 18×50 is a large high-power binocular Ideal for stargazing, birdwatching, and other outdoor uses.
The 18×50 IS Binocular is incorporated with an optical image stabilizer. This system employs dual transparent plates, a Vari-Angle prism, independent horizontal and vertical sensors, and a highly sensitive microprocessor to give excellent vibration-free viewing.
With its high magnification and wide 50-mm objective lenses, this excellent optical device gives high image quality with outstanding brightness, clarity, and true natural color. Many optical factors affect image brightness, including the amount of incident light reflected by the lens.
Thanks to Canon's precision optics, the binoculars also feature a UD lens, which stands for ultra-low dispersion and reduces any aberrations in the images produced.
Also, the Canon 18×50 image stabilized binocular features water-resistant and shock-resistant rubber coating for non-slip grip and durability.
This binocular provides long eye relief for extra comfort.
Things we liked
Comes with a carrying strap.
Built-in optical image stabilization.
An impressive field of view.
Lenses are multi-coated for clarity, contrast, and color fidelity.
Shock and water-resistant.
Things we disliked
Requires the use of 2AA batteries for the image stabilizer to function.
Little too advance for basic uses.
4. Fujinon Techno Stabi 14×40 Image Stabilization Binocular

The Stabi TS1440 14×40 image stabilized binocular is an ideal binocular for eagle watching, stargazing, or deer observation.
It combines durability, incredible lightness, and true to life image quality. It is well equipped with waterproof housing, nitrogen filling, and rugged rubber armor to shock resistance. This feature also enables it to be used even in rainy weather.
It is handy, and the long eye-relief makes it friendly to eyeglass wearers. The dust protection caps, waterproof housing, carrying strap, and high-quality case offer more value to this excellent compact binocular.
Other features include the fully multilayer coating, which enhances light transmission, meaning that image contrast, brilliance, and brightness significantly increase. Phase correction and the roof-prism correct the phase-shift of the light rays.
This means that the image resolution, contrast, and brilliance are optimized by preventing over-exposure in the prism set. This binocular is exceptionally Compact and lightweight, which means they are ideal for all outdoor use.
Things we liked
Incredible image stabilization.
BAK-4 phase-corrected prism and fully multicoated optics.
Exceptionally robust.
Long-lasting battery.
Waterproof and fog proof.
Provide crisp and clear images.
Things we disliked
Quite heavy.
Comes in one color all through.
5. Canon 10×30 IS Image Stabilized II Binoculars –
Best IS Binoculars for Birding.
If you are looking for quality images, then a stabi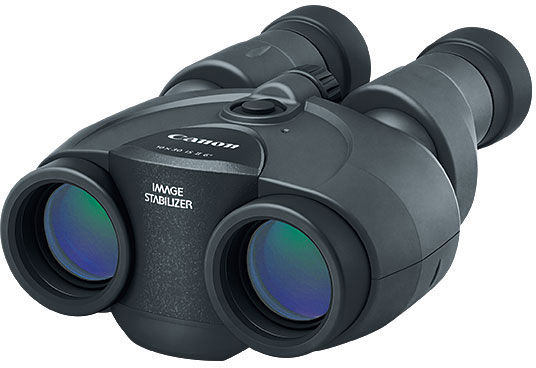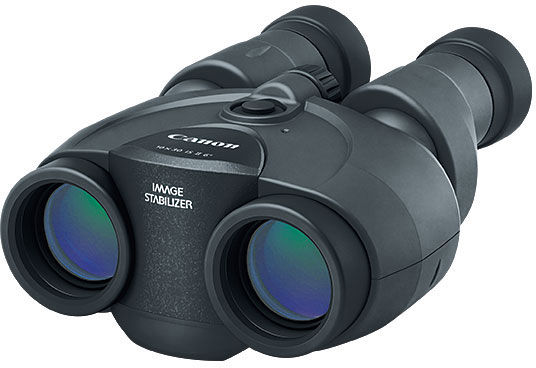 lized binocular is best. I think the Canon 10×30 IS exactly what you might need.
This binocular provides a well-balanced image with amazing image clarity and sharpness. This lightweight and portable binocular is ideal for travel, sports, birdwatching, and much more.
With the 10x magnification and the superb 30-mm objective lenses, this pair of binoculars can perform wonderfully. Featuring the improved image stabilization technology for extended and smooth viewing, fully multicoated optics, and phase corrective technology for colorful, bright, sharp, and virtually distortion-free views.
The 10×30 Canon IS binocular is uniquely designed to be comfortably used even while wearing eyeglasses. It is lightweight and compact, hence, perfect to carry along for different activities: concerts, hiking, hunting, stargazing, and more.
Besides that, it is incorporated with a highly sophisticated Image Stabilization system for efficient and effective performance.
Things we liked
Compact, highly portable binocular which is ideal for birdwatching, sport, travel, and more.
Superb Image Stabilization using newly improved optics technology.
The high magnification, 30mm objective lens with the Porro II Prisms helps minimize light loss and provides outstanding image resolution.
Has Doublet field flattener for sharp, clear, and distortion-free images.
Friendliness to eyeglass wearers.
Refined design with a low-reflective exterior.
Things we disliked
A few complaints that the neck strap is poor.
The stabilizer button is kind of unfavorable.
6. Fujinon 12×32 Techno-Stabi JR Image Stabilized Binocular

The Techno-Stabi 12×32 image stabilized binocular is a pair of optical devices with an inbuilt image stabilizer that belongs to the first-class group of the best image stabilized binoculars.
Its strong optical performance is evidence of why it is grouped into such a category. The Techno-Stabi 12×32 has gained the reputation of being an 'all-weather' binocular.
This Image Stabilizing binocular lock-in on the image creates a short, large field of view even at higher magnification. This model employs the EBC coating, which gives an exceptional light transmission. The 3 Degree Stabilization freedom allows one to get a solid image of every object focused.
This binocular is also lightweight and compact. The rubber-coated handle makes it easy and comfortable to hold. The Techno-Stabi 12×32 JR IS Binocular comes with a carrying strap.
This bag protects the device from scratches, moisture, and dust. The body material is made of a blend of metal and plastic that protects this device from shocks and weather fluctuations.
Things we liked
Friendliness to eyeglass wearers.
Improved power efficiency and battery consumption
Center Focus.
Fogproof and Waterproof.
3 Degree of stabilization freedom.
Things we disliked
The stabilizer is solely powered by two AA batteries.
Quite heavy.
7. Canon 10×42 L Image Stabilization Waterproof Binoculars

This awesome device produced by Canon is among the advanced binoculars in the optics industry. If you are a marine enthusiast, wildlife watcher, or any form of outdoor enthusiast, this pair of binoculars with an inbuilt image stabilization system is what you need to have.
This gadget comes filled with amazing features that make it the best option for most serious-minded outdoor lovers. This binocular is incorporated with an astonishing image stabilization system for shake-free and steady image viewing.
High-quality L-series optics featuring two Ultra-low dispatched lens elements that deliver extraordinary correction for chromatic aberration. With the 4.2-mm exit pupil diameter and large lens diameter, this binocular offers an exceptionally bright view even under lowlight conditions.
The Canon 10×42 image-stabilized waterproof binocular offers both waterproof capabilities and the desired brightness, making it the best option for various outdoor use.
This robust optical device also features doublet field -flattener lenses for sharp and distortion-free images.
Read Also: Canon 10x42L IS WP Binoculars Review
Things we liked
comes with Padded Case for easy transport.
The Eyepiece rain guard protects the lens from dust and moisture.
Large exit pupil.
Anti-fogging systems.
Lead-free glass.
Things we disliked
Quite expensive.
The stabilizer button is quite unfavorable.
8. Nikon StabilEyes 12×32 VR Image Stabilization Marine Binocular –
Best IS Binoculars for Boating.

Generally, with all conventional binoculars, the higher the magnifications, the more the images are affected by a handshake. The closer one gets to a target, the more blurred it appears; hence it becomes difficult to observe moving objects.
But Nikon StabilEyes 12×32 IS Binocular can overcome all these challenges. This binocular is highly compact and lightweight. It also employs the "VR" function with extraordinary response and stability.
The VR pause button functions to put the reduction function on pause, thereby eliminating image shake as you chase the target subject while looking through the binocular. Furthermore, all its lenses are fully multicoated, and its newly improved prism offers phase correction coating.
This bino pair is fully waterproof as the body is filled with nitrogen gas then sealed with O-rings.
The Nikon StabilEyes 12×32 binos are ideal choices, especially when you require a clear, brilliant, and stable view for sporting events, bird watching, and countless other applications.
Things we liked
It is fully waterproof and fog proof with a phase correction-coated prism.
The 12x magnification and 32-millimeter objective lens produce a wide field of view.
Quick, central focusing
The Slide and lock eyecups and long eye-relief make it friendly to eyeglass wearers.
The Exclusive "VR" pause feature allows easy and comfortable viewing of fast-moving objects.
Things we disliked
Quite expensive.
There is no lens cap.
9. Canon 10×30 IS Ultra –
Best Compact IS Binoculars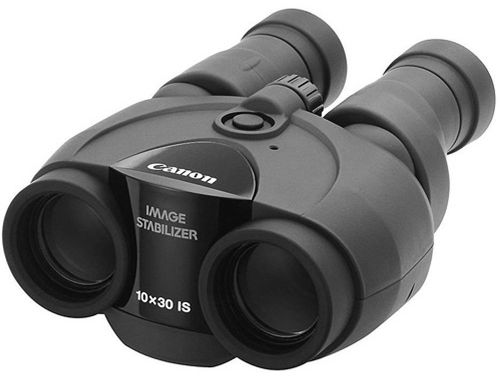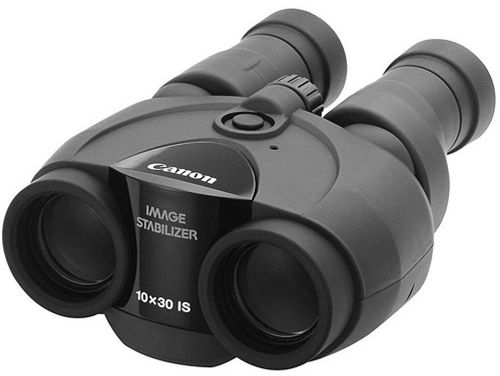 Canon 10×30 IS ultra-compact binos offer exceptional optical performance and have image stabilization capabilities.
Whether you are on the upper deck of a stadium or upon the water edge, you will get a closer view of all that happens within the area of focus with this model of Nikon optics.
The Nikon 10×30 features a Porro prism that provides superior resolution and maximizes all the light entering through the objectives to produce the brightest view possible. The rugged rubber coating provides a sure-grip and as well as protection.
It is light-weight, powerful, and compact; the Canon 10×30 Ultra-Compact Binoculars are incorporated with an active Image Stabilization system. It also features the doublet field Flattener for sharp, clear, and distortion-free viewing.
The super multicoated optics offer superior contrast, and the water-resistant rubber coating makes this pair of binos a little handier.
Things we liked
Has Built-in active image stabilization system.
Doublet field flattener for brighter, clearer, and distortion-free
Long eye-relief for easy viewing.
Water-resistant rubber coating.
Lead-free glass lenses.
Things we disliked
Quite heavy
The image stabilizer requires the use of 2AA batteries to function.
10. Canon 8×25 IS Binoculars –
Best IS Binoculars for Safari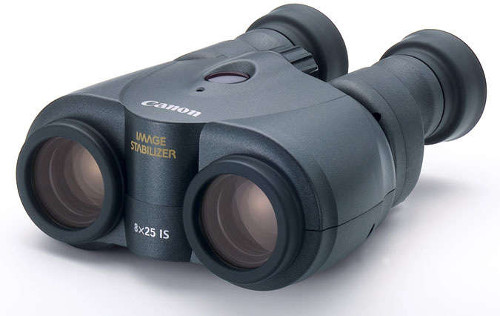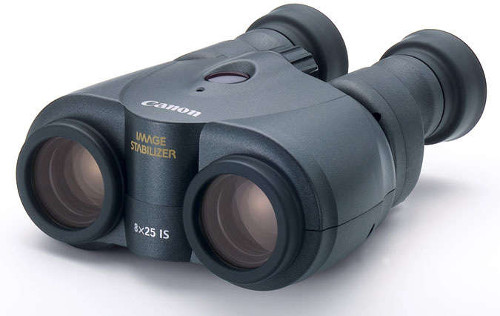 The canon 8×25 Image Stabilized Binoculars are the most recent model of the canon image stabilizer series. These latest high-tech optical devices deliver exceptional optical performance and outstanding image stabilization capabilities.
The mechanism of action of the Image Stabilization system is by tilting the right and left lens barrels to counteract vibrations and shake. This all-purpose pair of binoculars is 25 percent smaller and 20 percent lighter than similar Canon models.
Combining the high-tech Tilt-System IS technology with the rounded architectural design for comfortable and non-slip holding, the Canon 8×25 Image Stabilized Binoculars are excellent for any setting.
The active IS system eliminates shake and minimizes curvature of field. The focus dial is mounted at the center and the IS control can easily be manipulated by either hand. The objective lenses are fully coated with Super-spectra multi-coating that enhances image quality by minimizing color smear and maximizing contrast.
Things we liked
8x magnification with wide field-of-view.
Optical image stabilization system.
Fully Multi-coated optics for brightness, clarity, contrast, and color fidelity.
Doublet field flattener lens and rounded design for holding comfort.
Super Spectra Coating.
Closest focusing distance of 11.5 feet.
Things we disliked
The stabilizer button is unfavorable.
Little too advanced for basic uses.
Things to Consider Before Buying the Best Image Stabilization Binoculars
Image stabilized binoculars are handy for observing moving objects or shaky platforms, like a moving car, yacht, boat, or while on a safari tour. It is also more comfortable to observe moving objects using binoculars with inbuilt image stabilizers. Some of the factors one needs to consider before buying image-stabilized binoculars are:-
The close-up Zoom Feature.
The closer one is to an object with other conventional binoculars, the more blurred it appears, but image-stabilized binoculars overcome this effect. Therefore, image stabilizers can be used to observe birds, stars, and wild animals.
The Size of the Objective Lens.
The objective lens size is critical as it contributes to the binocular's light-gathering capacity and transmittance. This is why most people prefer binoculars with large lenses. The best image stabilized binoculars should have an objective diameter between 30mm to 100mm.
Body Material.
The image-stabilized binoculars are usually made of high-quality materials, preferably aluminum (aircraft grade), which is lightweight and durable.
Glass Quality and Coatings.
High-quality glasses are preferred as sharp and clear images allow the user to view images clearly from different locations at all magnification levels. Generally, the bak-4 prism functions better than BAK-7 prisms. Also, the best image stabilizing binoculars has fully multicoated optics.
Other quality features of image-stabilized binoculars that are to be considered include lightweight, compactness, rugged rubber armor, waterproof and easy handling.
Why Should you Buy High-End Image Stabilized Binoculars?
One can observe the vastness of nature with a pair of binoculars at a very close range. Why will one need a pair of high-end image-stabilized binoculars, and how are they different from other binoculars?
If you are one of those serious-minded outdoor activities enthusiasts, I'm very sure you have some experience using binoculars, and you know how unsteady and blurred images can be especially as you get closer to the object you are observing.
As most people prefer to use free hands, other passionate observers prefer to use a tripod to control this device.
Prolonged binoculars that produce shaky images can easily affect your eyes, which can cause a headache.  But this can be avoided using high-end image-stabilized binoculars.
Final Verdict
If you are looking for the best high-end binoculars, choose the  Zeiss optical 20×60 IS Binocular, or if you have a tighter budget, you can grab these cheaper  Canon 10×30 IS II Binoculars.
Binoculars with high magnifications are great companions for various activities, including wildlife observation, bird watching, hiking, nature observation, professional uses like surveillance, astronomical applications, etc.
Binocular brands with inbuilt image stabilizers are the best option. We hope this review on the best image-stabilized binoculars should guide you whenever you decide to purchase one of those image-stabilized binoculars.
Top-Rated Image Stabilizing Binoculars