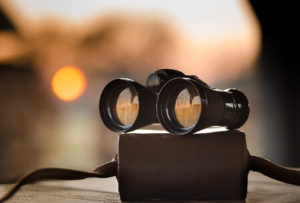 If you hunt at night, you need a pair of these best low light binoculars. These remarkable devices are not meant for hunters alone but for every binocular lover who wants to enjoy the fantastic views at dawn, dusk, or dim light,  such as dense forests, lakes enclosed in valleys, and other places like that.
One thing to note is that low-light binoculars differ from night-vision binoculars. While the former can maximize light utility in low light conditions, the latter utilizes light amplifiers and infrared illuminators to provide clear visions at night.
Top Rated Low Light Binoculars for 2023
Factors You Must Consider Before Choosing the Best Binoculars for low light Conditions.
Objective lens Diameter
The size of the objective lenses determines how effectively a pair of binoculars can gather image-forming light. The larger the objectives, the more light they let into the binocular. Almost all binoculars can gather sufficient light when there is a lot of it during the day. Still, compact binoculars with small objectives, usually between 20-25mm, do not perform well at night or in low light conditions.
You'd be safer placing your bets on binoculars with 50mm objectives or more. Though quite bulky, such binoculars offer bright images in all light conditions. To get the best images for these conditions, choosing 8x magnification levels are great options, but if you wish to observe details more closely, you can opt for more magnification.
The Exit Pupil
Just like our eyes have got pupils, so do our binoculars. These are seen as two dots that are noticeable when the binoculars are held at a distance of about 30 meters away from the eyes. The brightest and sharpest views, the exit pupil's values, and the eye pupil should be close enough.
Since our eye pupils' diameter changes with varying light intensities (usually 2-3 mm in bright situations and about 7 mm in the dark), all binoculars perform well during the day. Still, at night, you'd need a device with an exit pupil around 7mm.
The arithmetic behind the exit pupil's value is quite an easy one; divide the diameter of the objectives by the magnification. Going by that, 7×50 binoculars are almost perfect at night.
Optical Quality
More transmission and less or zero reflection produce the most incredible images. To achieve this, buy binoculars with lenses made of the best quality glass. If it says in the description that the lenses are extra-low dispersion (ED) glasses, then go for it because this glass provides images that are sharp to the edges by minimizing color fringing to the barest minimum.
Anti-reflection coatings on the lenses and phase correction, and the dielectric coating on the prisms, are other elements to look out for if you wish to enjoy ultra HD images even in low light conditions.
Waterproof and Fog-proof Features
These are great features to have in your binoculars. Having waterproof binoculars gives you peace of mind even when nature decides to frown at you when you are outdoors. Fogging the lenses due to fluctuations in temperature can seriously hamper your pair of binoculars' light transmission ability.
Manufacturers purge binoculars' housing with an inert gas, usually nitrogen or argon, to prevent this from happening. Fortunately, most binoculars come with these features but still double-check to ensure your bins have them.
Reviews of the Top 5 Best Low Light Binoculars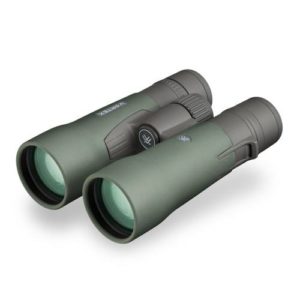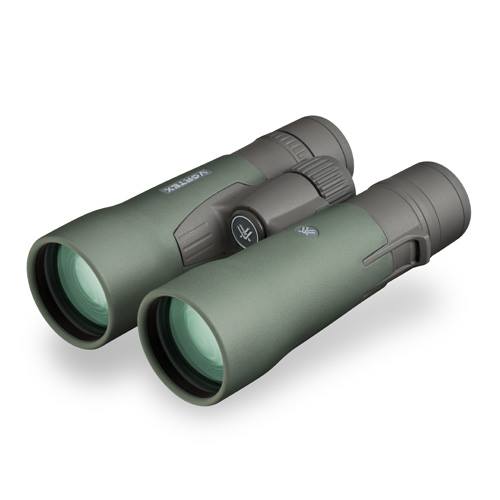 Vortex Optics has made a good name for itself in the binoculars industry, and binoculars like Vortex Optics Razor HD 10×50 roof prism binoculars are incredible testimonies of their unfailing quality. The design features a simple roof prism system that allows the binocular to be sleeker, less bulky, and more stylish.
A Magnesium alloy body instead of the slightly heavier aluminum frame keeps the weight as manageable as possible. The 10x magnification brings all the tiny details closer than you'd ever imagine, while the large 50 mm objectives gather enough light to give you bright images even in low light conditions.
The prisms are phase-corrected BaK-4 variants. The ED glass lenses are fully multi-coated to prevent any color aberration at image edges and deliver excellent views that are vivid, bright, and of the true color. The field of view of 315 feet at 1000 yards is quite wide for a 10x binocular.
Pros
Excellent imaging performance in all situations
ED glass lenses
Fully multi-coated optics
Great value for your money
Quality accessories are included in the delivery scope.
Cons
This binocular is slightly heavier than the standard 8×42 binoculars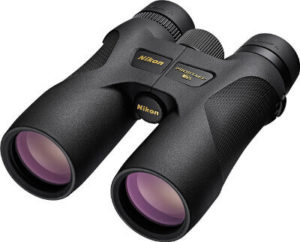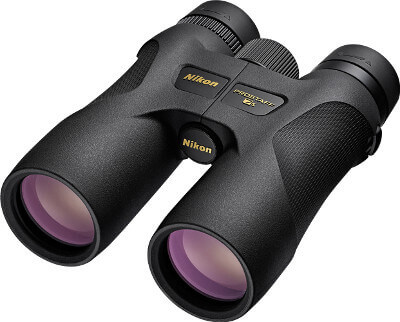 Yet another 10×50 pair of binoculars, but this time, it is an optical marvel from Nikon. Just like the Vortex binoculars reviewed above, the 10×50 Nikon Prostaff binocular is fully multi-coated and provides bright images with sharp colors to the edges.
The Eco-glass utilized in the lenses' production is free of harmful metals like lead and arsenic; Nikon cares about you and the environment. The ergonomics are sound and the long eye relief, as well as easily adjustable eyecups, make the binocular user-friendly for both spectacle and non-spectacle wearers.
The body is a fiberglass-reinforced resin, which ensures that the device is as light as possible. The degree of image stability is high. You can rest assured of these binoculars' durability even when frequently used in extreme conditions as they are 100% fog proof and waterproof.

Pros
Highly durable binoculars.
Impressive low-light performance thanks to the 5mm exit pupil.
Waterproof and fog proof.
Ergonomically sound.
Very versatile pair of binoculars.
Images are sharp across the binocular field of view.
Cons
The field of view of 98 m/1000 meters leaves a lot to be desired in specific applications.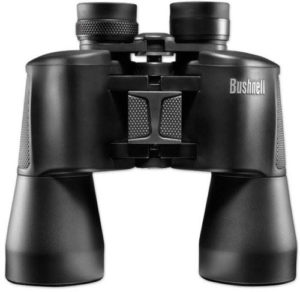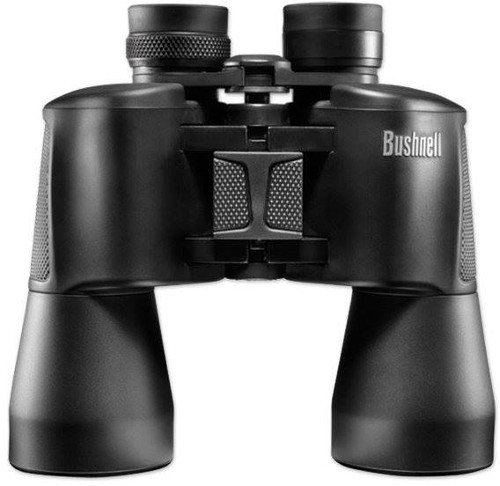 A pair of Bushnell binoculars are worth placing your bets on, and this 12×50 Bushnell wide-angle binocular wouldn't disappoint you. It offers significantly more magnification than the first two devices on our list and features a unique focus-free function, making it ideal for observing moving targets.
Due to the higher level of magnification, it offers, its field of view of 265 ft. /1000 yards is lesser than you get with 10×50 binoculars. This device is beautifully crafted and comes with dazzling black rubber armor, enabling the binoculars to absorb shock upon impact and providing a non-slip grip.
The lenses are fully multi-coated, and the prisms are top-quality Porro types that increase light transmission to enhance the imaging quality of the binoculars.
Pros
High imaging performance
Enough magnification for observing distant objects
Fully multicoated optics
Outstanding low-light performance
Cons
The Permafocus feature makes it difficult to focus on near objects.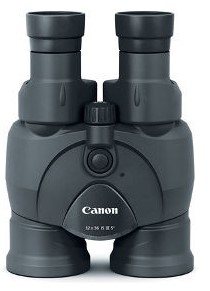 Are you looking for a compact binocular size, especially for birdwatching or wildlife observation? And if you are a fan of Canon cameras and binoculars, then you might like this one too. The Canon 12×36 image stabilizer III binocular is an excellent bino for different outdoor activities. It has Image stabilization and a double-field flattener that gives a balanced and crisp image with beautiful color and contrast.
You will find or Image stabilization is only for Canon EF lenses. It gives you stable imaging, especially when the object is moving. And the second feature gives you sharp images edge to edge. You may notice that all binoculars are slightly hedgy from the edges, even if it's evident in the center. Even the high-quality lens has a flaw. But not with this one.
This best outdoor bino comes with 36 mm or 1.4 in. Objective lenses match very well with the 12x magnification. Most of the higher magnification gives bouncy imaging in its highest magnification, but the Canon Stabilization III Binoculars are relatively better on that.
Pros
Just the right amount of magnification with the lens.
It gives a very sharp image, even around the edges.
Suitable for low light conditions.
Porro prism lenses.
Lightweight and easy to carry.
Anti-reflective external design.
Cons
Thin rubber coating.
The power button is a little temperamental.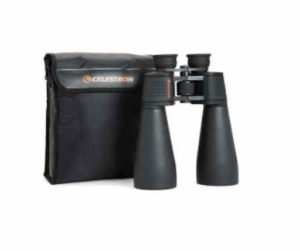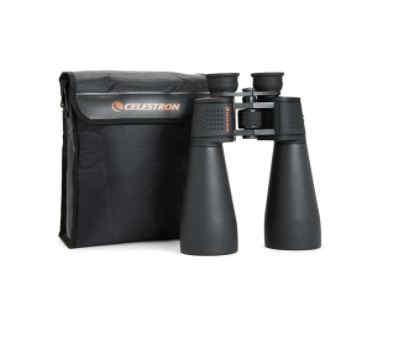 The Celestron SkyMaster 25×70 binocular is a high-powered device that can be efficiently used for celestial and terrestrial purposes.
Its powerful 25x lenses make very far away objects seem like they are right next to you, while the 70 mm objectives gather all the light you need to view the stars and other celestial bodies bright at night. The eyecups are built with soft rubber and are easily rolled down to enable eyeglass wearers to enjoy obstruction-free views.
The binocular is quite heavy; 52 oz (1474 grams), but it comes with a tripod adapter that allows you to enjoy stable views for extended periods without tiring quickly. You can easily adjust the focus using a central wheel, and corrections can be made to the differences observed in both eyes using the diopter adjustment present on the right eyepiece.
The too-high magnification means that you only get a 141 ft. field of view at 1000 yards, but that doesn't prevent this device from being one of the best low-light binoculars under 500 you'd find on the market.

Pros
High-powered binoculars for viewing very far away objects
Broad objectives provide very bright images in all conditions.
Tripod adaptable for more stable views
The 75 ft. minimum focus distance seems far, but it's one of the closest you'd get with binoculars in this category.
Great binoculars for astronomy
Cons
The high magnification gives you a relatively narrow field of view and a smaller exit pupil, but these are common problems with most high-powered binoculars.
 Conclusion
Binoculars are such wonderful devices that bring objects closer to you and allow you to enjoy bright views, especially during the day. But to enjoy a similar treat when the lighting conditions are not as good,  you need a binocular that can gather sufficient image-forming light and then provide you crisp and vivid images even under these unfavorable conditions. Getting such a binocular is not so difficult, especially now that you know all that you should look out for in the best low-light binoculars.
Top 5 Binoculars for Low Light Conditions