The best long-range spotting scope is the ultimate companion for most hunters and target shooters. The simple reason is that these impressive optical devices, as the name implies, help you spot very distant objects and target them precisely. There are many range scopes on the market, and it can be very challenging to find the right one for your desired application.
Top-Rated Long Range Spotting Scopes
No products found.
 How Long is a Long-Range Spotting Scope?
As we already mentioned, there are different types of long-range spotting scopes, and the distance you can view with one depends on the individual scope.
While some are great for relatively short distances, e.g., 50 to 200 yards, others can comfortably target objects up to 1000-1500 yards away.
The best long-range spotting scope always depends on your intended use. Like binoculars and telescopes, range scopes are often described with two numbers separated with an "x," e.g., 30×60. The first number is the magnification power, while the other after the X represents the objective lens's diameter.
Long-range spotting scopes labeled between 8x-20x are excellent for short-distance targets, but for targets up to 1000 yards away, you'd need range scopes that offer up to 60x magnification or more.
The lens diameter is directly related to image brightness, while other features like the lens coating and prism type determine your view's sharpness. We compiled this list of the best long-range spotting scopes below to spare you the stress.
Top 5 Best Long-Range Spotting Scope Reviews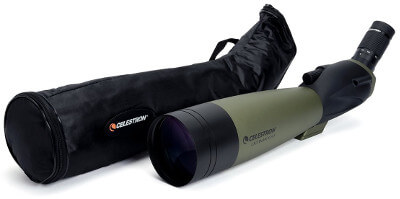 First up on the list is the 22-66×100 Ultima spotting scope from Celestron. The stand-out feature is the large 100mm diameter of the objectives, making it one of the best spotting scopes for long-range shooting even under low light.
It can gather 278% more light than scopes with a 60 mm objective. The lenses are also multicoated (MC) to improve the device's ability to transmit the collected light.
The roll-down rubber eyecups enable eyeglass wearers to use the scopes comfortably.
When the magnification's set at 22x, the eye relief is 18mm even though the actual value in practice is 16mm, which is still impressive.
At the maximum zoom level, the field of view is 48 inches at 1000 yards. The sufficiently long focusing wheel is ergonomically located at the top right side in front of the prism housing, and this makes focusing much easier than with other spotting scopes.
Though the device is relatively heavy (7.01 lbs.) but can be mounted on a tripod to improve image stability.
Pros
Large objectives make scopes great for low-light use.
Excellent ergonomics.
Multicoated optics provide sharp views.
Long eye relief for the eyeglass wearers' comfort.
Smooth focusing knob.
Zooms up to 66x, allowing you to see .223 bullet holes at 200 yards.
Cons
Slight chromatic aberration at high zoom levels.
Read Related Article: Best Vortex Spotting Scope Reviews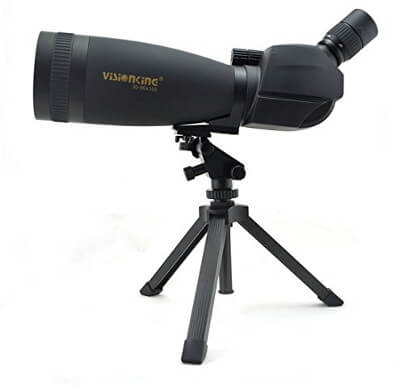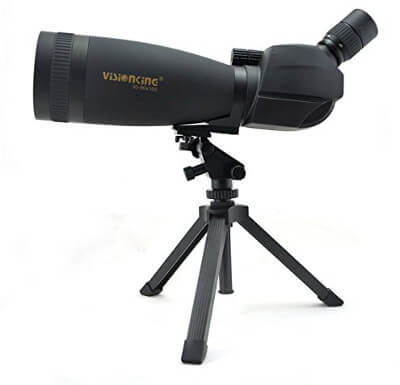 Target your games more efficiently with the 30-90x100mm spotting scope from VisionKing. The device has many great features that make it a bargain for the price.
These optics, consisting of fully multicoated (FMC) lenses and quality BaK4 prisms, provide excellent images. Like the scope presented above, the objectives are an outstanding 100 mm device and capture enough light even in low light.
The field of view at 1000 meters (1km) ranges between 29.3 to 14.3 meters. You can focus on relatively close objects as the minimum focus distance is 10m (32.8 ft.) The eye relief is also long with this scope (15-18mm), so your comfort won't be compromised if you wear glasses.
This spotting scope features nitrogen purging, which makes it fog and waterproof, so you can use it with confidence in all terrains without worrying about bad weather.
Pros
High low light performance.
Fully multi-coated optics.
Fogproof and waterproof.
Quality carrying case and tripod included.
Good value for money.
Cons
The weight is a source of concern for some users.
Best Value Long-range Spotting Scope

The Leupold Compact GR 15-30X50 mm spotting scope is slightly longer than most binoculars, and it offers a good reach and a great imaging performance in a relatively small build. You can effortlessly carry it around your neck with the included lanyard.
The design is unique, ergonomically sound, and built to withstand years of rugged use. The lens system is multicoated for improved color reproduction, clarity, and contrast. The device's portability makes it easy to use for extended periods, but it is also tripod adaptable and can be used with most standard tripod stands. Views are very stable, and there is minimal color fringing at the edges of the wide field of view, rangings between 45m to 30m per 1000 meters depending on the magnification levels.
The Leupold lifetime warranty is further proof of the quality of this device. It should comfortably make anyone's list of the best long-range spotting scope.
Pros
Portable and lightweight spotting scope.
Leupold Lifetime warranty.
Wider field of view as compared to larger spotting scopes.
Impressive optical performance.
Ergonomic build with a smooth and well-placed focus wheel.
Cons
Not as far-reaching as larger spotting scopes.
Best Long-range Spotting Scope for the Money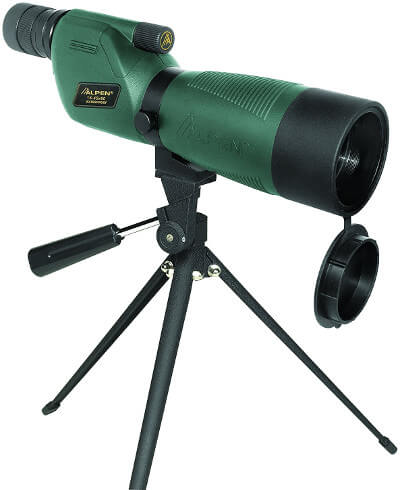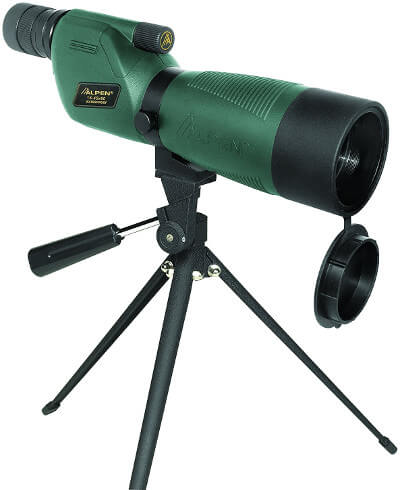 This Alpen 15-45×60 spotting scope is dustproof, water and fog-proof, and shock-resistant. It performs faultlessly in any condition. The powerful eyepiece offers magnification levels between 15x and 45x, and the 60 mm objective lens lets in an ample supply of light even when there isn't much of it.
With these scopes, you will get true-to-life images with an impressive level of sharpness and contrast because the lenses are multicoated and top-quality BaK-4 prisms.
The central focusing system allows for smooth and easy adjustments, and the long eye relief of 15-18mm makes this scope suitable for both spectacle and non-spectacle wearers.
The field of view (FOV) at 1000 yards ranges between 63 and 123 ft. Here again, you are offered a lifetime warranty, a resounding assurance of the quality of this spotting scope. A padded carrying case, protective mat, and a tripod stand are included in the delivery package.
Pros
Durable build.
Multicoated optics for improved light transmission
Wide zoom range to suit different needs.
Great accessories included.
Water and fog proof.
Long eye relief.
Cons
Not the most eye-catching design but as always, go for performance and not design.
Best Spotting Scope for Long-distance Shooting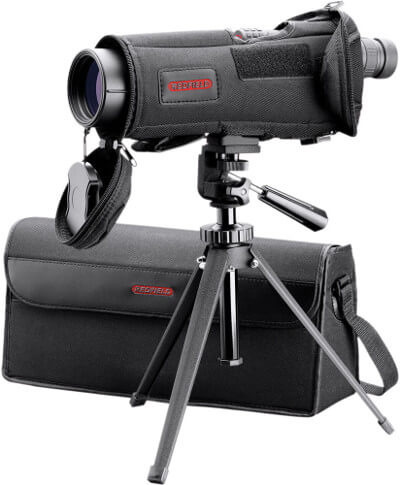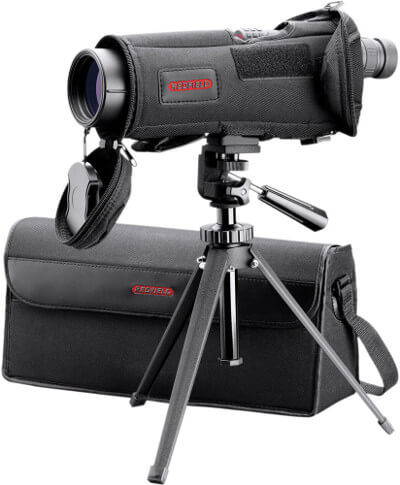 Last but far from the least is the Redfield Rampage spotting scope, which offers clear images across the 20-60x magnification range. Zooming is easy with the smooth front knob, which gives you an excellent brightness and contrast level in all conditions.
With this device, you can focus on objects that are just 19.8 feet away, and you get a field of view of 114 ft. /1000 yards at 20x zoom and 51 ft./1000 yards at the maximum 60x zoom level.
Both the focus and zoom wheels are smooth but, at the same time, tight enough to prevent any unintentional adjustments to your favorite settings. The eye relief, always somewhere between 14mm-17mm, is invaluable to spectacle wearers.
This spotting scope is made of sturdy and rugged material, and the housing is fully sealed and nitrogen purged to make this device fog proof and waterproof.
Pros
Crisp and bright views
Wide field of vision
Lightweight but rugged body.
A tripod stand, lens covers, and a storage case are included.
Quality optical components with a multilayer coating.
Cons
Slight image movements as you increase the zoom.
Read Related Article: Vortex Diamondback Spotting Scope Reviews
Final Verdict
Spotting scopes makes life much easier for hunters and distant shooters. Animals often hide in nooks and crannies and in shadows, which is why you need a powerful spotting scope. All the recommended models on our list provide you with multi-zoom options and quality features that can differentiate between success and failure. If you want the best long-range spotting scope, look no further, so go ahead and pick one from the list.
Top 5 Long-Range Spotting Scope
No products found.