Are you not satisfied with the traditional scope?
Looking something for long distance?
If yes, then you have come to the right place. This Vortex Viper HD spotting scope review will be helpful for an individual like you who are looking some top quality spotting scope. Rather than its amazing feature, it comes at a reasonable price.
More than anything, the vortex is the most popular for maintaining its great quality.
So let's start.
Technical Specification of Vortex Viper HD spotting scope at a glance
| Model | Close Focus | Eye Relief | FOV@1000 yds | Length | Weight | |
| --- | --- | --- | --- | --- | --- | --- |
| 20-60x80mm Angled | 22 feet | 20-15 mm | 110-50 feet | 17.5 inches | 67 ounces | |
| 20-60x80mm Straight | 22 feet | 20-15 mm | 110-50 feet | 17.5 inches | 66.1 ounces | |
| 15-45x65mm Angled | 16 feet | 20-15 mm | 140-65 feet | 15.8 inches | 53.3 oz | |
| 15-45x65mm Straight | 16 feet | 20-15 mm | 140-65 feet | 15.8 inches | 52 oz | |
Noteworthy Features and Benefits Of Vortex Optics Viper HD Spotting Scopes
Vortex is the most trustworthy optical brand that is well known for producing high-quality spotting scope. This American company is now the market leader and never compromise about the quality. Among large range of product line, Vortex Optics Viper HD Spotting Scopes are one of the finest and well-reviewed product on the market now.
HD Lens Elements
The first noticeable feature we like to mention is its HD Lens elements. This high density (HD) provides high definition images at the same time extra-low dispersion glass brings impressive resolution as well as color fidelity.
Proprietary XR coatings
Being XR Lens Coatings, this Vortex Optics Viper HD Spotting Scopes gives light transmission for excellent brightness. On the other hand, fully multi-coated delivers whole air-to-glass lens surface. This combination of XR anti-reflective coatings and fully multi-coated ensure a top quality performance that always maintained by vortex.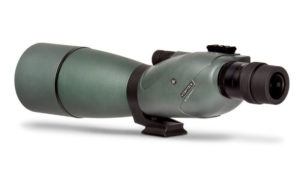 All in one compact package
What's in the box? Well, this viper HD comes with everything you need includes-
Spotting scope
Custom fitted case
Objective lens cover
Eyepiece cap
Vortex optical warranty
Built-in Picatinny Accessory Rail
Angled/ straight design
This Vortex Optics Viper HD Spotting scope has both angled and straight design. Both angled and straight designed comes with two different magnification and eye relief. Each has 15-45X65 and 20-60X 80 magnifications. The specification may vary slightly, but all of them are pretty impressive actually.
Porro Prism and ArmorTek
The next noticeable feature we like to mention is that this scope use upgrade technology of Porro Prism and ArmorTek gives a top quality image. At the same time, the ArmorTek makes it sturdy; scratch-resistant coating defends the lens from external oil, dirt and protects from scratch.
Vortex VIP warranty
The Vortex is offering an endless lifetime warranty in all the series of a spotting scope. The word VIP means Very Important Promise. It is also transferable. The company vortex never compromises on quality. So you can easily trust on vortex optics spotting scope without any doubt.
Other highlighted features and benefits
Waterproof: This scope is made from O-rings sealed which works for preventing dust, moisture from getting inside the scope.
Twist Eyecup: It uses Twists Eyecup for comfortable viewing that may be with or without eyeglasses.
Fogproof: Argon gas purging ensures superior fogproof as well as waterproof performance.
ArmorTek: Ultra-hard, the coating of scratch-resistant protects external lenses from any scratches, or oil, dirt.
Sunshade: this spotting scope can reduce glare and gives shields the objective lens from snow or raindrops
Dual Focus: Allows precision focusing with both clear focus adjustments and course.
Picatinny Accessory Rail: flexible for easy attachment.
What we liked
This scope comes with Trim profile.
It got helical focus.
It designed with Brilliant glass quality.
The coating quality is pretty impressive.
What we disliked
It's heavy and not suitable to carry with.
Poor exit pupil in low light.

Vortex Viper HD vs. Razor HD Spotting Scope
Vortex is the most reliable manufacturer of binocular and scope in recent time. Their most popular and well-reviewed scopes on the markets are vortex viper spotting scope and Viper HD Spotting Scope.
Both of them comes with some supreme features and maintain excellent quality. Between this two, Razor HD is a little bit expensive than Vortex Viper HD. Besides that, they got some distinct specification.
First and foremost, these two models have different alternatives. Vortex Viper HD is in two variants: 15-45×65 and 20-60×80. On the other hand, Vortex Razor HD spotting scope comes with three different variants: 11-33×50, 22-48×65, and 27-60×85.
But both of them come with straight and angled design. Honestly speaking, when it comes to long-distance performance, Vortex Razor HD is better than Viper in the model of 27-60×85.
At the same time, the capability of light gathering and gives visible, crisp and bright image Razor is far better.
Read Related Article: Best Vortex Spotting Scope Reviews
Vortex Viper vs. Diamondback Spotting Scope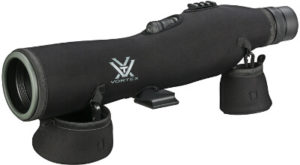 When it comes to picking a brilliant scope, both Diamondback spotting scope and Vortex viper may come to mind.
Diamondback is one of the classic vortex scopes that are well known for long distance view. It got some amazing feature like prism glass, comfortably angled and huge lens diameter of 88 meters.
On the other hand, Viper has both straight and angled design. This one also has some significant specification like HD Lens, ArmorTek technology, Proprietary XR coatings. Likewise, other vortex scopes these two also got Vortex VIP warranty.
Wrapping up
Hopefully, the vortex viper HD spotting scope review will be helpful for you for your next buy. Therefore, the technology and the materials used by the vortex in here are efficient, upgraded, and top quality at a reasonable price. Furthermore, vortex never compromises quality, so you rely entirely on this to grow your plant.
Unlike the other models of scope, here you don't have to buy extra attachments to make it works like a professional. In summary, this can be said that the above vortex viper HD spotting scope fulfills your demand and demand. We hope enjoyed our review article.
Read Related Article: