Buying the best binoculars for elk hunting is vital in succeeding at hunting these intricately horned ungulates. Elk hunters need to keep their distance to avoid provoking a response from these wild beasts, so you need an efficient pair of binoculars to stalk them from a distance.
Getting the right binocular for this purpose is easy when you know what to look for and where to look. We trust our comprehensive guide and reviews of elk hunting binoculars will help.
Top-rated Binoculars for Elk Hunting

What to Look for Before Buying the Best Binoculars for Elk Hunting
Magnification:
It's one of the first features you should check when buying binoculars for any purpose. A decent pair of 8x or 10x binoculars will allow the deer hunter to observe a herd and stalk them in great detail. You will be forgiven for thinking that more magnification would serve you better, as that's not the case.
High-powered binoculars (exceeding 10x) can get shaky, making your binoculars less useful unless they come with an image stabilizer. Because Elks are quite sizeable, 10×42 binoculars and ones around that specification are just what you need to hit the bullseye on your next adventure.
Field of View
The field of view is measured at a distance of 1000 meters or a thousand yards, and it tells you the width of the view you can observe through your binocular lenses. For good elk hunting binoculars, the field of view should be around 100 meters or more @1000 m.
This ensures that you don't struggle with focusing on your target even when they are in motion. A wide field of view also enables you to observe a larger area of your hunting ground, especially from elevated ground.
The Handling and Weight
Nothing short of great handling would do when you purchase a binocular for elk hunting. Most binoculars come with a rubber armor covering most parts of the housing, and this should be suitably textured to provide a non-slip grip even when the binoculars get wet.
It would be best to be comfortable with your binoculars' weights. Quality binoculars can be slightly heavy, but this bit of extra weight is something you should be willing to put up with since compact binoculars don't serve you well for hunting.
Optical Type and Quality
You'll need the best optical components in your elk hunting binoculars, including lenses made from top-quality glass and preferably BaK-4 rather than BaK-7 prisms. It's recommended you go for binoculars with fully multicoated optics.
Though Porro prisms generally perform better than the more recent roof prisms, the latter allows for binoculars to be more compact and impressive in terms of image clarity. We will place our bets on a nice pair of roof prism binoculars any day, but other professionals may have a different opinion regarding this.
Objective Lens Sizes
The size of your objectives determines the level of brightness of your views. High-quality 42 mm lenses gather a good amount of light in all conditions and are reasonably sized. Lenses with diameters reaching 50mm and more specialized for low-light conditions, but these can be much heavier than standard-size (8×42) binoculars.
Reviews of the Recommended Top 5 Best Elk Hunting Binoculars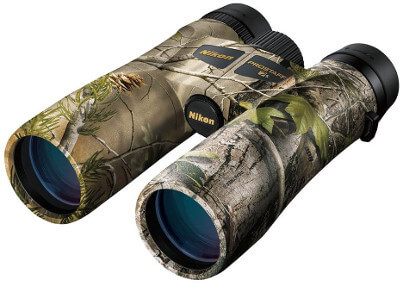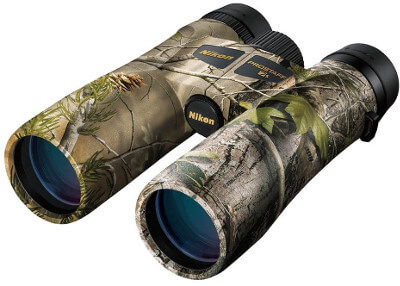 The 10×42 Nikon Prostaff binocular will ensure that you meet your elk hunting goals. Its nice green camo rubber armoring ensures you stay hidden as you observe the elks from a distance. The 10x magnification is just what you need to bring your targets closer and keep a close eye on your surroundings.
The 42 mm gathers sufficient light even when your hunting area is densely packed with trees that obstruct the sunlight from reaching the forest ground. Every hunter needs sharp eyesight, but this binocular makes things even clearer with the HD images provided by the fully multicoated lenses and roof prisms with phase correction coating.
The 1.42 pounds is a good weight for a full-sized binocular, and the 10×42 Nikon Prostaff binocular is water as well as fog proof. The field of view is great for elk hunting at 324ft. /1000 yards.
Pros
Robust construction
Good ergonomics and a high degree of user comfort
Water and fog proof
High level of image stability and clarity
Wide field of vision
Cons
The accessories included are great, but the lens covers don't fit perfectly.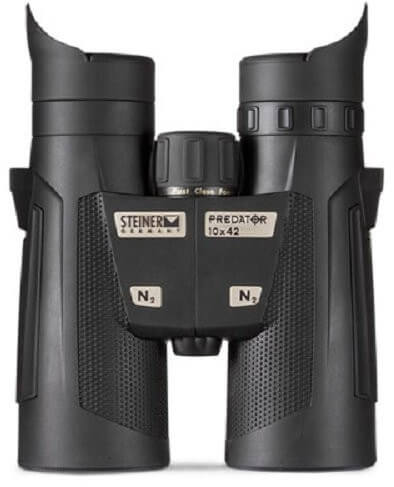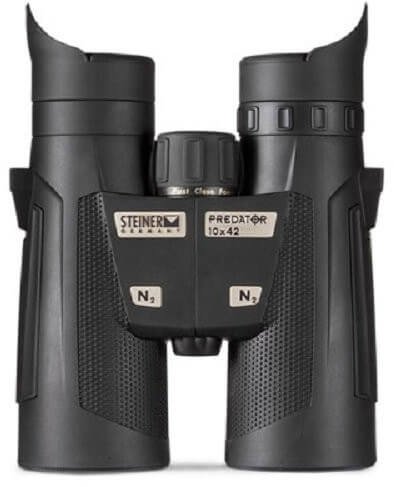 This 10×42 Steiner Predator binocular is a great choice for elk hunting. It is specially built to make spotting animals in the wild much easier. The special coating on the lenses acts as a color filter that takes the blue and green off your view while making red, brown, and other colors close to these colors more pronounced.
This makes elks and other wildlife easy to spot. The chassis and the adequately textured black rubber armor are of excellent quality and provide the binoculars with all the protection they need when you go hunting. The fast, close-focus system makes tracking moving animals stress-free.
The 42 mm objectives provide an excellent level of image brightness in all conditions, while the minimum focus distance of 6mm enables you to observe other games moving close by. The price/performance ratio is awesome, and has a completely sealed housing that is nitrogen-filled to make the binoculars water and fog-proof.
Pros
Special color adjustment transmission coating on the lenses.
Great performance in poor lighting
Ergonomic design
Wide field of view: 328 ft. /1000 yards.
Fogproof and waterproof.
The weight at 751.3 g is great for elk hunting.
Cons
Binoculars are not as versatile as they are built, especially for wildlife viewing.
Zeiss has many high-end binoculars on the market, but this 10×42 binocular is mid-range in the Terra series. The ergonomics are amazing, with a large centrally positioned knob that's easy to adjust even when you have gloves on.
The rubber armor covering the exterior features strategically placed depressed patterns that improve your grip and prevent the binoculars from slipping. The 10x magnification gives the binocular a long reach, and the 42 mm lenses make it very bright, even in low light. The minimum focus distance is just 1.6 meters (5.25 ft.), and the binoculars are relatively light at 690g.
The field of view you get at 1000 meters is 110 meters. The FMC lenses provide images of outstanding clarity, and the 4.2 mm exit pupil is a great value for hunting at dusk and dawn. All these features and more make this ear one of the best binoculars for elk hunting though there are better-performing binoculars from Zeiss, especially those in the Victory series, they cost almost four times this binocular.
Pros
Great value for money
Relatively light full-sized binocular
Close minimum focus distance
Robust and rugged design
High image quality.
Cons
No harness is included in the delivery package.
If your budget isn't so friendly, then this 10×50 binocular from the Bushnell PowerView series is your best bet. It helps you get the most out of your elk hunting adventures with its great blend of good optics and durable build.
The imaging performance provided by the fully multi-coated lenses and BaK-7 Porro prisms is impressive. The rugged camouflage rubber armor adequately equips the binocular for the extreme situations you are likely to face outdoors. The fold-down eyecups make the binoculars practical for both eyeglass and non-eyeglass wearers.
The color reproduction and clarity at 10x magnification are beyond satisfactory for a low-priced binocular. The 50mm objectives guarantee bright images, and the exit pupil value of 5mm makes this Bushnell binocular great for low-light use. The dimensions are 2.68 inches x 6.61 inches x 6.61 inches, and the total weight is 1.56 lbs. (680.4 grams).

Pros
Great price/performance ratio
Fully multi-coated lenses
Ergonomic design
Good imaging performance
Bright views in low light
Cons
The binoculars are fog on the exterior of the lenses, and it's not 100% waterproof.
Yet another great 10×42 binocular has made our list. It offers HD clarity, which is invaluable for elk hunters, and reminds you of how awesome the great outdoors can be. The ergonomically placed central focus wheel is smooth and allows for easy adjustments.
The black armor gives the device a sleek look and provides a secure grip and protection against dents, scratches, and shock. Like most good hunting binoculars, the optics are fully multicoated. The roof prisms are phase-corrected to prevent reflections and boost light transmittance for the best level of imaging performance.
Views are clear across the wide 342 ft. / 1000 yards field of vision. The binoculars weigh 1.6 pounds which is slightly heavy but manageable, and that's mostly due to the 42 mm objectives, which let in enough light in all conditions. All included accessories are good quality, and they greatly increase user comfort and the binoculars' durability.
Pros
Wide field of vision
Bright HD images in all conditions
Fog and waterproof
Well-balanced price/performance ratio
The sleek look and quality accessories included.
Cons
Slightly bulkier than full-sized binoculars of similar specifications.
Conclusion
For so many obvious reasons, you'll need a binocular the next time you go elk hunting.
The definition of a great binocular always depends on individual preferences, but when making your choice, be sure to put all you've discovered in our guide to good use and revisit our reviews of the best binoculars for elk hunting.
Top 5 Elk Hunting Binoculars