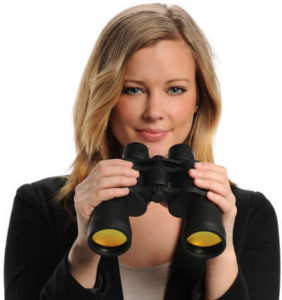 The best zoom binoculars allow users to view crisp images over a range of magnification levels simply by turning a wheel. With these gears, you can scan a wide area for sights that fascinate you and then zoom in as much as you deem necessary for more details. In essence, they add flexibility to the mix and eliminate the need to invest in several different fixed-powered binoculars.
A good number of leisure and professional applications are possible with zoom binoculars. However, as with regular binoculars, you need to invest carefully. There are tons of them on the market, and they can be expensive, but there are quality models you can get at a reasonable price. We gladly reveal them and much more in this buying guide.
What are Zoom Binoculars?
A zoom binocular is a pair of binoculars that allow continuous zooming. You can tell that there are two numbers before the "x," an example would be 10-16×50. The 10-16 indicates the range in which range the zooming is possible. For this binocular, everything between 10x and 16x magnification is possible.
The number after the "x" is then, as usual, the lens diameter in mm. The lens diameter just as with conventional binoculars determines how much light the device gathers.
The alternatives to zoom binoculars are the single or fixed-magnification binoculars which are designated with a single magnification number such as 10×50.
There are other multiple magnification binoculars that are described with expressions, such as 10/16×50. In this case, no zoom feature is available, but you can switch between the two magnification levels indicated by switching between different pairs of eyepieces.
Top 10 Best Zoom Binoculars Comparison
How Do Zoom Binoculars Work?
Zoom binoculars use high-quality zoom eyepieces. They work by synchronizing the set zoom level in both eyepieces. Binoculars are like two telescopes joined together with a hinge, and the synchronization of their eyepieces is achieved using a metal band.
This flexible band runs through the ocular arms and connects the zoom mechanisms on the left to that on the right side.
However, it is practically impossible to achieve a perfect synchronization in zoom binoculars due to tiny amounts of "backlash or slack" caused by the moving parts of the zoom mechanisms. But the difference is subtle and hardly noticeable, especially in high-quality models.
 Binoculars with or without zoom, which is better?
The chances are that the decision to opt for either a binocular with zoom or normal binoculars wouldn't be an easy one. Of course, both offer certain advantages and disadvantages.
A normal binocular has a fixed magnification, so you cannot individually select the respective magnification, unlike with the zoom binoculars. The technology, even with high power zoom binoculars is very tricky. So, the image quality suffers especially when zoom binoculars are used at high magnification levels.
The picture quality is not the same on both devices. Fixed-magnification binoculars offer considerably more in terms of image quality.
However, it seems to make sense for one to choose zoom binoculars to explore landscapes at low magnifications, and when you then see an animal or something else that interests you, you can zoom in quickly.
Eventually, everything boils down to individual preferences. You can also opt to have both if your budget is flexible enough.
Advantages of zoom or magnification binoculars
The zoom function offers a large and variable magnification range. This is especially suitable for long-term observation.
large selection of enlargements
beneficial in almost all areas
universally applicable
Variable magnification
It eliminates the need to invest in different normal binoculars.
Ideal for wide-range viewing.
Disadvantages of Zoom or Magnification binoculars
A smaller field of view
Image quality a bit better with standard binoculars
At very high magnification, a tripod is almost always needed.
Very high repair costs
Not suitable for everyday use
Light loss and color fringing at a lower remuneration of the lenses
Features of Zoom or magnification binoculars
One key feature that you should pay attention to with zoom binocular is the size. If you are looking for a compact and universal binocular with zoom, the best model is the model with up to x25. These models are quite small, so they can be very good for hiking. A tripod is not necessary in this case – you can easily keep the binoculars stable even at the maximum zoom level.
Attaining stability will be more difficult, for example, if you order the Celestron 71012 SkyMaster 20-100×70 Zoom Binoculars. With such high powered zoom binoculars, a tripod adapter is necessary, so that you can still recognize all objects when fully zooming in.
Applications of Zoom or magnification binoculars
1. If you order pair zoom binoculars for sale, you will get a model in which the magnification can be variably adjusted. This means that objects can be brought closer to you for better recognition.
2. Apart from the adjustable magnification, the field of view also changes significantly. When you zoom in very close, the field of view changes so much that you have to readjust.
Sharpness also changes at different zoom levels, but you must be careful to keep the binoculars quiet. At high magnifications, the picture wobbles so much that you usually need a tripod at such zoom levels. This effect will be particularly noticeable especially with telescopes.
However, stability issues can be compensated for with an image stabilizer. Even some binoculars with zoom come with such a stabilizer feature.
3. Where can a binoculars zoom be used effectively? Basically, binoculars – depending on the quality – can be carried along to almost anywhere. The quality of the binocular determines image quality.
So ornithologists like to use high-quality zoom binoculars from Nikon, Olympus. Alternatively, zoom binoculars can also be used as a telescope.
However, there is a great disadvantage that zoom binoculars usually offer lower fields of view than normal binocular.
Recommended Top 5 best zoom binoculars Reviews

The Olympus zoom binoculars offer a magnification of 8x to 16x, with a front lens diameter of 40 mm. You wouldn't be wrong to stamp these binoculars as an "all-rounder". It is, without doubt, a great asset and also one of the best compact zoom binoculars. These binoculars use multi-coated lenses. And there is also nothing to complain about the build quality, even though they are relatively low-priced.
The strengths of binoculars make it great for a wide variety of applications and the ergonomics is spot-on. The binoculars are not waterproof, but they are very robust and additionally provided users with a grip, thanks to the amazing rubber coating. So you have assured a good and pleasant grip in every situation.
The lenses are multi-coated, which is fine in this price range and also makes the device one of the best zoom binoculars for birding. A good level of contrast and brightness is still able to be achieved, so you always get a reasonable picture at all times. But it is also advantageous that the focusing is done quickly and easily on the practical central wheel.
This binocular is easy to operate, so you can focus well even when zooming to the maximum. Also, the Olympus Zoom Binoculars use an integrated diopter correction so that individual viewing needs are achieved. This feature should never be missing in any great pair of binoculars.
Whether or not you need an extra tripod for the Olympus is a matter of preference. In general, the 16x magnification, which is also the maximum in this zoom binoculars, is rarely used. And if you need to use it, you would need to put the binoculars up somewhere fast. Only with the prolonged use of this high magnification should a tripod be considered.
Pros
Top quality raw materials.
Versatile and ideal for several different applications.
Comes with a diopter correction
Very stable views
Clear and bright images.
Cons
Partial loss of stability and image quality at high magnification levels.
The Olympus zoom binoculars are clearly a coveted model in this particular category of the best binoculars with zoom. An appropriate price-performance ratio makes these great binoculars especially attractive. For occasional use in nature or sporting events, this binocular is clearly a great companion with which you can't do any wrong.

Nikon's Zoom Binoculars from the Aculon range come with either a 10-22x magnification and a 50mm front lens diameter, or an 8-18x magnification and a standard lens diameter of 42mm. We decided on this model with the values 10-22×50, since these are slightly larger than those of the Olympus presented above.
Nikon Aculon Zoom binoculars are very powerful thanks to the great values and first-class optics they offer at a fair price. The 50 mm lens diameter allows you to capture even more light, so that the images look extremely clear and in high definition, just as you would like them.
The lenses feature a multi-layer coating, which is sufficient for an exciting viewing experience. The strength of this binocular isn't just a good image quality but also the high-quality workmanship. A rubberized surface ensures that these binoculars which are, of course, one of the zoom binoculars for the money zoom is scratch and shock-resistant. It is so well made that even minor falls do not matter to these binoculars. The rubber eyecups are also great and can be adjusted so that everyone finds the right eye relief.
Especially interesting is the zoom lever, which makes zooming even easier! And thanks to a smooth central wheel, focusing is also effortless. If you decide on the model with the values of 10-22 × 50, you should better order a tripod, because, at these high magnifications, views can be very shaky.
The scope of delivery includes a tripod adapter, with which the binoculars can be easily attached to the tripod. Usually, you will find common tripods for around $20 on the Internet. If you have a steady hand, you may even use the binocular for most casual activities without a tripod.
Pros
High performing optics
Ergonomically friendly.
Multicoated optics for crisp views
Smooth and well-placed focus wheel.
Very large objectives ensure view brightness.
Cons
Large objectives equate to a relatively large weight, which you might need a tripod to handle.
These binoculars with zoom from the Nikon's Aculon series makes a solid impression and is very well made and robust. An important point to mention is the somewhat small field of view. There are also a few drawbacks regarding picture quality, especially at high magnification levels. Overall, the binocular works great, and we definitely recommend the Aculon A211.

Binoculars from Bresser are known for their appealing design and low prices. Just as the Hunter Zoom binoculars with an 8 to 24 times magnification and a lens diameter of 50 mm, this binocular efficiently transmits light and ensures bright images. At the time of writing, the Hunter by Bresser costs only about $90, which makes it very attractive for binoculars with zoom.
Thanks to the fully tempered BK-7 optics and the interplay of solid technology, the Bresser Hunter Zoom binoculars enable a good and above all color-true image reproduction. The image reproduction is further supported by the large front lens diameter, which can capture a lot of light, so that images are displayed brightly, even in lower light conditions.
Mind you, the Zoom Binocular from Bresser in the Hunter series has a diopter compensation and foldable eyecups. Thus, the visual experiences can be matched to individual users' eyes and of course, it can be optimally used by spectacle wearers.
The surface provides a good grip thanks to good rubber armor. This also ensures that the binoculars even after a long time still feel very comfortable in the hand. Focusing is very easy, thanks to the easy-to-use centered adjustment wheel.
Pros
Great value for the money spent.
Large objectives
Sleek design and a secure grip.
Comes with a diopter adjustment
Highly durable.
Cons
Imaging performance is very good, but it wouldn't have been better with BaK-4 prism,s but then it will cost more.
Of course, for the relatively low price, you should not expect the perfectly manufactured zoom binoculars because there are certain sacrifices that have been made. Otherwise, you would not get good picture quality for the price. Nonetheless, Bresser's binoculars offer a lot of opportunities to live and relive the beauty of nature, even for people with tight budgets. If you seek great views at a fair price, you will not go wrong with this device, which has received ample praise in several best zoom binoculars reviews.

The Nikon T22 from the Aculon range is interesting for anyone looking for a pocket binocular that is light, compact and also has the zoom function. At just over 300g, this zoom binoculars can be carried along on every trip. For those who prefer the easy handling and comfortable observation, you've just found a true treasure with these binoculars.
The Nikon Aculon T11 is among the best compact zoom binoculars and probably the only zoom binoculars with such a very compact design and a low weight of only 305 g. The dimensions are only 123 x 109 x 51 mm, which is extremely compact.
This model may not quite fit in your trouser pocket, but it will do so without taking up much space in every bag and backpack, Thanks to its compact design, binoculars can also be easily held with one hand. This is especially advantageous if you want to have the binoculars at hand quickly.
Focusing is achieved via the focusing wheel, which is in central. To make the zoom even easier, a zoom wheel is provided. With the wheel, you can easily change from 8 to 12, 16, and 24X magnification levels. A disadvantage is a missing connection for a tripod thread. With the 24x magnification you might encounter problems as the binoculars are very light and tend to blur easily.
Pros
Compact and light design.
Easy to use for extended periods.
Very stable images
Easy to use
Good imaging performance.
Cons
Not tripod adapter included in the delivery package.
Nevertheless, here we have a pair of binoculars with zoom in a very compact design. The zoom function is very easy to use, making the operation of this model seem like child's play. The strengths of the Aculon T11 is even more pronounced when used on journeys, hikes or sport & events. If you are looking for Zoom Binoculars with compact dimensions, which can pass smoothly as a pocket zoom binoculars, this device is just right for you.
At first glance, the Celestron SkyMaster 25-125×80 looks high quality and robust. The Celestron SkyMaster 25-125×80 is equipped with a rubberized surface and is thus secure and safe in the hand, even in adverse weather conditions.
In terms of processing, the Celestron SkyMaster 25-125×80 was convincing in our analysis. The pieces are very well put together. In addition, this zoom binocular model from Celestron has been provided with a reinforced housing structure, which makes it particularly stable.
With its large aperture, the Celestron SkyMaster 25-125×80 proves to be an ideal high-performance binoculars, suitable for both astronomical as well as for terrestrial observations. In addition, they are equipped with high-quality BaK-4 prisms and multi-coated lenses, which ensures high contrast and a comprehensive light intensity thanks to the larger total reflection limit angle.
Thanks to the large objective lens, consistently sharp images and a very wide field of view are also ensured. Even in difficult lighting conditions, the Celestron SkyMaster 25-125×80 delivered clear and precise images, which also convinced us with their outstanding brightness.
We must also mention in this review that in terms of handling, these binoculars from Celestron were also convincing. Due to the long eye relief and the very generous dioptric setting, wearers of glasses can use this model without complaints. The large focus wheel proved to be very easy to hold and sufficiently resistant throughout the test phase.
The soft eyepieces, which are very comfortable and generously dimensioned, with no disturbing light coming in laterally, and thus you are guaranteed the pleasure of viewing clear images. Added to the outstanding features mentioned above is the relatively low weight of around 4.75 lbs. which allows the binocular to be stored and transported easily.
Pros
Sturdy and very robust.
Excellent low light performance.
Multicoated lenses and BaK-4 prisms improve light transmission.
Tripod adaptable
Versatile enough for terrestrial and astronomical applications
Cons
Quite bulky mainly due to the large objectives.
The Celestron SkyMaster 25-125×80 is a high-end binocular that covers an enormous range of applications. With its excellent optical performance which allows far away objects to be detected clearly and brightly. Thanks to its excellent workmanship, this Celestron model is also very stable and robust.
Factors To Consider Before Buying Best Zoom Binoculars
To use a binocular with zoom efficiently, you should pay particular attention to some things. One of these factors would be the magnification since a binocular behaves differently when setting at large magnification than at the low magnification.
The quality is equally important because the technology in such zoom binoculars is very expensive, so you should not expect much on very cheap models.
Of course, quality also plays a major role, because nobody can do much with low quality. Inferior zoom binoculars can be very frustrating to use.
You must have heard that you get what you pay for, and that's very true for these binoculars. Also, the field of view should be considered, because this is usually smaller in binoculars with elaborate zoom function than in normal binoculars, so the image quality is often not quite comparable to that of a binocular with fixed magnification.
Final Thoughts
A zoom binocular has all the potentials of being a great investment. But this doesn't mean that you should throw out all of your fixed-magnification binoculars. An 8-12×42 zoom binocular will offer fewer quality images at full zoom than a 12×42 fixed-zoom binocular. However, the level of versatility and flexibility zoom binoculars offer makes them great to have. Users are enjoying the services of the Olympus binocular discussed above, and this holds true for every other device on this best zoom binoculars review.