8×32 vs. 10×42 binoculars, these are different in various ways. You might think that 10x is better than 8x, but that's not right from all sides of the argument.
Many birdwatchers prefer the 8x rather than the 10x. Before buying your binoculars and choosing between these two, you need to know about them as both are great for birding and hunting.
The 8x binocular gives you a wider range of the field of view and good image stability better than than the 10x. But there are some other extra advantages to 10x binoculars.
One of these binocular can increase the chances of your success when hunting.
>> Click Here To Check Price & Reviews of Binoculars <<
8×32 vs. 10×42 Binoculars
Let's learn about 8×32 vs. 10×42 binoculars.
Image Stability
We know that everyone's hands shake when they hold something. The magnification of the binoculars you choose can depend on the image size and the shakiness of the holder. When you magnify this image more, it jumps around more.
For this reason, people say that with the 8x power binoculars, they see more detail if you hold them steady. If you select the 10x power binoculars, it can be a challenge for you because this binocular magnifies the shake and the image by 10 times.
If you find it difficult to hold a 10x binocular steady, you should choose an 8x binocular for better results.
Field of View
The 8x power binoculars will provide a wider field of view than a 10x binocular. The 8×32 binoculars are also more light-weight and smaller. If your binocular gives you a wider field of view, you will easily see the viewing spot which is crucial for bird watching.
The light Gathering Ability

Our eye pupils have the most incredible power for gathering and rejecting light according to our surroundings. But a binocular is not built in such a way. The ability of light-gathering does not change in the case of a binocular. So it helps if you chose a binocular with greater light-gathering ability. Light gathering power varies in day and night.
If you are a hunter, you need binoculars that work better at dawn and dusk. The exit pupil of an 8×32 binocular is 4.00 and for a 10×42 binocular is 4.2mm. In the case of low light, an 8×32 binocular provides the maximum light rather than the 10×42 binocular.
Eye Relief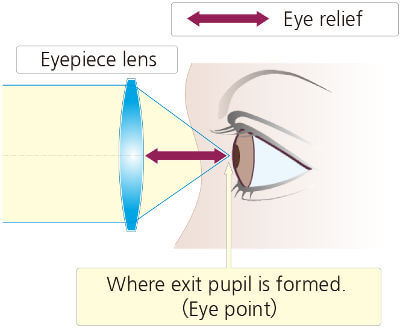 The maximum eye relief for models of 8×32 binoculars is greater than that of 10×42 binoculars.
Eye relief is not a matter for those people who do not wear glasses.
If you wear glasses, you must pay attention to this feature. The minimal eye relief for a glass wearer is 16 mm.
But for a better result, you should select binoculars with 17 to 20 mm eye relief.
An 8×32 binocular provides 19mm eye relief, where a 10x binocular offers 17mm eye relief.
Rifle Hunting
If you like rifle hunting, you need a binocular of maximum reach. For this, the 10×42 binocular is better. It will be the right choice for you for rifle hunting.  Though you are closer to the prey, you need to operate your binocular with a skilled hand to gather the target's detail.
Birding
For the bird watcher, a larger exit pupil and a large field of view are preferable. For this, the 8×32 binocular is better than the 10×42 binos. But for the slower bird such as shorebirds, you don't need a binocular with a larger field of view.
Now the choice is yours. You need to think about your needs because of the differences between the 8×32 vs. 10×42 binoculars. A 8×32 binocular is good for the bird watcher, hunter, or nature viewer, but both have pros and cons.