Discover this perfect binocular for your next outdoor adventure with the help of our best 8×30 binoculars reviews.
These binoculars are quite versatile and well suited to several casual outdoor activities like hiking and traveling, to the more professional activities like hunting and astronomy.
 Bird watchers also love binoculars with these specifications.
The 8x magnification offers the observer all the details, and we have highlighted specific features to look out for when choosing a 8×30 binocular.

Most 8×30 binoculars are very compact, making them a must-have for outdoor enthusiasts who love to travel light.
The following models come at pretty affordable prices, but they are not cheap, as these binoculars offer you mind-blowing views.
Below is a rundown of some of the best quality 8×30 binoculars.
Top-rated 8×30 Binoculars for 2020
What Do 8×30 Binoculars Mean?
As with any other type of binoculars, the numbers in the expression 8×30 represent the magnification level and the objective lens diameter. So with 8×30 binoculars, users get an 8 fold magnification compared to viewing the objects with the naked eye.
The lens diameter measures 30 mm.
Binoculars with an 8x magnification power are also known as universal binoculars (mostly 8×42 binoculars) because such binoculars are versatile and adapt perfectly to various situations. The 30 mm lens diameter provides fields of view that range between 110 and 125 meters at 1,000 meters (1km) distance. Occasionally, the value can go below or above the limits of this range.
Also, 8×30 binoculars are usually very compact and rarely measure more than 16 cm x 16 cm x 5 cm. They also typically weigh between 400 and 600 grams. They are larger than 8×20 binoculars with these dimensions but much more compact than 8×42 binoculars or even the 8×56 binoculars.
These 8×30 binoculars are suitable to carry anywhere, as they are space-saving and comfortable to use.
Usage & Benefits of 8×30 Binoculars
As stated earlier, 8×30 binoculars are incredibly versatile, just like other models in the 8×42 binoculars categories. They are convenient optical devices that are universal and will indeed serve you well in different situations.
Whether you want to watch birds, go on a long hike, relax on vacation, or follow a sports event on the big stage, the 8×30 binocular will be a great and reliable companion for you.
There is so much more to say about these binoculars, and below is our list of recommended 8×30 binoculars.
Recommended Top 5 Best 8×30 Binoculars Reviews
 Best 8×30 Compact Binoculars.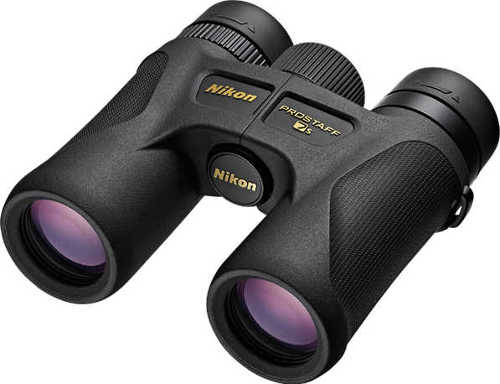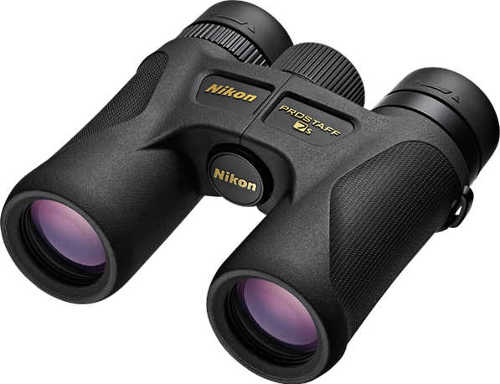 One great beginner model binocular we love is the Nikon Prostaff 7s 8×30 binocular, which is available on the market as a beautiful black masterpiece. It not only ensures optimal image quality but also impresses by being lightweight. The Nikon Prostaff 7s binoculars 8×30 can also be used by spectacles users due to the large eye-to-eye distance.
If you like exploring the beauty of nature, then this Nikon Prostaff 7s 8×30 binocular will be incredible for you. They have adjustable eyecups made of rubber, which have several indent positions.  The lenses' production uses arsenic and lead-free eco-glass, which is eco-friendly and harmless to human health.
The Nikon Prostaff 7s Binoculars 8×30 is waterproof and can be held in the water for up to 10 minutes at one meter without any damage. They are ideal for anglers, so any accidental slips into the water wouldn't cause any problems. These binoculars have a dimension of 1.2 x 4.8 x 4.7 inches and weigh only 0.91 lbs. making them easy to carry on long trips.
 Binocular Features and Specifications

Nikon's Advanced Optical System.
Ergonomic, Rubber Armored Body.
Fully Multilayer Coated Arsenic and lead-free Eco-Glass Lenses.
Phase-Correction Coated Roof Prisms.
Long Eye Relief.
Weight: 0.91 lbs
Turn-and-slide Rubber Eyecups.
Close Focus Distance: 4 m
Rubber Armored Body.
Fully Waterproof/Fog proof.
Exit Pupil: 3.8 mm
The Nikon Prostaff 7s binoculars 8×30 commands an environmentally friendly production and a remarkably lightweight build. Nature lovers will be enthusiastic about the high quality of the pictures they provide. Furthermore, this model is waterproof, so bad weather wouldn't be a problem at all. Overall it is one of the top quality 8×30 binoculars from every point of view.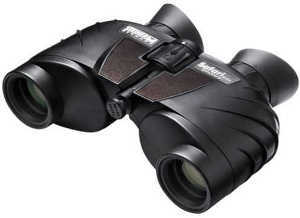 The Safari UltraSharp 8×30 binoculars from Steiner are perfect for outdoor enthusiasts and nature lovers. Ideally, the product is black and provides a good overall vision in all weather. The expensive glass used in making the lenses does not fade as quickly as observed with other models. Thanks to the ergonomic eyecups, which optimally adapts to any user's facial field.
The Steiner Safari UltraSharp 8×30 Binocular is a must-have for any trip to the wilderness. You have a field of view of 120 m per 1000 meters. Whether you are a hunter, bird watcher, or forest explorer, the Safari UltraSharp 8×30 Binocular will serve professionals and fun lovers well.
Thanks to the Sports-Auto-Focus Plus, objects can be observed while in motion, without any distortions to the image. These binoculars also have a robust housing and are waterproof.  You can also use them in humid areas without observing any adverse effects to the binocular's functions.
Binocular Specifications and Features
Dimension: 16.6 x 5.7 x 12 cm
STEINER High-Contrast-Optics.
Field of view @ 1000 m: 120 m
STEINER Sports-Auto-Focus Plus.
Extreme Ruggedness.
Lightweight ( 612 g)
Ergonomic eyecups
STEINER ClicLoc Strap Attachment.
Fully waterproof
High-contrast optics
Proven robustness
If you are looking for a pair of robust binoculars for trips into nature, then the Steiner Safari UltraSharp  8×30 Binoculars are a great choice. They offer sharp, smooth images and also provide a wide field of view. Their waterproof exterior allows for a good grip.  We strongly advise you to check this device's full details in the Steiner Safari Ultrasharp 8×30 Binoculars Review above.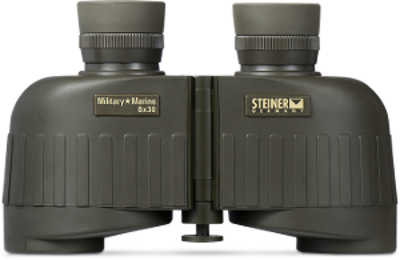 For those fishing trips and outdoor activities, the Steiner 8×30 Military/Marine Binocular is indispensable. These binoculars are for the real professional and leave nothing to be desired, with a remarkably useful design. With all the included accessories, you will have all you need for your next hunting or discovery trip, whether on land or sea
The Steiner 8×30 Military/Marine Binocular in black color has a light intensity of 14.1 and weighs just 18 ounces, making them easy to transport.  We must also highlight the built-in NBR Long-life rubber armoring, which ensures a safe grip during use.
The Steiner 8×30 Military/Marine Binocular with dimensions of 6.8 x 2.4 x 4.6 inches are delivered together with a carrying bag for safe storage and a carrying strap that allows you to hang the product around your neck. So you have your hands free for hiking sticks, rifle, fishing rod, or other outdoor gears.
These Steiner 8×30 binoculars also reassure users of their quality with an extended warranty period of 10 years. In the case of defects, you can send the product for repair by the manufacturer.
Binocular Specifications

Sports-Auto-Focus Plus – focuses from 20 yards to infinity.
Dimensions: 6.8×2.4×4.6 inches
Ergonomic eyecups.
Accessories: Protective pouch, carrying strap.
Double diopter adjustment.
Tough with Longlife rubber-armored housing.
Rainproof and fog-resistant construction.
Wide field of view-360 ft. @ 1,000 yards.
Long 20mm eye relief.
Weight: 18 ounces.
If you would like to experience real quality during nature observations, the Steiner 8×30 Military/Marine Binocular will indeed prove helpful. It is not only light to handle but also hardy because of the NBR Long-life rubber armoring that makes this device one of the best rated 8×30 binoculars. If anything ever goes wrong, you can rely on Steiner's 10-year warranty.

If you want a low budget high quality binocular for outdoor activities, then you will find nothing better than the Wingspan Optics SkyWing 8X30 binocular. It offers bright images in different light conditions, which allows you to enjoy the view more. This binocular offers an extra-wide view and a high level of brightness and contrast with its 8x magnification features. It gives you a steady image and crisp view that other budget binoculars can't.
We think it is the best beginner binocular, as the user process is straightforward, and it feels very light, which is crucial for a binocular. When you are carrying your binocular, watching a landscape view, or your favorite sports, it has to be light and straightforward. The Wingspan Optics SkyWing binocular is the best for this.
The great thing about this binocular is it can give you a detailed view, which you often find in birdwatching or wildlife binoculars. You will surely enjoy the performance of the 30 mm objective lens and its magnification. While using this binocular, we found it uncomfortable with glasses. Even with two ok type eyepieces, it's not that comfortable—overall a mixed experience with the comfort of use.
Binocular Special Features
Magnification: 8x
Objective Diameter: 30mm
Eye relief: 17.5 mm
Field of view @ 1000 yds in 429 ft
Close focus distance 3.55 mm
Foldable eyecups.
Fog and waterproof
Dimension: 7.9 x 6.8 x 3.2 inches
Weight: 1 lb
Includes neck-straps, carrying case, microfiber lens cleaning cloth.
Best Nikon monarch 8×30 Binoculars.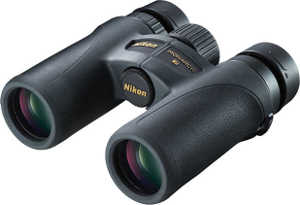 The Nikon Monarch 7 Binoculars 8×30 are a great product in the middle price segment, which will undoubtedly meet most nature lovers' needs. These lightweight binoculars weigh only 650 g. Their black appearance helps hunters and birdwatchers to aim at an object inconspicuously.
The built-in rubber armor provides a good grip and, at the same time, acts like a prima cushion against shocks. Thanks to the dimensions of 142 x 130 x 48 mm, the Nikon Monarch 7 Binoculars 8×30 are compact and fit well in your pockets. You can also easily take this product with you in your backpack without losing much space.
In addition to the binoculars, you get a carrying strap,  lens covers, and a handy nylon bag, all of which contribute to the durability and ease of using this product. The housing is glass-fiber-reinforced polycarbonate resin, so the binoculars are well protected against impacts. These binoculars can be used comfortably by spectacle wearers.
Binoculars Special Features
Dimensions: 142 x 130 x 48 mm
Compact and Lightweight Body.
ED Glass Lenses.
Wide Apparent Field of View.
Dielectric High-Reflective Multilayer Prism Coatings.
Long Eye Relief.
Multilayer Coated Lenses and Prisms.
Compact Body Design.
Turn-and-Slide Rubber Eyecups.
Fully Multicoated Eco-Glass Lenses.
Smooth Central Focus Knob.
Waterproof and Fog proof.
Phase-Correction Coated Roof Prisms.
Superior Optical System.
Housing made of glass fiber reinforced polycarbonate resin.
This 8×30 binocular is particularly robust and waterproof and can be held safely and comfortably in your hands because of the high-quality rubber armoring. They offer a wide field of view at a distance of 1000 m. The Nikon Monarch 7 Binoculars 8×30 the ideal companion for hunters, animal observers, and nature lovers.
Final Thoughts
All the binoculars reviewed above have many positive reviews from their customers, so you can choose the best 8×30 binocular for hiking, fishing, hunting, or for anything else you wish.
Top-rated 8×30 Binoculars