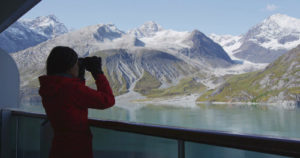 Enjoy your best vacation ever with a pair of these best binoculars for an Alaska cruise. We all know how memorable those sights of beautiful glaciers and whales causing huge splashes can be, but all that can be even better with the right choice of a binocular.
It would be best if you considered certain things when selecting an optical device for your cruise, they must be waterproof and fog-proof, but the list goes well beyond these two features.
Top-Rated Binoculars for Alaska Cruise of 2022
Factors To Consider Before Buying the Best Binoculars for an Alaskan Cruise Trip
Waterproof and Fog-proof
Just as we already hinted above, the best binoculars for a cruise must be resistant to water and fog. There are specially made marine binoculars that can cost as high as $2000, but you don't need to spend that much.
With smart research, you can find fairly-priced devices that will perfectly enhance your experiences. Purchasing a pair of waterproof binoculars means they are durable enough to take along with you on your next Alaska cruise and the next one after that, as we are sure that the first will definitely not be your last.
The fogging of the lenses affects light transmittance and the general functioning of a binocular, so it is essential to get a device that won't fog due to fluctuations in the atmospheric temperature so you can enjoy crisp, clear images.
Magnification and Image Stability
Making this the second point on our list doesn't make it less important than the first. Remember that you will be on a mobile platform while on a cruise ship. Couple that with the natural shakiness of the hands, and you could struggle badly with image stability. Avoiding a device with a very high magnification power means you will not be disappointed, particularly if you get a large magnification device without an image stabilizer.
From experience, devices that offer a 7x or 8x zoom level are perfect for ship trips. 10x binoculars with an image stabilizer are another excellent choice. Such devices also provide a wide field of view if you opt for a relatively large objective lens diameter.
Size and Weight and Overall Quality.
Good quality binoculars hardly weigh over 1kg. So if you get your pick right, extended periods of use would never be a problem. There are limited luggage weight restrictions on cruises and airplanes, so the chances that a binocular will make you exceed your weight limits are very slim.
Some lightweight binocular models offer great views for travelers that want a high performing binocular without too much weight. Specialized marine binoculars are often bulky but provide lovely optic performance, particularly at night. So getting a tripod and adapter would significantly improve your experience.
A wide assortment of mid-sized binoculars is also available for those who prefer to stay in the middle of the spectrum.
Also, there is a good chance of getting your device splashed with water, so it would be ideal to purchase a device with a quality rubberized armor that ensures a safe grip as well as protecting the interior components of your binoculars.
Besides that, the best binocular for cruise ships would last a very long time, even when used after the cruise for other purposes. In the next few paragraphs, we will bring you a list of our recommend binoculars for your Alaska cruise.
Top 5 Best Binoculars Reviews
for an Alaska Cruise Ship

– Best Binoculars for Sightseeing in Alaska.
This gorgeous binocular from the Celestron Granite series is a sight to behold. It combines impressive looks with fantastic optical performances that make them stand out among the hundreds of other devices you would encounter on a cruise.
With a total weight of 680 g, this binocular is a delight to operate as your hands won't tire even when used for hours. The 8x magnification, combined with an objective lens diameter of 42mm, offers crystal clear images of whatever object is in focus.
This device is very robust and has its exterior surface covered with rubberized armor for an excellent grip and provides the much needed external protection against impact, dirt, and scratches.
These marvels are equipped with quality BaK-4 roof prisms and fully multicoated, which offer very bright images and helps the device perform better in low light conditions. This Celestron binocular is waterproof and incorporates an internal gas filling that prevents the interior optical components' fogging.
Technical Specification
Weight: 24 oz (680.39 g)
Dimensions:    5.5 x 2.2 x 5 inches
Exit Pupil: 5.3 mm
Field of View (@1000 m): 142 m
Eye Relief: 17 mm
Near Focus Distance: 6.5 ft (1.98 m)
Weather Proof: Waterproof / Fog proof – Nitrogen Purged
Pros
Fully waterproof and fog-proof feature
The image quality offered is highly rated
Included casing and neck strap other accessories are of very high quality.
Tripod adaptability
Fully rubberized coating which provides a quality grip.
Cons
The image quality comes with nothing to complain about, but a little softening can be observed at the extremes of the images. It's not awful, but a few have complained about it.
– Best Binoculars for an Alaskan Holiday.
The Vortex brand is known for its quality optics, and this device is no different. It more than justifies its place among the mid-range binoculars category. This Vortex Optics Viper HD binocular features an extra-low dispersion glass that offers high-quality images even in low light conditions.
Contributing to this binocular's brightness and increased transmittance is the XR coating on the HD lenses, phase-corrected prisms glass. It can be challenging to maintain optimal handling of your binoculars, particularly in humid areas like the sea. Vortex has considered this, which explains why this binocular features a high quality rubberized armor to ensure a perfect grip.
This armor also contributes to this device's waterproof nature, which comes with O-ring seals and argon gas filling to prevent internal fogging. Many users have referred to these binoculars as perfect on Amazon, and it's not difficult to see why.
Technical Specification
Dimensions: 5.8 x 5.8 x 5.3 in
Weight: 24.2 ounces
Eye Relief: 20 mm
Exit Pupil: 5.3 mm
Field of View @1000 yards: 347 feet
Close Focus Distance: 5.1 feet
Pros
Excellent ergonomics and image quality
Binoculars are easy to use and are very durable.
This device is completely waterproof and fog-proof.
A wide field of view: 347 feet at 1000 yards, which is equivalent to 6.6 degrees.
A whopping 20mm eye relief.
Retractable eyecups make the device adaptable for eyeglass wearers.
Cons
Apart from a few users demanding more magnification on Amazon, this binoculars have no significant cons.
– Best Compact Binoculars for Alaska Cruise.
If you are one of those that wouldn't want to deal with any extra weight on your next cruise, then this very compact pocket binocular is for you. Don't be in a hurry to judge performance by size when you see this binocular as it offers nothing short of crisp, true-color, and extremely sharp images.
This portable monster offers an 8x object magnification capacity.  It also features twist-in eyecups that enable spectacle wearers and non-spectacle wearers alike to enjoy the entire 119 meters field of view at 1000 meters. Again, this binocular won't fog due to temperature fluctuations and waterproof, which earns a place amongst Alaska's best binoculars.
With a dimension of 2.36 inches x 3.7 inches x 1.4 inches and a total weight of 0.5 lb. Approximately 227 grams, you would hardly come across a pocket binocular as high performing as this Swarovski 8×25 binoculars.
Technical Specification
Dimensions: 6 x 7 x 3.2 in
Weight: 12.2oz / 345g
Exit pupil (in/mm): 0.12/3.1
Eye relief (in/mm): 0.67/17
Field of view: 357 ft @1000 yds / 119 m @1000 m
Close focusing distance: 8.2 ft /2.5 m
Pros
Compact and highly durable device.
This binocular is lightweight and ideal for extended observation periods.
High-quality coatings with impressive optical performance.
Long relief makes device suitable for eyeglass wearers
Cons
This device lacks lens covers.
This binocular offers excellent daytime performance, but the 25mm lens diameter is not the best for night observations.
– Best Binoculars for Alaska Cruise Ship.
Have you wondered what is the best binocular to buy for an Alaska cruise? Then this Barska Deep Sea waterproof binocular might be the one for you. The device is specially built for aquatic activities and ocean enthusiasts.
This device's standout feature is a generous 50mm objective lens diameter. With the fully multi-coated prisms and quality BaK-4 Porro prisms, this device offers very bright and clear images even under poor light conditions as at nights, dusk, and dawn. The 7x magnification is handy as it ensures that very stable images are achieved even when sea conditions get rough.
Just as the name implies, these binoculars are fully waterproof, fog-proof, and even incorporate a bright yellow strap, preventing your binocular from sinking if it ever drops mistakenly into the water. These binoculars also feature quality ergonomics and a shockproof rubberized armor for a highly secure grip.
Technical Specification
Dimensions:    3.5 x 7.1 x 7.7 in
Weight: 38.8 oz
Close Focus Distance: 22.3ft / 6.8m
Eye Relief: 23mm
Exit Pupil: 7.2mm
Field of View: 395ft @1000yds / 132m @1000m
Pros
Excellent performance in low light conditions
A very wide field of view of 354 ft. At 1000 yards.
The delivery package includes flotation straps, lens covers, and a cleaning cloth.
Binoculars come with a built-in compass and a rangefinder.
Cons
At a total weight of 1099 grams, this binoculars are quite bulky.
– Best Binoculars for an Alaskan Cruise.
Without a doubt, you would enjoy the crisp images offered by these Bushnell 7×50 marine binoculars. The device has been put through rigorous quality tests, and each time it passes with flying colors. The premium Porro bak-4 prism and fully multicoated offers a stunning HD image clarity.
Just like the Barska 7×50 binocular discussed above, this device is waterproof, shockproof, and doesn't sink upon accidental drops into seawater. The rubberized armor is resistant to corrosion caused by seawater's salty nature and protects the device from shock and impacts.
A special tilt feature and a small LCD enables users to optimize image stabilization. At 2.3 lb. (app. 1043g), this device is not as bulky as the Barska device, which offers similar specifications. The wide objective lens diameter of 50mm enables the binoculars to gather sufficient light on those beautiful nights at sea.
The wide field of view of 122 meters at 1000 meter is entirely observable by both spectacle and non-spectacle wearers; thanks to the long eye relief of 18 mm.
Technical Specification
Dimensions: 2.68 x 7.01 x 7.48 in
Close Focus Distance: 35 ft /10.6 m
Field of View: 367 ft@1000yds / 122 m@1000m
Eye Relief: 18 mm
Exit Pupil: 7.1 mm
Weight: 37oz / 1050g
Pros
These binoculars incorporate quality Porro prisms.
The device has a long eye relief.
Binocular is completely waterproof and fog-proof and comes with a built-in compass.
A quality case and neck strap are included in the delivery package.
Excellent performance in low light conditions.
Cons
The device is pretty large.
Conclusion
Going on an Alaska cruise is definitely a great way for you to spend your vacation and your experience is never complete without a suitable binocular that is well adapted to the marine environment.

The ideal binocular for your trip is one that would work very well, last a long time, and not cost too much. Our review comprises a carefully researched list of binoculars that will surely meet all your needs and we hope it helps you find the best binocular for an Alaska cruise. Bon Voyage!
Top-Rated Binoculars for Alaska Cruise