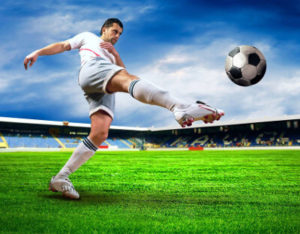 Ever asked yourself what the best binoculars for football games are?
Watching football on TV  is relaxing, but real fans hit the stadium and cheer on their team till the end.
The only problem is you might not be lucky enough to get seats close to the pitch, which is why you should invest in a decent pair of binoculars.
Top-rated Binoculars for Watching Football Games 2022
| # | Preview | Product | Rating | |
| --- | --- | --- | --- | --- |
| 1 | | Opticron Discovery WP PC 8x32 Binocular | 272 Reviews | CHECK PRICE |
| 2 | | Levenhuk Rainbow 8x25 Red Berry Binoculars for... | | CHECK PRICE |
| 3 | | Wingspan Optics WideViews HD 8X42 Professional... | | CHECK PRICE |
| 4 | | Eoncore 2" LCD Display Digital Binoculars Camera... | | CHECK PRICE |
| 5 | | Canon 15x50 Image Stabilization All Weather... | | CHECK PRICE |
Why Should You Bring Binoculars for Watching Football Games?
Being at the stadium and watching a football match on the big screen is better than watching from home. To enjoy all the action and witness how the thrill unfolds, you need a befitting binocular.
If you are regular at stadiums, you've celebrated a goal or touchdown just because you heard the crowd in front of you celebrating, which is disheartening. That doesn't have to happen anymore as we've done all the necessary research and written the complete guide on buying the best binoculars for watching football games.
What Size Should You Choose for Football Viewing Binoculars?
Even though you probably will not be holding up your binoculars throughout the entire course of the game, its size is essential.
Most people love lightweight binoculars with 20 to 25 mm objective lenses because you can use them with one hand while you munch popcorn or some other snack with the other.
8×42 binoculars are ideal, versatile, and well suited for football viewing.
Devices with objective lens diameters between 30 and 42 mm are also suitable because they come in manageable sizes and offer quality images.
Top 5 Best Binoculars for Football Games
1. Opticron Discovery WP PC 8×32  – Best Compact Binoculars for Football Games
The Opticron Discovery 8×32 binocular won the 2015 award for the best compact binocular, and the reasons are there for all to see. The exterior has a quality rubberized armor, making this sleek device sturdy and gentle on the hands.
The twist-up/down eyecups make them suitable for all users, including eyeglass wearers and non-eyeglass wearers alike. The ergonomic focus wheel is large and central, making it easy to adjust the binoculars even with gloves on.
At an entire weight of 391 grams, 4.3 inches x 4.6 inches x 1.8 inches, this device isn't only lightweight and one of the best compact binoculars for football games.
Like all Opticron Discovery binoculars, this ultra-compact 8×32 features fully multi-coated lenses and phase-corrected lenses, giving excellent images. This device's linear field of view is fantastic and measures an impressive 393 ft. at 1000 yards.

Pros
Excellent optical performance.
Lightweight and compact.
Fog proof and waterproof features
Highly stable images.
Wide field of view.
Cons
Higher models from this manufacturer feature magnesium chassis. It's a minor disappointment that the 8×32 binocular doesn't.
2. Levenhuk Rainbow 8×25 Red Berry  – Best Small Binoculars for Football Games
This red berry 8×25 binocular is beautiful, comes in a stylish design, and incorporates high-performing optics, qualifying it as a very good binocular for football games. It is ideal as a low-budget binocular, which doesn't compromise any bit of its functionality.
Like most quality binoculars, this device features high-quality Bak-4 roof type prisms and fully multi-coated (FMC) lenses with impressive light transmittance and color reproducibility. Other prominent features are the twist-up eyecups and a fully waterproof and fog-proof function.
The 8×25 Levenheuk binocular will surely enhance your experience with its 399 ft. field of view/ 1000 yards. The minimum focus distance (near focus) is just 16 ft., approximately 4.88 meters. The total weight of this device is 0.78 lbs. (358.3g). This is one of the lightest high, performing binoculars you will ever lay your hands on.

Pros
Wonderful binoculars available in seven dazzling colors
Great value for money
High performing optics
Ergonomic design
Very compact and lightweight.
Cons
The low-light performance isn't awe-inspiring.
3. Wingspan Optics WideViews HD 8×42 Professional  – Best Binoculars for Viewing Football Games
The WideViews HD 8×42 binocular from Wingspan Optics is one of the most popular for ornithology (bird watching). Still, its several outstanding features make it ideal for event football watching. It is a robust, sleek, and rugged binocular yet gentle on the hands. It gives images as good as you can get with any great binocular and is one of the best wide-angle binoculars for football games on the market now.
The wide linear field of view is 430 feet at 1000 yards. The HD images produced results from the phase-corrected prisms, and the 42 mm lenses feature anti-reflective coatings that guarantee brightness even in poor lighting conditions.
The housing is fully sealed and contains a nitrogen feeling, making this device fog proof and waterproof, so you wouldn't have to fret when it rains. The near focus is a mere 2 meters, so however close you are to the field, you maintain your right to stunning images of the action as it unfolds.

Pros
HD clarity of images
High performing optics in all conditions
Very close minimum focus distance.
Very versatile binoculars
Wide field of view
Cons
Not the lightest binoculars 8×42 binocular on the market.
4. Onick VP-1200 for Football Game
The Onick VP 1200 football game binocular is known for its clarity and high definition (HD) images. The roof prism used in this binocular has a multilayer dielectric coating, which enhances the image brightness even under low light conditions.
The magnification power is simply superb, and the lenses come with anti-reflective coatings to minimize eye strain. Sturdy and reliable, you will, for sure, fall in love with this optical instrument.
The VP-1200 is a multifunctional binocular that you can use to take pictures with your smartphone by connecting it through the USB port. You can copy the images you snap to your personal computer. The digital 12-megapixel camera, with its excellent magnification power, lets you enjoy and relive every moment you have spent outdoors.
This binocular supports the AVI motion picture and JPEG single static pictures. Also, you can use the USB port with a removable hard disk to plug and play or to transfer images and videos on your computer.
This pair of binoculars is a favorite for most sports enthusiasts—lightweight, compact, and easy to focus with all the 'plus' Points better than most other high-end sports binoculars.
Pros
Exceptional optical performance
It can connect to a smartphone for pictures
Can transfer photos and videos to your computer
Supports camera and video recording
Lightweight and compact
Cons
Require 7AAA battery to function properly
Quite pricey
5. XUEXUE 8×32 Waterproof Zoom
The new 8×32 XUEXUE has the most advanced optical technology plus a clear definition that will bring you so much fun.
This binocular is full of features that will excite even an expert, bringing so much fun to any outdoor enthusiast, and even kids will find them very interesting.
It is suitable for sports fanatics, hunters, campers, and tourists who enjoy the XUEXUE binocular's versatility in all weather conditions. It is truly a perfect companion for hiking, birding, tourism, camping, sports, and concerts. Lightweight and compact, this binocular can be folded into a very small size, making it easy to bag and carry around.
The adjustable eyecup-shells mount makes the large central focusing wheel easily adjustable with one hand. These adjustable eyecup shells are easily bent up and down for optimal visibility for users with or without glasses.
This binocular's most impressive feature is the BAK4 prism providing clear, bright, and crisp views. The O-ring seals and nitrogen purging provide reliable fog-free performance. A Non-slip rubber armoring helps protect against bumps and provides a secure grip. The long eye-relief ensures friendliness to eyeglass and non-eyeglass wearers.
Pros
Adjustable eyecups
Foldable and compact
Features the most advanced optical technology
Waterproof
Made with 100% quality materials
Cons
The lenses are not fully multicoated
What Features Should You Look for Before Buying Binoculars for Watching Football/Soccer Games?
The Magnification: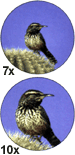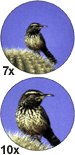 The zoom level is critical, as usual, for watching football or any other sporting event in a stadium. The ideal magnification power depends on how far away you are from the pitch or arena. If you are close enough already, then a low magnification pair that offers very stable images is great to enjoy all the tiny details.
However, if you are seated at or close to the extremes, you can do with more magnification. 8x or 10x devices would suffice as going above these marks can make you struggle with image stability.
The Field of View and Near Focus.
In simple terms, this is the size of the portion of the field you can see through your binoculars at a time. This feature is essential in sports since your interested objects move pretty fast.
You'd need a device with a decent field of view; around 300 ft. or more at 1000 yards would do for viewing stadium events. Going too far below, this figure makes you struggle with the need to focus repeatedly, which can dampen the joy you derive from your binoculars.
The near focus is the closest distance at which an object can be focused. Again, for people seated close to the pitch, a device with a very close near focus is ideal.
The Eye Relief:
The linear distance between the eyepiece and the observer's eye is crucial for considering if you wear corrective glasses. The rule of thumb is to buy binoculars with adjustable eyecups with an eye relief of at least 15 mm, enabling spectacle wearers to observe the entire field of view.
Quality of Build:
It would help if you had nothing short of the best quality of the binocular for sports viewing. If included, the rubber armor, the optical components, and accessories should be able to stand the test of time.
Conclusion
You will never know how much you've been missing until you watch a game live in a stadium with a great pair of binoculars.

Our list of recommended football game binoculars has got it all. Though it's short, you will find great binoculars to suit whatever your budget may be as everyone deserves the best binoculars for football games, and now you know how to find one.
Top-rated Binoculars for Watching Football Games
| # | Preview | Product | Rating | |
| --- | --- | --- | --- | --- |
| 1 | | Opticron Discovery WP PC 8x32 Binocular | 272 Reviews | CHECK PRICE |
| 2 | | Levenhuk Rainbow 8x25 Red Berry Binoculars for... | | CHECK PRICE |
| 3 | | Wingspan Optics WideViews HD 8X42 Professional... | | CHECK PRICE |
| 4 | | Eoncore 2" LCD Display Digital Binoculars Camera... | | CHECK PRICE |
| 5 | | Canon 15x50 Image Stabilization All Weather... | | CHECK PRICE |