If you are a sports fanatic, then you definitely need one of the best binoculars for sports viewing. Nothing beats the feeling of being right there at the heart of the action as it unfolds, cheering on your favorite team or athlete, in the midst of people who share the same passion.
One small issue often encountered is the fact that you might not always get the front seat which is why you will need a pair of binoculars.
The binocular you choose should offer sufficient magnification and very stable images. Besides that, it should be sturdy and weather-resistant just in case it rains while the game is on. Getting the right fit can be a big ask but we've got you covered, just read along as we reveal everything you need to know about the best binocular for watching sports.
 Top-rated Binoculars for Sports Viewing 2020
Why You Buy Sporting Binoculars?
Is your favorite football, baseball, basketball, rugby, tennis, or some other sport not listed here? Then, buying the right pair of sporting binocular will guarantee the maximum enjoyment of the sport you love. Binoculars make your favorite team or athlete seem like they are right in front of you.
If you are accustomed to following sporting events from the screen of your television, it's high time you ditched that because you are missing out on so much fun.
The best part is you don't need to spend a fortune to get a befitting device. Knowing what to look out for is crucial for choosing the best binoculars for spectator sports and so let's discuss the factors to give thought to.
Factors to Consideration Before Buying  These Best Binoculars for Sports Viewing
Magnification:
The first point on our list is an important one. The primary thing a binocular does is to make things look bigger. With sporting binoculars, you might feel that the more magnification you get, the better for you. Well, that couldn't be farther away from the truth. With very high magnification binoculars, images formed are unstable because the subtle shakiness of the user's hands gets amplified.
In addition, the field of view (another point we'd discuss shortly) also decreases with an increasing level of magnification. As a result, the ideal level of magnification for binoculars for sporting events to us are those with 7x to 10x zoom powers. They offer you bright and stable images as well as a generous field of view.
Field of view:
The field of view of a binocular refers to the part or portion of the object that is viewable through the binoculars. It is usually measured at a distance of 1000 meters or yards. In this case, it can refer to the portion of a pitch, boxing ring, track or number of players that you can observe at one time. To fully enjoy your weekends or nights at the game, get a binocular with a wide field of view. With such a device, you won't have to continuously move your binoculars trying to focus on the various parts of the field or the different players running around.
While it can be challenging to find a binocular with a field of view that accommodates an entire football field, for example, a device with a field of view reaching 315 feet at 1000 yards would suffice; the wider you can get the better of course!
 Weight and size:
These features are mostly dependent on the size of the lenses featured in the binocular. Generally, larger lenses offer brighter images as a result of the increased objective lens diameter.
Personally, I wouldn't want to carry a cumbersome device to the stadium just to enjoy the quality images, neither would I want to compromise a memorable view just because I want an extremely light device.
Fortunately, there are a good number of mid-range and compact binoculars that offer excellent views and are suitable for sporting events; you'll meet them shortly. The type of prism incorporated in a binocular is another defining factor of its size and weight.
Most high performing compact binoculars feature roof type prisms systems, as this allows for a more compact and lightweight build. There are also top quality compact Porro prism binoculars that are a bit heavier than their roof prism counterparts thou; these devices tend to offer more image quality especially in low and medium-priced binoculars category.
 Overall Quality:
The best sporting binoculars are rugged, sturdy and weather resistant. They offer long-term durability and can be used in any location.
The binocular should feature a quality rubberized armor that protects the device against shock in case it is accidentally knocked down by an overzealous fan celebrating a goal or touch down. Fog proof and waterproof features are also very important considering the fact that it could rain and not all sports venues are roofed.
Near focus:
Some sports such as tennis, volleyball or events at local schools keep spectators close to the action. If you attend such a sporting event but would love to follow the action even more closely, then get a device with a remarkably close near focus. Such devices come with low magnification (usually 4x) and offer a very wide field of view.
Ergonomics:
The device you choose should be ergonomically friendly. It should feature an easily accessible adjustment wheel, offer a secure and non-slip grip and has an eye relief long enough for both spectacle and non-spectacle wearers to enjoy the entire field of view of the binocular.
Top 5 Reviews of the 

Best Binoculars for Sports Viewing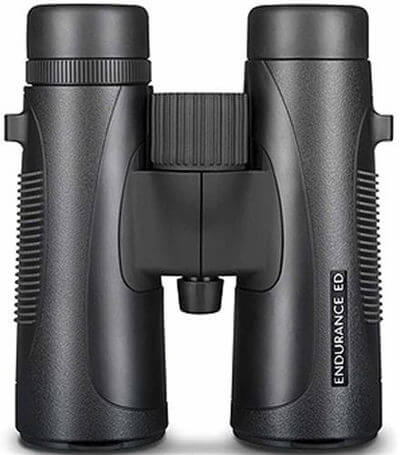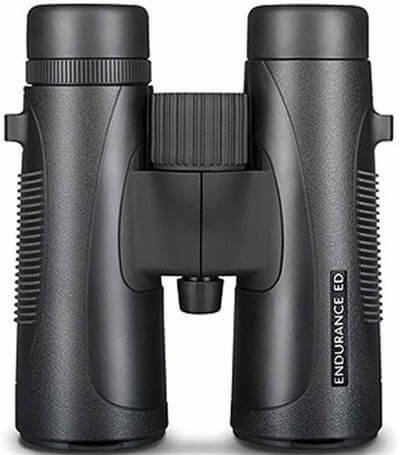 The Hawke 8×42 binocular is at the top of our list because it is a very good binocular for sports viewing. At 1.1 pounds, it is not the lightest compact binocular you'd find but the weight can be comfortably managed for long periods while viewing sports events.
The optics feature fully multicoated lenses and quality phase-corrected BaK-4 roof type prisms which produces very sharp and color-true images. The impressive 8x magnification power brings the action very close to you so no matter where you are seated, you wouldn't miss out on any bit of the fun.
The 42 mm diameter of the objective lens ensures that the device is able to gather enough light even when the lighting condition is rather poor. The field of vision meets our requirement for sporting events; it is a worthy 388 ft. at 1000 yards.
This Hawke sport binocular also features an external rubberized armor which guarantees optimal grip and protects the device from shock, scratch and dents.
Pros
 Very bright and quality images
 High quality optics and lens coating
The binocular is lightweight and compact
Fully Fogproof and waterproof.
The 18 mm eye relief makes device suitable for eyeglass wearers.
Cons
No significant con but the field of view could be wider.
Imagine a binocular with a field of vision almost three times as large as standard devices! You definitely could do no wrong with the Bushnell Xtra-Wide binocular. This Bushnell binocular ensures that you enjoy more of what you came to observe.
It is particularly ideal for sporting events where the spectators are already close to the action but wish to enjoy more details. What this device lacks in magnification, it more than makes up for in image quality and field of view.
The fully multi-coated lenses and BaK-4 Porro prisms coupled with the 30 mm objective lenses provide high-contrast, clear and bright images, and competent low-light performance.
The images are extremely stable and you get to view an entire stage or court with the whopping 900 ft. field of view at 1000 yards.
Nothing more can be asked of this optical beast! It comfortably one of the best compact binoculars for sporting events.

Pros
Extremely large field of view.
Very clear and stable images.
The focus-free system increases user convenience.
High performing optics.
Ergonomic designs allows for complete ease of use.
Cons
Binocular is amazing for spectators but it's not versatile.
This 8×32 binocular from Carson is a popular choice for sports lovers. It is waterproof, fog-proof and features phase-coated roof prisms. It is also lightweight, compact and effortlessly meets your sporting needs and has earned itself lots of praises in several sport binoculars reviews.
The highly crisp, sharp and crystal clear images are a result of the fully multi-coated prisms and BaK-4 roof prisms featured in this stylish and sleek binocular. It comes with lens cleaning cloth, a neck strap, pouch, and lens covers.
The total weight is 1.15 lbs. (680.3 grams) while the dimensions are 5-inches x 4.25-inches x 1.75-inches so your hand wouldn't tire from holding the binocular for the entire course of a sporting event and the device fits in a small backpack without taking up much space. The field of vision you get at 1000 yards is 426 ft. while the minimum focus distance of 6.6 ft.

Pros
Quality optical components offer top quality images.
Compact and lightweight binocular suitable for sports viewing.
Completely fog-proof and waterproof.
Large field of view and long eye relief.
Very versatile device.
Cons
Performance in low light conditions isn't very impressive.
Say hello to the second 8×42 binocular on our list. The Simmons ProSport binocular comes in a compact build and a very sleek design. It offers an 8x object magnification while the 42 mm objective lens provides a wide field of view.
The binocular features an internal nitrogen gas filling which prevents the lenses from fogging as a result of temperature fluctuations. The eyecups are twistable making this device adaptable to spectacle users while the high-quality rubber armor provides the necessary external protection and ensures a very safe grip.
The BaK-4 roof prisms deliver a highly reliable optical performance and allow the binocular to be compact and light. There are different configurations and magnifications of the Simmon ProSport to choose from just in case you seek something a bit different.
Pros
Lightweight and compact device
Wide field of view
Very stable views
Durable and highly versatile binocular.
Cons
This device has no significant con but it's not the lightest high performing binocular.
Nikon is a popular name in the optic world and this MONARCH 7 8×42 binocular is one of the best binocular for sports viewing and other activities like bird watching. It offers a very high optical performance and built with quality materials that last a very long time.
The lenses are made of an extra-low dispersion glass which improves light transmittance and clarity of images. The lenses also feature a dielectric high reflective multi-layer coating which maximizes image brightness and ensures that users get an impressive low light performance.
The exterior is equally outstanding as the rubber coating makes the device gentle on the hands. The nitrogen purged housing keeps the optical components free of fog. The Nikon Monarch 7 also provides a large field of view of 420 ft. at 1000 yards which enables you to enjoy sports with lots of movements like the football and basketball.
Pros
Wide field of view (FOV)
Excellent image quality
Impressive low light performance
High quality anti-reflective lens coating
Long-lasting and easy to use.
Cons
During our research, we encountered a few complaints about loose lens covers an issue that can certainly be resolved by customer care.
Does the Exit Pupil Size Mater for Sporting Events Binoculars?
Though the exit pupil does not have a say in the overall quality of a binocular, its diameter is a crucial detail to consider when choosing a sporting binocular. The exit pupil needs to be suitably large to ensure that sufficient image forming light gets to the eye.
The diameter of the human eye pupil varies depending on the intensity of light, when there is sufficient light, it is between 2 and 4 mm while the value significantly increases to about 7 mm in the dark.
Since the diameter of the exit pupil must be greater than that of the eye for the best images, almost all binoculars are suitable for use in good light conditions while a binocular with a large exit pupil would be required for events with lots of fluctuation in the lighting conditions.
Is the Eye Relief Factor Important for Sport Watching Binoculars?
The eye relief is the distance between the eyes and the eyepieces of a pair of binoculars. It can be very challenging or even impossible for eyeglass wearers to enjoy the entire field of view binocular offers if it has insufficient eye relief.
As a result, this feature might even be more important for spectacle wearers than the other feature listed above. The simple rule is; the longer the eye relief, the better! Any value less than 15mm and an eyeglass wearer would struggle with using any pair of binoculars.
Final Thoughts
Sport is what most of us turn to for fun, even when you don't participate in it, you definitely love to watch some. A binocular is a sure way to enhance those fun weekends at the games and you really should consider getting yourself some.
The Xtra-Wide binocular from Bushnell is a particularly great choice, but so is every other device on our list. We've discussed the reason why each of them beat our requirements, and you now know what to consider when buying yourself one of the best binoculars for sports.
 Top 5 Binoculars for Sports Viewing