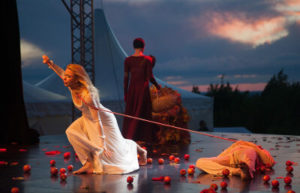 Investing in the best binoculars for theatre viewing enables you to enhance your experience and enjoy much closer views of performers' movements, expressions, gestures, and so much more. Binoculars are commonly used for lots of outdoor activities, but when it comes to indoor use, especially for theaters, operas, and large halls, most conventional binoculars just won't do.
You'll need something tailored to suit this specific need, like some theater binoculars or opera glasses.
The level of magnification these devices offer is usually lower, but the field of view and level of image stability are high owing to their relatively low power. Below are some factors to give thought, too when buying a pair of these fabulous opera binoculars.
Top-Rated Binoculars For Theatre Viewing 2020
What to Look for Before Buying The Best Binoculars For the Theatre 
Magnification:
Generally, binoculars for theater halls shouldn't exceed 5x magnification and the reason is obvious for seasoned binocular users.  The large concert or theater halls are not as vast as the outdoors so using an 8x or 10x binocular will bring the tiniest detail of the individuals very close but you can't focus the entire stage.
Typically, opera glasses come as 3x magnification and there isn't the need for a zoom feature so that the images can be viewed in the best quality. For viewers seated at the extremes of very large halls, binoculars slightly exceeding 5x can be useful.
 Objective Lens Diameter:
The objective lens diameter is a key feature to consider when buying a binocular for theater watching. The size of these lenses is directly related to the light gathering ability and the total weight of the binocular.
Hence, the ideal device should come with objectives that allow the user to enjoy bright images in the different lighting conditions of theater halls while keeping the weight of the device in check.
Field of View:
The field of view is the measure in meters or ft. the portion of the object or in this case the stage that you can see through the binoculars. Getting a device with a wide field of view is very important for theater lovers. Being able to observe the events unfolding on the entire stage is priceless.
The field of view of opera glasses and typical theater binoculars are usually wide due to the low magnification power of the lenses. Generally, a field of view exceeding 100 meters at 1000 meters is recommended.
Ergonomics and Design:
Once you hold your theater binoculars in front of your eyes, you wouldn't want to bring them down, as a matter of fact, you don't have to. Choose a device that is sleek, ergonomically sound with a design that even complements your outfits. Opera glasses and theater binoculars in a wide variety of colors and finishes, so getting the perfect one wouldn't stress you out.
Quality and Price:
Every investment no matter how little is important. So, when shopping for a theater binocular, get one that is built from quality and environmentally friendly materials. Also, prisms and lenses should feature anti-reflective coatings that improve light transmission and imaging performance.
Opera Glasses vs Theater Binoculars
Don't let the terms confuse you; opera glasses are binoculars. They are specially designed binoculars for indoor use particularly for viewing theatrical performances, shows in halls, ballets and operas of course. Hence, each of the two terms can be used as a substitute for the other.
Galilean binoculars is another commonly used term for opera glasses and theater binoculars; this is mainly because lots of opera glasses feature the Galilean optical design.
These binoculars differ from conventional compact binoculars because they hardly exceed 5x magnification power and are inevitably compact and lightweight.
In addition, most opera glasses use roof type prisms as this system allows for a small build and the objectives are usually made to be smaller than the eyepieces to ensure that images are clear even in low light conditions or relatively dark theaters.
Now that you know what opera glasses/theater binoculars are, let's give you a quick rundown of our top 5 best binoculars for theaters.
Reviews of the Top 5 Best Binoculars For Theatre Viewing

1. Vixen Optics Opera Glass Binocular – best opera binoculars
This Vixen Optics opera-glass is one of the best compact binoculars for theaters though it slightly goes above the 5x magnification mark. It offers a 6x magnification power which makes it suitable for use even from the extremities of very large theater halls.
The 16 mm objectives allow the binoculars to capture sufficient light to provide high quality and vivid images of the performers. The optics consist of high-quality BaK-7 prisms and fully multi coated-lenses that allow you to enjoy the performance of the stage actors at an astonishing level of clarity.
The linear field of view is measured 145 meters at 1000 meters, while the angular field of view is an impressive 8.3 degrees. Even when you are closer to the stage, you can still enjoy all the excellent features it offers and that's thanks to the minimum focus distance of just 3.3 meters.

Pros
Beautiful design
Easy to handle
High performing optical components
Close minimum focus distance.
Cons
Field of view is lesser than opera glasses with lower magnification offer.
 2. Nikon Yu 4x10D CF Champaign Gold Binocular – Best compact binoculars for theater
Nikon is a big name in the optical industry and here, they've made one for the passionate theatergoer. The Nikon Binoculars Yu 4X10D CF Champaign Gold is remarkably small and fits in the pockets of your pants seamlessly.
The sleekness, high performance, and ease of use have earned it praises on several theater binoculars reviews which is part of the reasons it made our list of the best opera binoculars.
The magnification power is 4x which meets the recommended specification for indoor binoculars. The objective lenses are 10 mm in diameter and let in sufficient light in most theater lighting conditions. The entire weight is 2.4 ounces (68.04g), so your arms wouldn't tired holding these binocular in front of your eyes for long periods.

Pros
Extremely lightweight binoculars.
Good quality images.
Sleek and compact design.
Very stable images and large field of view due to the relatively low magnification power.
Cons
Instructions are entirely in Japanese but the device is very easy to use.
3. LaScala 3×25 Iolanta Opera Glasses – Best Opera Glasses
These LaScala 3×25 Iolnata opera glasses are gorgeous and very handy companions for theater lovers. It comes with a handle attached which significantly increases the user's comfort. The 3x lenses offer very stable and clear images while the 25 mm objective lenses enable the device to provide bright images even in the dim lighting conditions of the concert hall.
The handle is the real definition of coolness as it can be retracted and folded enabling the device to maintain its compact build. The total weight is just 204 grams while the dimensions are 4.5-inches x 2.3-inches x 1.2- inches which makes this binocular one the lightest and most compact high performing opera glasses you could ever have.
Focusing is very easy and adjustments are made using an ergonomic central wheel, and the angular field of view which is an awesome 11.2 degrees.

Pros
Great value for money
Very versatile indoor binoculars
Lightweight and compact
High performance in dim lighting
Cons
Magnification might not be sufficient for back sitters in extremely large halls.
4. Pentax Papilio II 6.5×21 Binoculars – Small binoculars for the theatre
The Pentax Papilio exceeds the opera glass 5x or below magnification rule but it's such an awesome compact binocular that you wouldn't want to stop looking through once you get to try it.
Its stand out features are the unique design and an incredible minimum focus distance of 18inches (0.46 meters) which allows even people on the front seats to enjoy perfect pictures of the performers. The unique "uni-body" body design locks the two eyepieces in a single housing and synchronizes the movement of the eyepieces. Optical performance is as good as you get.
The lenses are fully multicoated and this is one of the few compact binoculars you'd find with Porro prisms. The light transmittance is very maximal and the 21 mm objectives provide bright images in all light conditions. The Pentax Papilio is highly versatile; it is more commonly used for outdoor activities like bird and butterfly viewing.

Pros
Very versatile binocular
Unique ergonomic design
Compact and light
Very wide field of view (131 meters at 1000 meters)
Very close minimum focus distance
Cons
The slightly high magnification offers lesser field of view than specialized opera glasses.
5. KabukiGlasses Opera Theater Binocular 4x13mm – Cheap Theatre Binoculars
This 4×13 opera lens is great at what it's built for. It is uniquely built in the shape of an eyeglass and can be comfortably worn for hands-free binocular viewing.
The prospect is amazing; you have a binocular which offers an impressive 4x magnification right in front of your eyes and you don't even need to hold it up. The 13 mm objectives are able to gather sufficient light even though they are quite small, they enable this device to provide bright images.
As you would expect it is extremely lightweight; the lightest on our list at just 92 grams. The linear field of view is a whopping 227.5 meters at 1000 meters so you get to enjoy a hands-free autofocus of the entire stage.

Pros
Hands-free use
Unique design
Very wide linear and angular field of view
Lightweight and very compact
Cons
The binocular lacks a diopter adjustment for correcting the differences in both eyes.
Final Verdict
Every detail matters if you really want to make the most of your visits to theaters and several features are vital when considering what device you should buy and we've discussed virtually all of them.
Our list of recommended theater binoculars features amazing binoculars and opera glasses well-suited for indoor use. Personally, my pick would be the Pentax Papilio, due to its efficiency and versatility even though it's not a typical opera-glass, but you didn't find you're ideal binocular on our list we hope you use the details we revealed to find yourself the best binoculars for theatre viewing.
Top-Rated Theatre Binoculars