If you want the best budget binocular that offers both features and performance, then you should consider the Bushnell 10×42 fusion 1-mile arc laser rangefinder binoculars.
Bushnell is a popular brand of high-quality, well-priced binoculars.  This perpetual model especially offers world-leading, laser rangefinding capabilities that find every detail combined with rich contrast and stunning clarity from edge to edge.
let's find out what this hunting binocular can offer in different light and distance conditions in this in-depth review
Bushnell Fusion 1-Mile ARC Rangefinding Binoculars Review
The Bushnell 10×42 fusion Rangefinding binocular comes with efficient features like XTR technology for ultimate light transmission, Rainguard HD water-repellent lens coating, multicoated lenses, roof prism system, center focus system, and twist-up eyecups. It supports a tripod if you need any.
The prism of the binocular is Bak-4. It's an excellent lens for a clear view, color, and contrast after the Porro prism. If you have already used this prism, then the BaK-4 may give you a little crowdy impression
The best feature of this binocular is its ranging performance. We are not claiming it's the best one in this category but undoubtedly its excellent value in the price range.
Here is a trick for getting the actual best result on max range view.
Many people complain they don't find in reality they experience the view like what is advertised. You will need to understand the best view by cutting 25% of the advertised view range. It's an overall unwritten rule for every binocular, and it works.
The binocular has the variable Sight-in option of 100, 150, 200, and 300 yards in RiFle mode. Also, it has some other selective targeting modes like automatic scan, BullsEye, and Brush modes for different shots. The first one uses to take all the reading of the distance to consider and try to make a fast decision to adjust the view.
The Bulls-Eye option gives the easy acquisition of small targets and games without focusing on background objects with a more strong signal. This option is best for practice shooting. When there is more than one object that needs to focus, the closer objects will appear bright.
Next, the Brush option actually ignores bush and tree branches and only shows the background objects. When you need to see more than one object from longer distances, this mode comes in handy.
We tested this binocular out in normal to windy weather conditions and with a tripod.
This is a weatherproof binocular that has fog, rain, dust resistance. In fact, it's usable for below -30 degrees to 120 plus.
Let us disclose the positive and negative aspects of this Bushnell 10×42 fusion 1-mile arc laser rangefinder binocular review. Have a look below.
Technical Specifications:
Magnification: 10x
Weight: 1.94 lbs.
Dimensions: 9.5×6.6×3.6 inches
Prism Glass- BaK-4
Lens coating- Multicoated
Field of view- 225/77
Eye relief- 16 mm
Exit pupil- 4.2 mm
Rangefinder Accuracy- +/- yard.
Battery type- 3 volt CR 123 (included)
Pros of Bushnell 10×42 Fusion
The binocular can range a target out of 1760 yards in the ideal condition.
Comes with some essential Ballistics functions for the 800-yard limit.
The advance ranging modes ensures your range the intended focus.
Includes Butler Creek flip-up lens caps for objective lenses.
Offers super performance ranging off- hand.
Clear view glasses.
Overall sleek and compact as a ranging binocular.
Cons of Bushnell 10×42 Fusion
Ranging buttons, focus, knob,s, etc., are a little hard to push.
Take a long time to show a reading for 1200+ yards.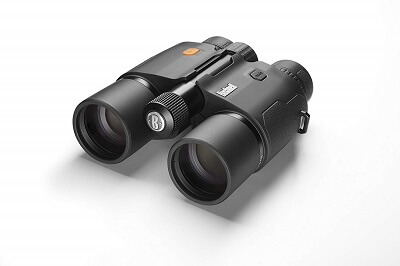 Why You Should Buy Bushnell 10×42 Fusion Binoculars
We tested the Bushnell 10×42 against Nikon, Vortex, Zeiss, and some others. They successfully performed in different conditions as well as the pricy and branded binoculars in the 1k range.
If you can learn all of its features well and utilize them, you will surely get the best user experience. We tested them out at around 1700+ yards with great results.  They have a crisp view that's just what you want for sightseeing, hunting, bird watching.
You may not find all the details or the comfortability, but our overall view is satisfactory. For one object, focus during hunting and bird watching is best at 800 yards. The Bak-4 lenses do the best job to bring out every possible color, light, and detail, especially with the Vortex laser rangefinder.
During the dust or dawn, it's good at focusing small objects at long ranges. So you can imagine what it can do in proper light conditions.
What's in the box?
Bushnell 10×42 fusion 1-mile arc laser rangefinder binoculars.
Plastic cups for the lens.
Neck strap.
Cleaning cloth.
Conclusion
The Bushnell 10×42 is for those who need an affordable option of rangefinder binoculars. Its three view modes, especially the BullsEye, are an outstanding mode that could handle most tough ranging scenarios. The optical performance is ok, but it could be better.
In the twilight condition, it covers 1760 pretty well. But in normal daylight, it's good to max 1600 yards. You can use it while wearing glasses too. Overall, it's versatile, suitable for different ranging targets, easy and comfortable to use.
We hope this Bushnell 10×42 fusion 1-mile arc laser rangefinder binoculars review will help you to make a wise decision if you are thinking of buying any of these types of binoculars now or later.