In this Bushnell Equinox 6×50 Review, we will disclose all the features and pros and cons to understand this model better.
There are endless night vision models, and it is never easy to know which one will suit you best. These devices seem to us to be almost identical, whereas they all have their particularities, which is why it is important to take a closer look to see which one will suit us.
Here is a precise opinion on the characteristics of one of them, the Bushnell Equinox 6×50.
Bushnell Equinox 6×50 Review
Features of Bushnell Equinox 6×50 Digital Night Vision Monocular
High-performing night vision device
The Bushnell equinox 6×50 is a first-generation device. It has a magnification of 6x and a lens diameter of 50mm. Its infrared illumination is very powerful, and it offers three modes of intensity that you can choose according to the distance of a range of the infrared that you wish to have.
Its vision can range from 5 to 10 meters in front of you if you want to observe closely and up to 300 meters to observe movements that are truly away from you. The image rendering and optical clarity are exceptional on this type of device. It will offer you images truly clear and bright.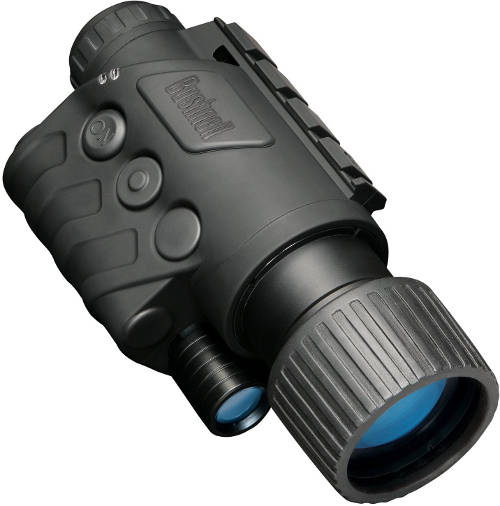 Can Be Used in All Conditions
The Bushnell Equinox 6×50 digital night vision monocular can be used day or night with identical image quality. It works very well at night, even in the complete black, and will be your eyes in the total darkness.
However, be aware that the infrared button is not protected, so care must be taken to damage it or yourself. Besides, this can make you slightly visible at night when you turn on infrared. If you do not want to be seen, it is simple and easy to cover the little button.
You can use the Bushnell Equinox 6×50 in all situations and all weather conditions.  Its case is very robust and resistant, which allows you to take it on rough situations where it will face shocks.  It is highly sealed and has a very effective anti-fog device, and in rainy, windy, or misty weather, you can always have it at your side.
Multi-functioning Night Vision Monocular
You can use the Bushnell Equinox for any activity. It suits nightlife enthusiasts who can use it to observe closely insects and small animals at night.
The hunters also fall in love with it because they can use it during their nocturnal outings and easily find games from afar.
This can also be used during the day when the sky is overcast and the weather is foggy. It can adapt to many uses, and it will quickly become your indispensable companion.
Best Value for the Money
The Bushnell equinox 6×50 mm is a night vision scope with undeniable assets and will delight the many people who need to use it for various types of night activities. You should also know that this scope does not have many direct competitors in its price range.
Indeed, it is particularly cheap given the technology it has and the uses it offers. It is a very high-quality device, which is equipped with great performance.
Moreover, it is accessible to all, amateurs, beginners, and more advanced. It is practically a must for night vision enthusiasts who do not wish to invest thousands and hundreds in a camera.
Convenient and Easy to Use
It is a night vision device within reach because it is convenient and easy to use. The buttons are well placed, and its rubber coating allows a good grip and is particularly pleasant to the touch.
Moreover, the camera is relatively small, and thus space-saving, making it possible to take it with you easily.
It is also lightweight with a weight of about 700 grams and easily transportable. Please note that some customers have indicated a slight disadvantage with their protective cover.
Indeed, it seems that the cover with which the Bushnell Equinox 6×50 is delivered does not seem to be of optimal use because of a relatively small size, which makes the task rather tedious when one wants to put it away. The camera inside operates with 4 AA size batteries, which are usually not included in the purchase.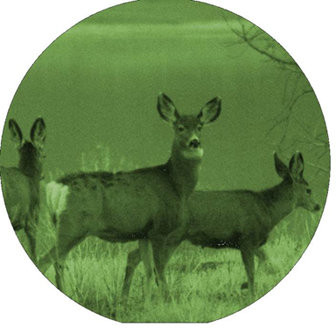 According to the activation, its battery duration is between 4h and 8h of autonomy, not the infrared. Beware of its high battery consumption, and it is strongly recommended to use this device with rechargeable batteries, at the risk of changing your batteries very regularly.
The Bushnell equinox 6×50 has been designed to be mounted on a tripod if you want to create more stable images or avoid holding the camera for too long. You can record pictures and videos on a Micro SD card.
Note that the memory card is not included in the purchase. What is provided is a USB cable, which is used only for transferring photos and videos. It can not be used to recharge the device. Finally, its use is absolutely no inconvenience for people who wear glasses.
Technical Specification of Bushnell 6x50mm Equinox  Night Vision
Magnification x Objective lens: 6×40 mm.
Maximum Viewing Range: 984 ft.
Field of View @ 100 yards: 23 ft.
Infrared Illuminator: Yes.
Battery: CR123 (2)
Size: 7.8x4x2.5 in
Weight: 20 oz
Tripod Mount: Yes
Pros
Digital Night Vision monocular.
Outstanding optical clarity.
Dual image output, switch from black and white to green.
6x long-range capacity.
Video-out capable.
Rugged, water-resistant housing.
Wide field of view.
Tripod mountable.
Cons
The internal IR illuminator is weak.
High battery consumption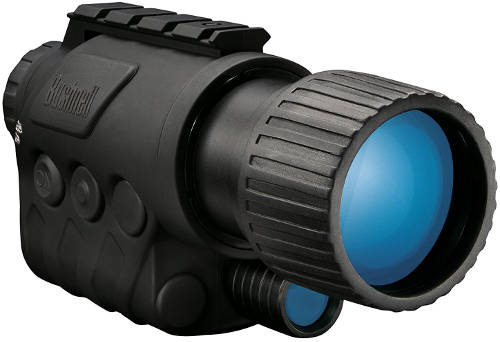 Bushnell Equinox 6×50 Review in the Video
Conclusion
The Bushnell Equinox 6×50 night vision monocular is an outstanding selection for any night hunting game. It is not only delivering a high-quality clear picture but also can provide excellent videos. It can record hunting or wildlife observation digitally.
The Equinox Z 6×50 mm is also waterproof, and it can use in any weather conditions. I hope this Bushnell Equinox 6×50 review will give you a better understanding of this model and help you find the best night vision monocular.
Read Related Article: Yukon NV 5×60 Night Vision Monocular Review