In this Bushnell Equinox Z 6×50 Review, we will reveal all the features of this night vision monocular.
For some, the darkness marks the end of an adventure. For others, there is the Equinox Z
The Bushnell Equinox Z is probably the best night vision binocular at an affordable price to the general public.
With its high-performance glass lenses, its adjustable zoom lens up to 18x, its ability to take photos and record videos, and the battery life makes the Equinox Z rank well above its competitors.
Whether used to spot and track an animal at night or explore the depths of a cave, the Equinox Z offers unmatched night vision capabilities.
Bushnell Equinox Z 6×50 Digital Night Vision Monocular Review
The Bushnell Equinox Z 6×50 is a digital night vision monocular. It uses an infrared-sensitive CMOS sensor and an LCD screen for its night vision capabilities, instead of a conventional intensifier tube.
The display shows color images during daytime use and black and white when night vision is on.
The adjustable zoom from 6x to 18x is impressive. Moreover, at this level of zoom, a tripod is indispensable to ensure the image's stability.
The integrated infrared illuminator works very well. Better than on other night vision devices. This is definitely a plus.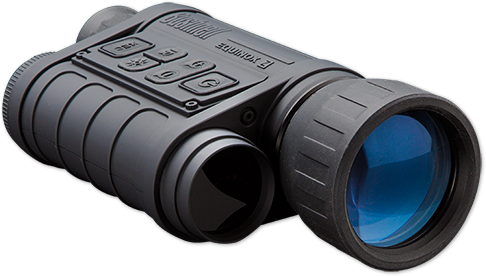 Photos and videos have a resolution of 640×480 and are recorded on an optional micro SD card (up to 32GB). A button allows you to switch between video and photo quickly. A USB port allows you to transfer files to a computer without having to remove the card. An RCA video output port connects the monocular to an external recorder.
The status of the monocular is displayed on the LCD in the field of view. Icons indicate the battery level, zoom factor, IR operation, image brightness settings, elapsed time, and remaining time of recording. The number of pictures you can, depending on the available memory. The icons can be disabled if you want.
Keep reading this Bushnell equinox z 6×50 review to know more features below.
Features of the Bushnell Equinox Z 6×50 Digital Night Vision
Digital night vision monocular.
6x optical zoom with adjustable digital zoom 1-3x.
Day use as binocular with color and night vision.
Integrated infrared illuminator.
Capture and video recording.
Video Output.
Micro SD card up to 32GB (not included).
Compatible with a tripod.
Water-resistant (IPX4 standard).
Works with 4 AA batteries (not included).
Autonomy: 8h without IR, 4h with IR.
The Bushnell Equinox -Z 6×50 comes with a carrying case, a wrist strap, a USB cable, the video output cable, a cleaning cloth for the lens.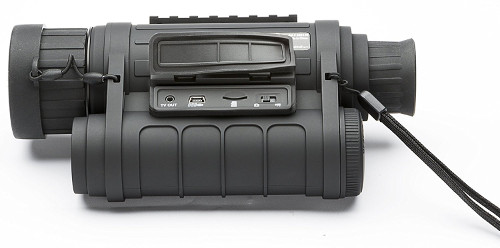 Technical Specification of Bushnell Equinox Z 6×50 Night Vision Monocular
Magnification x Objective Lens: 6x 50mm.
Field of View (m@100m/ft@100yds): 6 / 20
Infrared Illuminator: Yes
Weight: 765 g
Battery Type: AA (4)
Size mm/in: 191 x 98 x 64/7.85 x 3.9 x 2.5
Viewing Range (ft/m): 984 / 300
Tripod Mount: Yes
Pros
Digital Night Vision monocular with 6x magnification.
Big zoom (and also adjustable).
Taking pictures and recording videos.
Good autonomy.
The price, or rather the quality/price ratio compared to other Gen 1.
Rugged, water-resistant housing.
Day or nighttime using capability (Daytime color with IR off).
Built-in Infrared Illuminator for long-distance viewing up to a 1000 ft.
Multicoated glass objectives produce outstanding optical clarity.
Video output capability; video recording and image capture using up to 32GB Micro SD Card.
Cons
Manual Focusing.
Battery life is not satisfactory.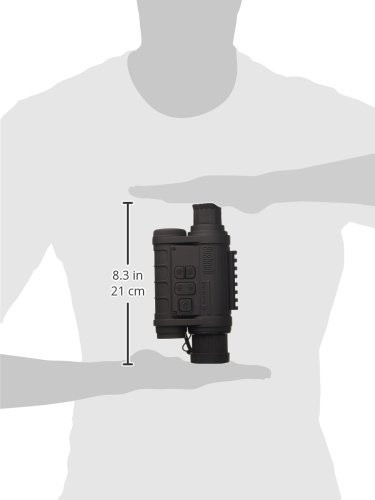 Is the Bushnell Equinox -Z 6x50mm the Best Night Vision Monocular?
Clearly, on this night vision monocular, Bushnell offers many features not found on competitors, even more expensive.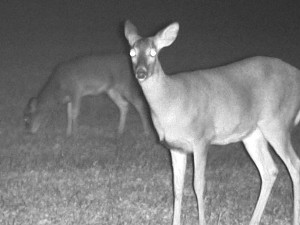 I would say this is the perfect night vision monocular for wildlife viewing. It is versatile and has all the features for wildlife viewing.
With an adjustable zoom up to 18x, features such as image capture, video recording, daytime color vision, and tripod compatibility, the Equinox Z has many advantages and gives enthusiasts tools to succeed.
In addition to that, the convenience of AA batteries and water-resistant extra-robust housing, and the result is a night vision digital monocular that works well, no matter the situation.
Read Related Article: Yukon NV 5×60 Night Vision Monocular Review
Conclusion
The Bushnell Equinox Z 6x50mm digital night vision monocular is an exceptional choice for any night hunting enthusiast. They not only provide high-quality images and excellent clarity in magnification but also can produce pictures and videos. They also have a digital record capability of hunting or wildlife viewing.
The Equinox Z 6×50 model is also waterproof, and it offers a great opportunity for any weather conditions. But the only thing that a new user should keep in mind when using this model is the importance of bringing additional batteries. I hope the above Bushnell equinox z 6×50 review will help you know better and choose this model.