Looking for high-quality waterproof binoculars, then the Bushnell H2O 10×42 Binocular is the perfect choice for you.
The Bushnell brand is world-renowned for the quality of its binoculars and other products related to optics for outdoor use. These Bushnell h2o waterproof fog-proof roof prism binoculars were already quite promising even before they were taken in hand.
These waterproof binoculars stand out with exceptional optical quality while remaining relatively compact. This is suitable for those who prefer clarity, sharpness, and comfort of vision for leisure use or prolonged observation. Today we will give an unbiased, honest Bushnell H2O 10×42 Review to reveal the details of this model.
Features of Bushnell H2O 10×42 Waterproof/Fog Proof Roof Prism Binocular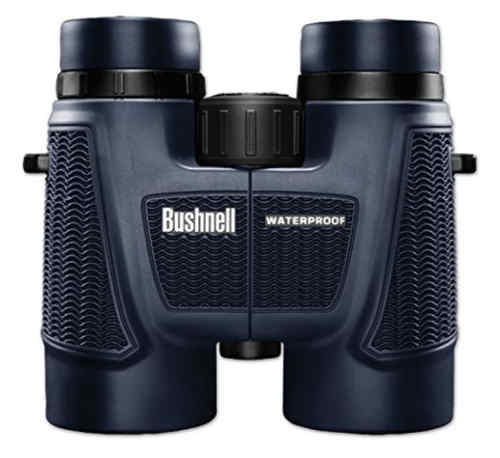 This is entirely Waterproofing and fog proof. It can be used in any weather, they are perfectly sealed thanks to the O-rings and are purged with nitrogen. In addition to weather protection, this water tightness ensures maximum optical performance is maintained by preventing fogging in the binoculars.
H2O models can withstand full immersion in the water remaining dry inside. The internal surfaces of the optics do not become cloudy due to a rapid change in temperature or humidity.
Large optics of 42 mm which allow catching much lighter than the smaller optics.
It has a high quality of the lenses and prisms. These waterproof binoculars also provide excellent light transmission and excellent image clarity thanks to multi-layered optics and high-quality BaK-4 prisms.
In addition, they are compact enough and allow an excellent grip with non-slip grooved rubber reinforcements, even in the most humid situations.
For eyeglass wearers, these Bushnell binoculars are equipped with screwable eyelets.
It comes with a shoulder strap, a neck strap, and a microfiber wipe.
The rubber grip is located at all important points. Even with gloves or wet hands, this model is easy to grip, while at the same time it is comprehensively protected against impacts or impacts. The housing is made of high-quality plastic, which gives the binoculars good stability.
Technical Specifications
Magnification: 10x
Item Dimensions 6 x 6.9 x 3.1 in
Objective Lens Diameter 42 millimeters
Close focus distance: 12 feet
Eye relief: 17mm
Exit pupil: 4.2mm
Glass Material: Bak-4
Focusing: Central Focusing
Lens Coating: Multi-coated
Field of view @ 1,000 yards: 305 feet
Weight 1.56 lbs
Twilight Factor: 20.5
Luminous Intensity: 17.6
Surface Material: Rubber Armoring
Color: Blue
Tripod Adaptable: No
Pros of Bushnell H2O 10×42
Easy adjustment.
A genuinely effective seal.
Sharp and Bright image.
Multi-coated optics all surfaces.
Roof prisms Bak-4 Barium glass.
Large central precise focusing wheel.
Wide field of view.
Protection Sturdy rubber for an excellent grip.
Twist-up eyecups.
Anti-slip shock absorbing.
Cons of the Bushnell H2O 10×42
It is a little bit heavyweight, but it is also a guarantee of the robustness of these binoculars.
The name waterproof is not a vain word, and they can also be used without fear of the open sea even if they are immersed in water, they do not allow themselves to be penetrated by any drop. No fogging occurs even after long periods of use.
The optical performance is more convincing. Thanks to the multi-coated lenses and the BaK-4 prisms, which ensure excellent brightness as well as high light transmission. The images appear sharp and contrasting, Only to the edges decreases the power slightly. As expected, the Bushnell H2O 10×42 also shows impressive detail accuracy in our test. Another plus point for the model of the renowned manufacturer. The magnificent dawning performance is also convincing – even with increasing darkness, all objects are still clearly recognizable.
The rubber that covers them is striated and non-slip, they do not slip their hands at the risk of being in the mud.
Adjustment is easy with a very large knob. When stored in its case, however, the lenses remain protected by caches, in order to extend the lifetime of a product designed to resist for a long time.
The handling is very user-friendly. The soft rubber grommets are rotatable, and the focus works flawlessly. The eye-ocular distance is 17 mm, therefore eyeglass supports can also use the Bushnell H2O 10×42 without restrictions. Furthermore, the weight which is relatively low with 1.56 lbs for binoculars of this format is also positive. With our Bushnell H2O 10×42 test, we can also carry out longer observations fatigue-free.
There are two models in the H2O Roof Prism series, these are H2O 10×42 and 8x42mm. Check out the Bushnell H2O 8×42 Binoculars Review.
What Customers Think
We are not the only ones to have been enthusiastic about these waterproof binoculars. Their quality, as well as the reputation of the brand, has prompted many amateurs to acquire them. We pick up some Bushnell H2O 10×42 Binoculars Review from online for your better judgment.
I had used Porro prism binocs earlier, but these roof prism ones are so much more convenient and lighter to carry during hours of treks. And I personally tested the waterproofing claims of this product when I dropped them into shallow waters during a kayaking trip – I wiped all the water off, and it was ready to go in moments. Overall, an excellent deal – I bought the 10×42 H2O when their price came down in Sep 08. So, it was a brilliant deal I got. But I'd buy it again if something happened to my current one and I had to pay $99 for new ones.
I bought this model for an outdoor cruise a few months ago. It was a right choice. Our team had a variety of binoculars ranging from the cheap to high priced (which did not work at all). For my personal use, these worked the best. I did notice the captain of one of the excursion vessels had the full-size version of this exact binocs. Yes, they are waterproof, and I needed them to be. Easy to focus. The right magnification for viewing eagles, whales, glaciers, etc.
I purchased these binoculars mainly for the purpose of watching football games from my upper-level seats. The view of the field is very sharp and clear. During night games the view through them is surprisingly brilliant. It seems to gather in light very well. For a full-size binocular, it's not as bulky as I thought it would be. To me, it's just a little bigger than a pair of compact binoculars. The only problem I had with them is that they were a little heavy as they hung around my neck. And because of the weight, I had to actually hold it steady with two hands if I wanted to keep the image I was looking from shaking. Other than that I was happy with the binoculars overall.
| | |
| --- | --- |
| Astronomy | Medium |
| Hunting | Good |
| Bird Watching | Good |
| Sailing | Medium |
| Travel and Sports | Medium |
Conclusion
In conclusion of the Bushnell H2O 10×42 Binoculars Review, we see that Bushnell H2O 10x42offers a good optical performance. This binocular shows impressive high detail accuracy as well as good twilight performance, in addition, convincing color fidelity and high contrast. It is a practical, efficient and a real quality product. Its magnification is not excessive, but ample enough for hiking or observing amateur animals.
Moreover, its image quality is more than satisfactory, and we can only advise them to all hikers or sports enthusiasts in the forest.
In terms of user-friendliness and good water tightness, the Bushnell H2O 10×42 is an outstanding device.
Overall, this Bushnell H2O 10×42 Waterproof Fog Proof Roof Prism Binocular is powerful outdoor binoculars.