In this Canon 15×50 IS image stabilization all weather Binoculars Review, our experts reveal all the features and bring you a complete and comprehensive guide. The Canon 15×50 IS AW are unique binoculars among the numerous high-magnification binoculars models because they incorporate Canon's unique optical Image Stabilizer technology.
This revolutionary system employs a novel Vari-Angle Prism that instantly and continuously adjusts to maintain a steady image.
The Canon 15×50 IS image stabilization all-weather binocular is commonly used for Astronomy, Bird watching, Wildlife viewing,  and avid adventurers. The Canon 15×50 IS AW binocular is popular with customers who love it for the quality lens and the sturdy construction of this fantastic binocular.
Canon 15×50 IS Image Stabilization All-Weather Binoculars Review
Technical Specification of Canon 15×50 IS AW Binoculars
Dimensions (WxHxD): 152x193x81 mm
Weight (without battery): 1180 g
Field of view @1,000 m: 79 m
The diameter of the exit pupil: 3.3 mm
Pupillary Extraction: 15 mm
Type of Prism: Porro Prism II
Lens Coating: Super Spectra Coating.
Closest focusing distance: 6 m
Image stabilizer: Vari-Angle prisms
Power supply: 2 AA-type batteries.
Battery duration: +25 ° C: approx. 2.5 hours, -10 ° C: approx. Ten minutes (using alkaline batteries).
Features of Canon 15×50 IS Image Stabilization All-Weather Binoculars.
Built to withstand the most adverse weather conditions
Customers can joy excellent visibility even in adverse weather conditions as the binocular is effectively weather-resistant, as specified by JIS 4. The rugged design includes a rubber finish that withstands the harshest conditions, making these binoculars ideal for intensive use.
The field of view is significant and very stable.
You can enjoy incredibly stable images thanks to Canon's Image Stabilizer (IS) technology, which compensates for various types of motion and trepidation when binoculars are used without a tripod stand or from a moving vehicle or boat. These sharp binoculars include a 50 mm diameter front optical element for a bright field of view.
Easily observe objects in a wide field of view.
Easily find the objects and enjoy a wide field of view of 61 degrees with very low distortions. The images formed are flat and clear from edge to edge, thanks to the Porro II prism optics and the double field flattening element.
Weather-resistant but comfortable and straightforward
These binoculars give excellent user comfort even when used for long periods with sunglasses. It's all thanks to the adjustable eyepieces with a 15 mm pupillary extraction that minimizes the "tunnel effect."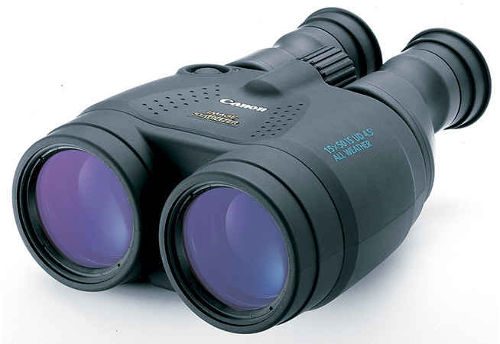 Delivery
When you purchase a Canon 15×50 IS AW binocular, you also get a soft carrying bag made of high-quality nylon with clip closure for the lid to enable proper storage and another non-padded carrying strap with anti-slip lining. The delivery package includes two Panasonic AA alkaline batteries, a microfiber cleaning cloth, and two eyepiece covers. The latter sit comfortably and firmly on the lenses.
Mechanically Efficient
The Canon 15×50 IS AW binocular has a gentle texture as parts and has a soft and non-slip rubber coating. They have a rounded shape, which makes handling the devices very easy. The ergonomics and weight of the binoculars rest on the palms. The index fingers are positioned naturally on the focus wheel (left index finger) and the stabilizer button (right index finger), which are comfortable for short fingers.
The interpupillary distance is a little challenging to adjust, but once adjusted, the binoculars' lenses remain in that position even when the user turns it in several directions. The focus is very soft; however, the inter-eyepiece's dioptric difference is hard, which is a commendable feature.
The total weight of 1.2 kg without the batteries allows the binocular to be held comfortably at arm's length and without support for 10 to 15 minutes. There are only two caps for the eyepieces, which play important roles too. The storage case is convenient but lacks rigidity, and the strap is wide and gentle on the user despite being quite weighty.
Thanks to being resistant to shocks and water, one can observe using these binoculars in the rain.
Optically High Performing
These binoculars use multi-layer Porro prisms, which results in spectacular optics. The stars appear very thin and stitched and the apparent field is extra-wide and perfectly corrected at the periphery and to the extreme edge of the field, which is quite amazing.
There is a small distortion highlighted by pointing parallel electrical wires and the notice prompts the user of UD (Ultra-low Dispersion) lenses without specifying their exact nature. Using a 30 mm diaphragm on each lens to reduce brightness and aberrations, the ring becomes visible without much difficulty.
The stabilization systems optical technology and variable angle prisms mean shaky images are reduced considerably. This model of binoculars completely changes the way you observe!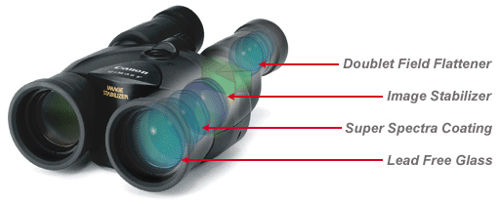 The image stabilizer is activated by pressing a designated button, and the effect persists as long as it is held down. However, if the button remains pressed for 5 minutes, the effect is the same as pressing it once. The image stabilizer keeps the entire system completely silent. Stabilization has its limitations and only partially compensates for excessive shaking.
Shaking at moderate levels still means you get very stable images, thanks to the revolutionary image stabilizers.
We have done many comparative trials, both hands-free and using a tripod. The activation of the stabilizer does not in any way increase the aberrations. Instead, another phenomenon known as "oscillation of the focus" leads to slightly blurred images that appear piqued.
This is all the more pronounced when the observer moves while using the binoculars. On the contrary, using a tripod eliminates this effect. We assumed that the variable angles of the prism result in a slight disruption of the optical system. The analysis of the diffraction spot of a defocused star shows a slight eccentricity reproducible in the opposite direction to the head's movement.
Pros
15x High Magnification Optics accommodate wide-ranging activities.
Built-in Image Stabilizer provides shake-free performance.
Wide, Extra-Bright Field of View from the large-diameter 50mm.
Doublet Field Flattener for sharp, distortion-free images from edge to edge.
Multi-Coated Ultra-Low Dispersion (UD) Objective Lens adds contrast, clarity, and color fidelity.
Long 15mm Eye Relief for easy viewing.
Shock-and-Water-Resistant Construction with the non-slip rubberized coating.
Quality design, comfortable and robust.
Cons
Comparatively heavyweight and high price.
Battery life goes from 10 minutes to 3h30 in continuous use according to the outside temperature and the batteries' nature (saline/alkaline/lithium ). Must have spare batteries.
What's in the box
Soft Case
Neck Strap
Lens Caps
AA-Type Batteries (2)
Canon 3 Year Warranty.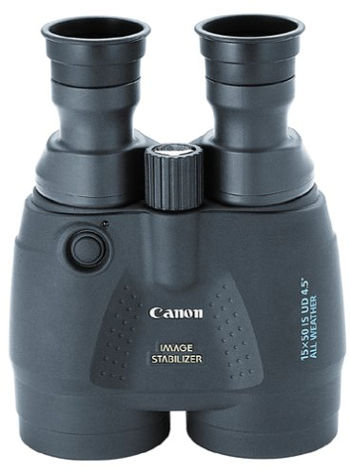 Canon 15×50 IS Image Stabilization AW Binoculars Review- Watch The Video Below.
Conclusion
The Canon 15×50 IS AW is impressive based on our tests and excellent optical performance. It's excellent clarity at the image edges in high detail accuracy, meaning any disturbing color fringing is rare.
The Canon 15×50 IS image stabilization AW can neutralize problems associated with shakes and movements. The binoculars ' disappointments are the relatively poor eyecups and their weight, making extended usage rather uncomfortable. Another positive is that the included accessories are above normal standards and top quality!
Generally, these binoculars are amazing due to their excellent optical performance and the image stabilization system's efficiency. We hope this complete buyer guide will help you make the best decision before buying one of these best image stabilizer binoculars. We hope you enjoyed your read.