Carson as a brand has been working to feature high-end binoculars over several years. This is no different for the Carson 3D series high definition waterproof binoculars with ED glass. It lives up to this reputation and with years of experience, it's obvious that this brand understands its optics.
It delivers on functionality even in low light, however, this is not to be confused as a night vision binoculars. It is a versatile pair of binoculars and is gaining popularity in the market, especially amongst hunters and bird watchers for its ability to provide clear, bright, and sharp images.
Looking at its overall design and construction, you can tell that it will serve you well in the long-term, all thanks to its materials and its firm texture. It is light for easy maneuverability, and it comes with all the accessories that make it portable.


ED Glass Lenses
If you are looking to obtain quality images with precision to color and detail, this feature comes in handy. This Carson 3D series high definition binocular not only has high-quality lenses but also provides great magnification to help meet its objective. The ED glass serves the purpose of reducing color fringing as well as correcting chromatic aberration, so it does not distort your view even when the object is in motion.
Phase-Corrected Prisms
The view of your images gets even better with its phase-corrected prisms. These serve the purpose of enhancing the resolution, contrast, as well as color definition and, the color is precise without any exaggerations. In addition, it does not feel like the object is too far or too near to alter your judgment. Every object in your view remains as a single entity while at the same time creating a high contrast for better viewing.
Ergonomic Thumb Grooves
It is very important that you have the right grip when holding your pair of binoculars to help ease your experience. The Carson 3D series high definition waterproof binocular comes with ergonomic thumb grooves that ensure your grip is firm due to the preferred texture. It's lightweight which makes handling these binoculars easy and accompanied by a firm grip they are highly appreciated for outdoor activities including sports events.
Dielectric Coated Prisms 
When viewing objects especially the bird watchers are looking to view clear images. To obtain clear images, you need adequate lighting not just when you are out in the open but also adequate light transmission. With the help of the dielectric coated prisms, this pair of binocular improves light transmission, so your images are bright and clear and contribute to maximizing the provided light source to ease target viewing.
Extra-long Eye Relief
With its twit-down eyecups feature, it provides for extra-long eye relief. You can be sure that it is easy on the eyes. They come in handy even for those who wear eyeglasses thus ensuring that your vision is clear. This makes it possible for you to use them over long durations without irritating your eyes as it retains clarity. This contributes to why it is gaining popularity amongst hunters and bird watchers.
Tripod Mountable
The Carson 3D series high definition waterproof binoculars are easily attachable to a tripod. When using a pair of binoculars outdoors, you need to ensure stability when it is in use. To help meet this purpose, it is highly recommended that you invest in a tripod as well. This binocular allows you to mount it on a tripod to help boost stability as well as flexibility. The process is fast and easy, so you do not have to miss any images.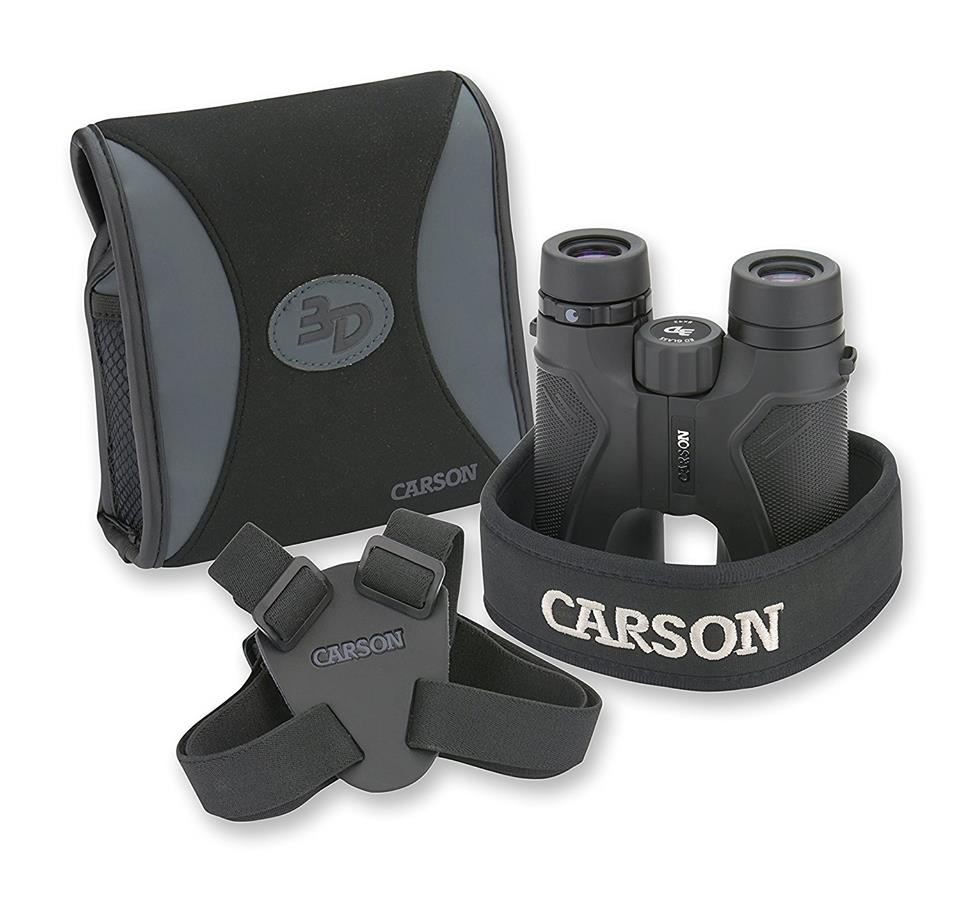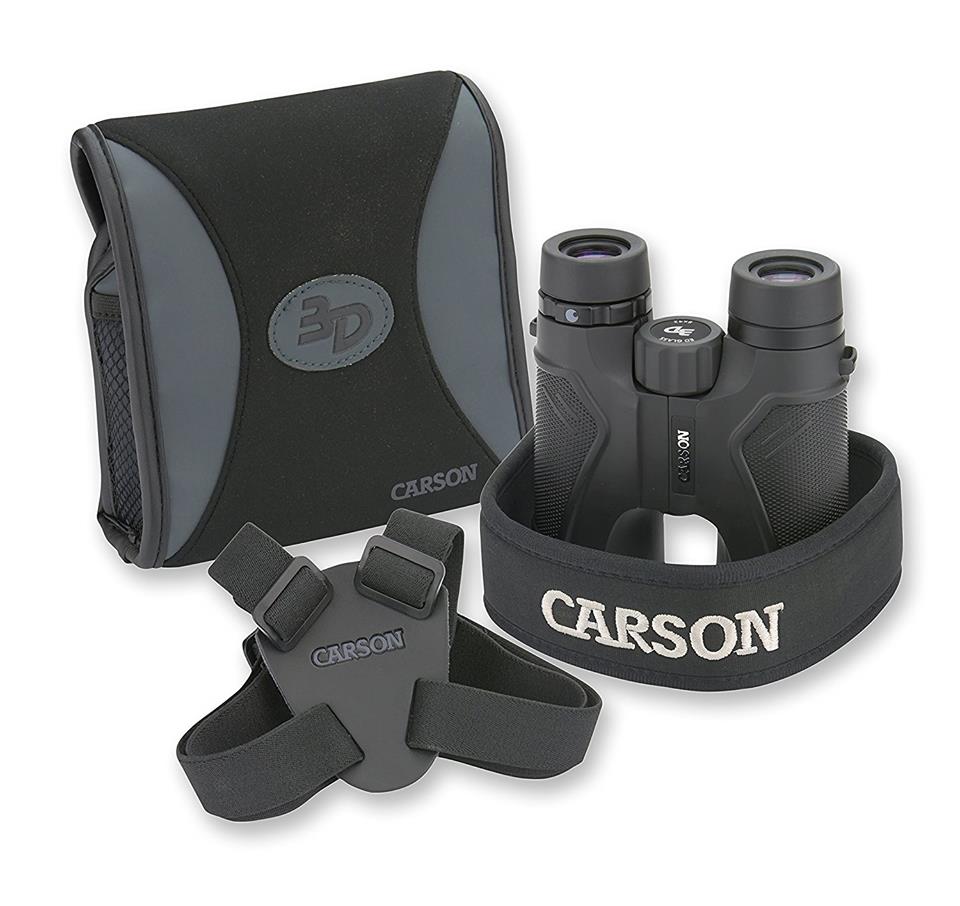 Accessories
Even as a great pair of binoculars, it comes with accessories that aim at sweetening the deal and improve on functionality. The accessories include: 
 Lens cloth that helps ease with a cleaning of the lenses

 Shoulder harness

A neck strap

 

BinoArmor Deluxe Carry Case for easy and safe portability
These accessories are all functional and are included in the package to ensure that you are well-equipped to ease portability and maneuverability.
Technical Specifications
Prism Type: Roof.

Magnification (x):10.

Objective Lens Diameter (mm):42.

Angle of View (actual) 6.0°.

Field-of-View: 314 ft @ 1000 yd. / 104.25 m @ 1000 m.

Minimum Focus Distance: 9.8 ft / 2.99 m

Exit Pupil Diameter (mm):4.2.

Eye Relief (mm):16.

Focus Type: Central

Tripod Mount: Yes.

Dimensions: 5.5 x 5 x 2″ / 13.97 x 12.70 x 5.08 cm.

Weight (g):23.2 oz. / 658.
Recommended Usage
The Carson 3D series comes with great features that make it ideal for bird watching as well as hunting in addition to other outdoor activities. It is not too restricting to the environment due to its sturdy structure or to the weather due to its waterproof feature.
Sports lovers will love this pair of binoculars thanks to its ability to view over longs durations without straining your eyes. Do you wear glasses? This also serves as an ideal pair of binoculars thanks to its twist down eyecups. Looking at this, it is versatile with the ability to serve a number of uses.
Pros
They offer crystal clear images

It has comfortable eyecups even for those wearing glasses

Portability is easy with its included accessories

It works great even in low lighting due to great light transmission

You can use it for a longer duration without irritating your eyes

They can withstand different weather and environments

Offers a firm grip making them ideal for outdoor use
Cons
The Carson 3D series high definition waterproof binoculars do not come with incremental eyecup adjustment. For many users, this limiting factor reduces flexibility.

You cannot purchase particular Carson lens covers on the market, so one has to be very careful when picking them to ensure they provide a great fit
Final Verdict
The Carson 3d series high definition waterproof binoculars with ED glass is gaining popularity in the market for the right reasons. It delivers both on functionality as well as for its design. With the key objective of providing clear, bright, and sharp images to the wider target market. It ensures that the images are precise thanks to its 3D ED feature that boosts focus. It is meeting its key objective as promised but the best part is its affordability in comparison to its direct competitors.
Made from quality materials, it is bound to survive the outdoor environments while reducing the risk of damage. Designed for the outdoors, it comes complete with a carry case, neck strap, as well as a shoulder harness to ease with portability. Overall, it upholds on vision and clarity, durability, compact design, and ease of portability.