The advancement in technology has led to the production of some outstanding pairs of binoculars. They serve different purposes for both indoor and outdoor activities, including sports, hunting, hiking, bird watching, photography, as well as concerts.
They also come with variations to meet the wants and needs of different individuals. When you Invest in binoculars, they come with great benefits compared to other viewing instruments.
The following are five reasons why you should invest in binoculars.
1. They Offer Clear and Bright Viewing for Distant Objects
Binoculars come with magnification that allows individuals to enjoy a better and clearer view. It is vital to maintain brightness and prevent blocking the view, despite the long distances.

This is a crucial function of every pair of binoculars, especially for bird watchers, and hunters, as well as for watching concerts. This is because you will maintain a clear vision despite the motion and variance in the distance. Why pay for VIP seats if you can have the same experience with a pair of binoculars? This makes it an excellent long-term investment. Depending on your binocular magnification, you can enjoy a closer and clearer view.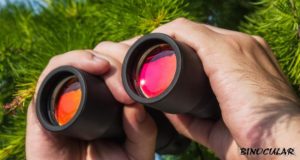 2.Easy Location of Places/Objects/Animals
With binoculars, you can point out a place, object, or the location of an animal. It also plays a key role in astronomical viewing.

Sometimes, it is all about identifying where or what is at a distance and the joy of discovering more. This is the key role of many photographers who have to locate wildlife or places before making your next move. It will give you a head start before settling for where to head. Also, you do not have to carry along all your equipment before identifying the best place to camp.
3. Better Distance Coverage
You no longer have to keep moving closer to any object or animal just to enjoy the beauty or appearance. This is the main reason why hunters and birdwatchers are investing in binoculars. For activities such as bird hunting and bird watching, it is time-saving and less tiring if you can simply cover a wide area distance without disturbing the peace. For example, rather than walking down an escarpment, you have the choice of standing at the top and being able to view the bottom with the help of your binoculars.
4. Discretion/ Preparing for the Unexpected
If you are into wildlife exploration and bird watching, you will love the idea of investing in binoculars. This is because venturing into territories that you do not know can be dangerous, especially unknown lands. You do not want to walk into a trap. On the other hand, you do not want to scare away your target subject. As you remain discrete, you will also be analyzing the ground to prevent avoidable misfortunes. You can be on a hill viewing the fields to determine which animals you may bump into before starting your exploration.
5. They allow you to Use Both Eyes at the Same Time
Binoculars enable individuals to look with both eyes considering that humans have the stereoscopic field of view. With this in mind, this is the reason they come with two tubes, which ensures you do not have a partial view.

Despite what purpose for which you need binoculars, this makes it easier, especially for those tracking mobile objects. Just as two heads are better than one, this also applies to the use of binoculars with the use of your eyes. Enjoy the view without straining by using both your eyes.
Looking at the above five reasons why you should invest in binoculars, you will also remain comfortable, with less bulky equipment, as well as enjoy a clear and sharp view. Also, they boost ease of portability as well as mobility. They are durable, and with the ability to choose the binoculars that will best suit your needs, wants, and preferences, you will always work with the best to boost your viewing experience.