In this Canon 10x42L IS image stabilization WP binoculars Review, we analyze all its great features.
This image stabilization binocular comes with 10x magnification and 42 lances with IS engaged. Higher magnification is not always as convenient to get that closer view, but not with this one. It gives a clear and steady image even without using the tripod. It gives a bright and steady view with no shaking or fade of images during the highest magnification.
These binoculars are suitable for use with glasses as their long eye relief is great for regular glasses.
They have multiple options for power batteries. You can use either Ni-HN, AA, or lithium batteries. The lithium-ion batteries are especially excellent for long hours of usage with IS features. In general, its great optics, quality accessories, fast and effective IS function, etc. are really useful.
Canon 10x42L IS Image Stabilization WP Binoculars Review
Technical Specification of Canon 10x42L IS Image Stabilization Waterproof Binoculars
Magnification: 10x
Dimensions: 5.2x7x8.4 inches
Effective front lens diameter: 42 mm
Field of view @ 1,000 m: 114 m
Exit pupil: 4.2 mm
The distance of the exit pupil: 16 mm
Type of prism: Porro Prism II
Closest focusing distance: 2.5 m
Image stabilizer: Vari-Angle prisms
Power supply: 2 Mignon cells
Battery range: +25 ° C: approx. 2.5 hours, -10 ° C: approx. 10 minutes (with alkaline batteries)
Battery level indicator: yes, LED.
Water repellent: JIS Level 7
Rubber armoring: Yes
Weight: 2.45 pounds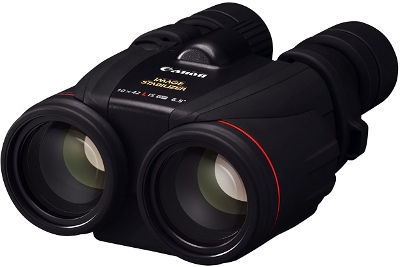 Features of the Canon 10x42L IS Image Stabilization Waterproof Binoculars.
Easy to find the object
The binoculars offer a wide field of view. The images formed are clear, bright, distortion-free, and sharp from the center all the way to the edges. The apparent field is a generous 59.2 °, and these binoculars from Canon feature two top-quality field lenses. These binoculars are ideal for spectacle wearers, thanks to the exit pupil, 16 mm away.
Impressive Performance
The 10x42L IS image stabilization waterproof is the first Canon binoculars to carry the L-series' red ring. An award Canon has previously reserved for its world-class technology and innovations in-camera lens production. Canon is the ultimate manufacturer of optic devices and has 60 years of experience in this field.
Two lenses made of UD glass (Ultra-low Dispersion) on each side provide performance optimization. This glass, developed by Canon, can effectively eliminate color defects, such as those that sometimes appear in binoculars with simpler designs. These lenses result in a very bright, high contrast, and a 10x magnified high-quality image, making it one of the world's best image stabilization binoculars.
Exceptionally Stable Images
The Canon Image Stabilizer Technology (IS) provides an impressively still image because the IS compensates for various unwanted wobbles such as those encountered during hand-free usage or when used from moving vehicles and boats. The tiny gyro sensors detect even small vibrations. The Canon Vari-Angle Prism (VAP) image stabilizer works with a microprocessor that immediately adjusts the prisms to correct the light's angle of incidence.
Good Visibility in any Weather Condition
According to the JIS 7 specification, these binoculars are waterproof. The 10x42L IS image-stabilized WP is suitable for the most demanding adverse outdoor conditions. These binoculars' outer casing is particularly grip-friendly and doesn't slip even when used in the rain. Due to the robust rubber coating, the 10x42L IS image stabilizer is secure in the hand, even under heavy loads. To prevent fogging on the inner lenses, all outer surfaces are provided with a special metal covering.
Anti-fog Protection
As stated above, fogging on the inner lens surfaces is prevented by coating all the outer surfaces with a unique metal covering. This feature effectively prevents moisture penetration with special sealing rings and waterproof adhesives on all external contact points.
Precision Optics
All lens surfaces are equipped with the Canon Super Spectra multi-layer coating. The result is a contrast-rich image with excellent color balance by the elimination of interfering internal reflections. These reflections, if not dealt with, can lead to ghost images and scattered light. The exceptionally large exit pupil, which has a diameter of 4.2 mm, ensures a bright field of view even in very low light conditions.
Light-weight Premium Binoculars
These contrast-packed premium binoculars come with the Canon precision optics L series lenses, a pair of Ultra-low dispersion (UD) lenses, each with 10x magnification, and a Super Spectra coating for extremely clear images. The 4.2 mm large exit pupil also contributes to the high clarity of images even when the binoculars are used under low light conditions.
Specially Designed for Easy and Comfortable Use.
The Canon IS image stabilization waterproof guarantees comfort. A field of view of 65 ° is an obvious proof of this claim. The exit pupil is 16 mm wide and effectively reduces the "tunnel effect" to a minimum, which can have adverse effects on the satisfaction derived from viewing objects through the binoculars.
The eyepieces are equipped with adjustable rubber eyecups, which can be individually adapted for a comfortable and balanced application. The rotary mechanism of the focus wheel can be easily operated with one finger on each hand. A special lock is available to prevent accidental adjustment of the diopter adjustment of the eyepiece.
Delivery
The Canon 10×42 L IS image-stabilized binoculars come with a high-quality nylon bag. The model can safely be stored away in the bag to protect it from dirt and dust.  You will get a wide carrying strap and ocular protective covers, which also performed impressively on our test.
PROS
L-Series Lens.
Canon cutting-edge technology in precision optics.
Optical image stabilizer for a quiet image.
Robust, waterproof construction.
Anti-fogging systems.
Light-weight binoculars with 10x magnification and premium optics.
Waterproof and rugged for extreme weather conditions.
The particularly large exit pupil of 4.2 mm for a bright picture.
Long-sighted exit pupil (16 mm) for increased visual comfort.
CONS
The stabilizer knob is a little unfavorable.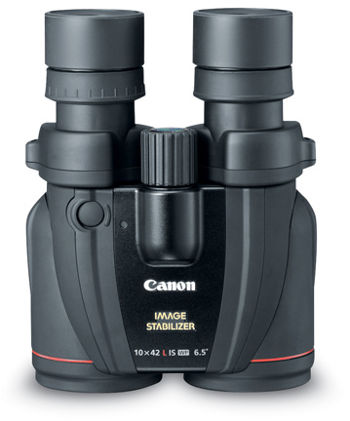 Read Also: Canon 12×36 IS III Image Stabilization Binoculars
Canon 10×42 L IS Image Stabilization Waterproof Binoculars in Practical Use
The 10×42 L IS image-stabilized binoculars model from Canon greatly impressed us with its waterproof construction. The high grip safety is another positive which allows users to enjoy a safe grip when the device is used in the rain or under damp conditions.
This is especially as a result of the robust rubber reinforcement. Furthermore, the outer surface has special metal linings in addition to the waterproof adhesives and sealing rings; the Canon 10×42 L IS image stabilizer binocular is effectively protected against moisture penetration. Every other material featured on the binocular was high quality too.
These Porro Prism binoculars offer outstanding optical performance. So the Canon 10×42 L IS impressed on our tests with a high sharpness up to the image edges. Also, chromatic errors were not noticed at any point during our test.

The Canon 10×42 L IS image stabilization waterproof binoculars have an optical stabilizer which significantly increases the picture quality. This feature was particularly useful in our tests, especially for the shake-free images it offers during hands-free observations.

All images are were of very high contrast, and detail by the Canon 10×42 L IS WP binoculars. It also comes as no surprise that this binocular from Canon; a Japanese company.
In case you didn't know already came with precision optics, lenses made of Ultra-low Dispersion (UD)  glass. Also worth mentioning is that the entire surface of the lenses is provided with a multilayed coating.
Conclusion
Overall this binocular is fantastic for all outdoor activities and sports for all people. Its waterproof features make it versatile for carrying while boating, kayaking, or camping near the river or ocean. It's a durable product, but only being water-proof does not mean it's totally weatherproof.
The image stabilization performance, clear optics, multiple options for power sources, etc. are countable factors in determining its quality.  The Canon 10x42L IS image stabilization waterproof binoculars is a worthy product for any person who wants a quality binocular for the long-term.
In conclusion, we hope this canon 10x42l IS WP binoculars review will help you when you decide whether to purchase this top-quality binocular.