Nikon, as a brand, has built a reputation for the creation of high-quality optics. This Nikon Aculon A211 binoculars review outlines this pair of binoculars' key features and highlights its benefits. While you can use them for several activities outdoors, they are the preference for many hunting activities.
Suppose you are looking for a pair of binoculars that can withstand the outdoor environment for functionality and durability. Then the Nikon Aculon A211 binoculars will serve you well while ensuring that your experience remains pleasurable.
You will find a great balance between functionality and great design. Designed to suit the outdoors and they are lightweight
easy to carry around 
To better understand, what the Nikon binoculars Aculon has to offer, below are its key attractions that highlight its benefits in the field.



Featuring spherical multi-coated lenses and BaK4 high index Porro style prisms
If you are looking for a pair of binoculars for your hunting sport that will deliver clear and bright images, the Nikon Aculon is an excellent choice. It meets these requirements thanks to its spherical multicoated lenses. It ensures that you have a flat field of view, thus avoiding distortion. With these lenses, you will enjoy your viewing, even in areas that come with poor lighting. Light transmission is high thanks to its BaK4 prisms.
Turn-and-slide rubber eyecups
The turn-and-slide rubber eyecups serve two primary purposes. First, they ensure that you remain comfortable even when you are viewing over long periods, thus making it possible to track your target view. Secondly, the rubber reinforces so that the eyecups remain safe. With turn-and-slide eyecups, it is easy to view from the eyecups and make the necessary adjustments to minimal exposure to damages. When not in use, they remain safe as well.
Ergonomic Lightweight Design
When you are out and about, you shouldn't pack heavy equipment or gear. This pair of Nikon Aculon a211 comes with a lightweight, ergonomic design so you can easily transport it during your endeavors. Its compact design promotes easy handling. Also, all features are ideally placed to prevent accidental adjustments. Its overall appearance is also appealing.
Durable and Protective Rubber-armored Coating
The Nikon Aculon a211 features a rubber-armored coating that comes in handy in protecting the pair of binoculars. Secondly, the rubber material provides a non-slip grip, which prevents accidental falls. Keep in mind that you will be moving around in the outdoors, and without a firm grip, you may even lose the binoculars. The concept is to protect them while at the same time promoting longevity. It ensures that you can use them in the long-term with minimal damages.
Manufactured Responsibly with Lead and Arsenic-free Eco-Glass
Appreciating what the environment had to offer is a grand gesture, and a good pair of binoculars will help meet this objective. However, it is also important that you take care of the environment. The Nikon Aculon a211 binoculars are environmentally friendly as they are lead and arsenic-free. The eco-glass is treated to ensure that no harm comes to the environment that gives you pleasure. This glass contributes a great deal in providing precision in viewing.
Objective Lens
These Nikon Aculon binoculars offer a range of objective sizes to help meet the different individual needs. They ensure that you have proper lighting with a capability of between x50 and x42, and the images remain clear and sharp. These binoculars are light in weight for easy portability. With the named objective lens, they are best suited for many outdoor activities such as hunting.
Technical Specification
Magnification: 8 x.

Objective diameter: 42mm.

Angular field of view: 8 Real/degree.

Angular field of view: 58.4 Apparent/degree.

Field of view: 140 at 1,000m.

Exit pupil: 5.3 mm.

Relative brightness: 28.1.

Eye relief: 12 mm.

Close focusing distance: 5 m.

Length: 145 mm.

Width: 185 mm.

Depth: 62 mm.

Weight: 755 g.

Interpupillary distance adjustment: 56-72 mm.

Type: Porro.

Item Weight: 2.38 pounds.

The model year: 2014.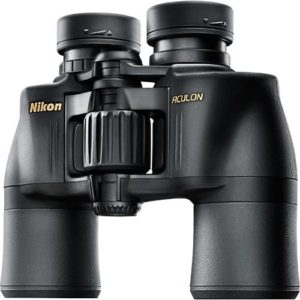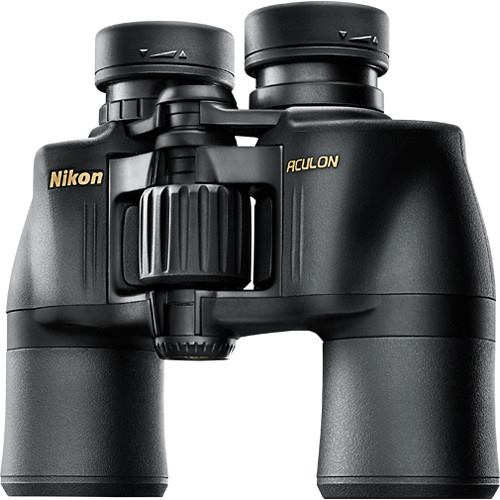 Pros
You will experience high-quality image delivery.

They are light in weight so you can easily transport it and carry it along.

You will benefit from its superb crispness as well as detail in the image.

Light transmission is outstanding.

As a hunting pair of binoculars, it is affordable and budget-friendly.

The shaping of the handgrip reduces shaking, thus boosting stability.
Cons
It would have been better if the carrying case came with a strap to help with mobility and carrying it from one place to another.

It would allow users to free their hands when it is not in use. Also, the neck strap would have been adjustable.
Recommended usage
This pair of binoculars can be used in a variety of settings. Looking at the design, magnification and optics these Nikon Aculon binoculars offer, it is highly recommended for use from dawn until dusk.
They are designed to meet birdwatchers' needs even when you are looking at even smaller birds, thanks to their high-end magnification.
Hunters prefer it due to its durable and high armor. Sports spectators will also prefer this pair of binoculars. You can also compare with the Nikon series another popular binocular Nikon 7548 Monarch 7 8×42 Binocular review.
Final verdict
If you are looking for a pair of outdoor binoculars that are budget-friendly yet deliver on functionality, the Nikon Aculon A211 needs significant consideration. Though they may not withstand every weather type, they are built to take on different environments. They give a larger image view without exaggerations to help maintain the relevance of your view. Also, the image quality remains clear, sharp, and bright. Overall, the image quality and optics are excellent.
This pair will serve you in the long-term due to its durable materials and its compact design. It makes it easily portable, especially when you have other luggage due to its lightweight. It would have been a plus if they included some adjustable straps, but this does not affect its function ability. Hoping that the above Nikon Aculon a211 binoculars review will help you make your choice; overall, it is reliable and efficient.