After a high-performing binocular, then check out this Nikon Aculon A30 10×25 Binoculars Review.
We have thoroughly tested and trailed this Nikon Aculon Binocular, so we hope you enjoy this review.
Nikon Aculon A30 10×25 Binoculars Review
Features of the Nikon Aculon A30 10×25 Binocular
Operation and Functions:
It can be used during the day and at night when there is just sufficient residual light from the moon or lanterns. The eye distance is 56 millimeters on the minimum setting, while the maximum value is 72 millimeters. These pocket-type binoculars are suited to intensive outdoor use.
The robust quality, as well as the reliable functions, makes them useful in many fields of application. The Eco-glass lenses can withstand high temperatures and are a lead and arsenic-free material. The clear and precise image transmission with high contrast is obtained from its optical system with multilayer-coated lenses. It is based on the latest technical innovations and creates a high resolution with very bright images.
Facts & Figures:
The Nikon Aculon A30 binoculars are compact and small binoculars that belong to the "pocket binoculars" category. Weighing just 272 grams is very light and comes with dimensions of 12.2cm x 11.5cm x 2.5 cm, which enables them actually to fit into a jacket or trouser pocket.
The 10X magnification always provides very clear and sharp images, and the lenses allow for a wide field of view thanks to its diameter of 25 millimeters. The actual field of view is five degrees, and the apparent field of view is 47.2 degrees. Thus, the field of view is 1,000 meters, an equivalent of a kilometer, and the light intensity of these binoculars is 6.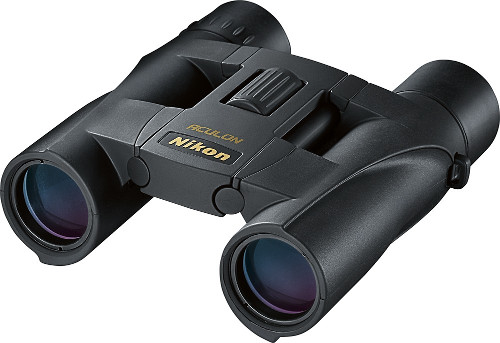 Delivery and Packaging:
At a price of under $100, Nikon binoculars are quite affordable for everyone. The pictures we found on the web convinced us to include this model in our testing, so we ordered our  Nikon Aculon binoculars and received them two days later.
The binoculars' packaging was optimal, and both the dealer and the manufacturer obviously did their best to ensure that the Nikon Aculon arrived safely. After opening the package, we had a robust and solid pair of binoculars with great shape in our hands.
User Comfort:
The Nikon Aculon offers maximum comfort. The model can be conveniently handled, which allows these binoculars to be used for much longer. Furthermore, the eyecups can be folded over so that you get a chance to use the binoculars even as a spectacle wearer. With the wide focusing wheel, which moves easily, adjusting can be easily made to the settings.
The Delivered Package:
The unpacking went smoothly, so we were able to start with the test at once. What we noticed, however, was that no covers were included in the delivery. After a bit of investigation, we discovered that they had to be ordered as separate accessories. Keep reading below Nikon Aculon A30 10×25 binoculars review for more features and specifications.
Handling:
The rubber armoring ensures that the binoculars are particularly shock and scratch resistant and can easily withstand a drop from a low height without significant damages.
However, there are no typical gum pimples that would further enhance the grip. Thanks to the rubber eyecups, which allow a simple, fast, and comfortable positioning of the eyes, looking through the lenses is very pleasant. Also, easy focusing is enhanced by both lenses of the binoculars.
The handling and ergonomics of the Nikon Aculon binoculars are nicely designed. Even when used hurriedly, there are no pressure points on the nose or fingers nor eyepieces unnecessarily misaligned. The adjustment wheels are easily accessible with the middle finger on the top of the thumb on the bottom of the binocular.
Performance:
The Nikon Aculon is a compact binocular which can be folded, and its weight of 272 grams is especially important if you want to use it for a long period. The settings can be adjusted very easily, and operating with one hand is possible, as all the parts harmonize perfectly.
However, some practice is necessary before a user can achieve very sharp pictures due to the low weight because it's difficult to eliminate shakes during hands-free usage completely.
Included Accessories:
In addition to the binoculars, the Nikon Aculon A30 also comes with a high-quality bag for storage and transport. It offers sufficient space to easily and quickly pack the binoculars and can even be attached to a belt utilizing a loop.
There is a carrying strap to wrap around your neck or shoulder comfortably without being overly noticeable. Unfortunately, a second shorter hand strap to attach to the binoculars is not available, so you can't hang it on your wrist.
The Manufacturers:
Nikon is one of the leading manufacturers of cameras and optical devices. This manufacturer has made a good name on the market and therefore prioritizes providing excellent customer service.
As soon as you have questions about the device itself or about another device from Nikon, you can easily reach customer service via their hotline or email.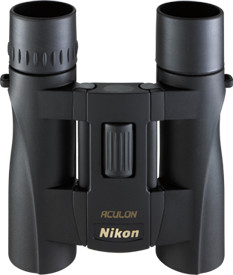 Technical Specification of Nikon Aculon A30 Binoculars 10×25 Black
Magnification: 10x
Lens diameter: 25mm
Weight: 272g
Dimensions: 122x115x44mm
Angular Field of View (Real): 5 °
Angular Field of View (Apparent): 47.2 °
FOV at 1000 yds: 262 ft
Close Focus Distance: 8.2 ft
Exit Pupil: 2.4 mm
Eye Relief: 10.6 mm
Light intensity: 6.3
Prism: Roof
Pros
Pocket-glass for intensive outdoor use.
Optical high performance from Nikon for a bright, clear viewing experience.
Robust quality and reliable functions.
Compact, lightweight, very small, and collapsible.
Central Focusing System.
Ergonomic Body Design.
Smooth Central Focus Knob.
Multicoated Eco-Glass Lenses.
Cons
When looking through the lens, the eyeglasses let a lot of light.
Nikon Aculon A30 10X25 Binoculars Review – Watch The Video Below
Conclusion
These details of the Nikon Aculon A30 10×25 binoculars have impressed us with their compact design and meticulous accuracy. The brightness that the Nikon Aculon binoculars offer is just as convincing. Nevertheless, to say the device also recorded some negative results. Check out our best 10×25 binocular reviews
The main demerit is that the lens allows a lot of light to pass through, so the user needs to look against the direction of light to get images convenient to view instead of disturbed images formed when used in the direction of the rays of light.  At such a reasonable price, you get binoculars that you can use anywhere and enjoy very clear images.
Even spectacle wearers can use this model. Because it is very affordable, you will have to bring down your expectations a bit if you want to use this device professionally. Finally, we hope the above Nikon Aculon a30 10×25 binoculars review has helped you to decide when purchasing your next binocular.