Nikon is a famous brand, and we owe our readers this detailed Nikon Aculon Binoculars Review since the series offers some great devices at incredible prices.
The series consists of compact and lightweight binoculars with multi-coated optics and other cool features suitable for a great variety of outdoor and indoor activities.
Throughout this review, we will discuss these binoculars' strong points and weaknesses and whether they are good value.
Top 10 Nikon Aculon Binoculars Comparison Table
Special features of Nikon Aculon binoculars
The most interesting feature of the Nikon Aculon models is the wide variety of choices. For example, with the Aculon A30 series, you get very compact binoculars to take with you on any trip. There are also several versions of zoom binoculars which have been widely praised in several Aculon binoculars reviews
These binoculars are not limited to a single magnification and can be set variably, meaning partial enlargements of up to x24 are possible. These include the Aculon T11, which is very compact and lightweight. However, the Aculon A211 in the zoom version offers a large lens diameter, which captures a lot of light, and bright images are optimally guaranteed.
Also, all models have a high-quality multi-layer coating, which ensures clear images. Of course, Nikon's popular ECO glass is also used in this binocular series. The special glasses are entirely free of lead or arsenic. Since the models are geared primarily for leisure, a high-quality rubber armor on the housing is indispensable.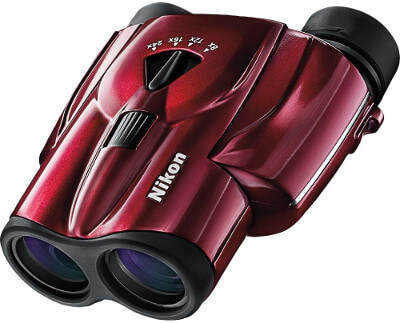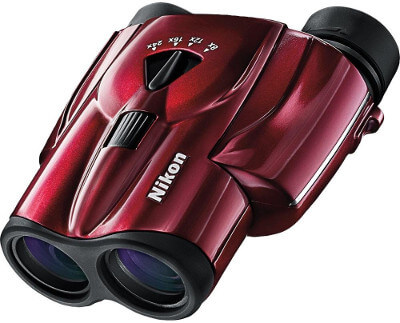 The armor protects the binoculars from scratches and bumps and ensures a non-slip and pleasant grip in all situations. Adjustable eyecups and a reasonable diopter compensation make the viewing experience for eyeglass wearers comfortable and optimal.
The Aculon T11 and T01 are available in beautiful colors, such as red, blue, white, and black. One small drawback is that the binoculars are unfortunately neither waterproof nor filled with nitrogen.
If you attach great importance to these features, you'd need to up your budget a bit. Nikon binoculars from the Prostaff or Monarch series are all waterproof, but if you don't need that then you can save a lot of money with a Nikon Aculon.
Pros
Sleek design and quality construction materials.
Impressive imaging performance.
Zoom feature allows for variable magnification levels.
Lightweight and compact.
Excellent price/performance ratio.
Very versatile binocular.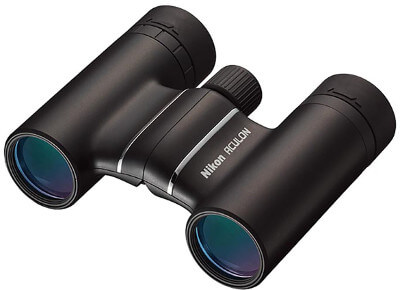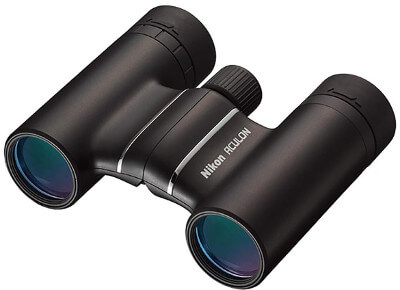 Highlights Features of the Nikon Aculon binoculars:
Perfect for leisure (sports, outdoor, travel).
Multi-layer coating for clear pictures.
High-quality rubber armor.
Easy and fast handling.
Relatively inexpensive.
Some models have a zoom feature.
Ideal for wearers of glasses.
Attractive color selection for the compact binoculars.
Applications of Nikon Aculon Binoculars
Nikon Aculon binoculars can be used in various ways, but they are precisely made for occasional leisure time. The Aculon A30, T01, and T11 models are ideal for holidays, traveling, or hiking. They are also great for sporting events, and for opera or theater viewing, these models are more than just optimal.
The compact size, and low weight, makes these models particularly handy and are available in 8×25 and 10×25 specifications. Whichever you choose depends on your taste and magnification needs.
The T01 model is also available in two different magnifications, namely 8×21 and 10×21. The situation is different with the Nikon Aculon T11, which is only available with a practical zoom function that allows magnifications from 8x to 24x in three different levels.
The Nikon Aculon A211, on the other hand, gives you a luxury of choice, which ranges from 7×35 to 16×50 in popular models, while the Zoom binoculars range from 8-18×42 to 10-22×50. Since a particularly large front lens diameter is offered here, the A211 models are particularly suitable for nature observations even in low light conditions.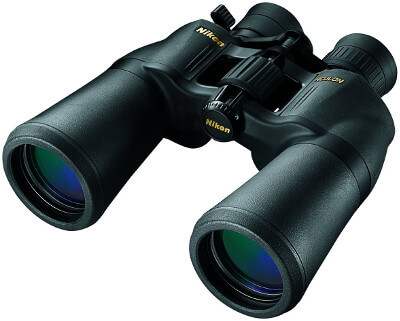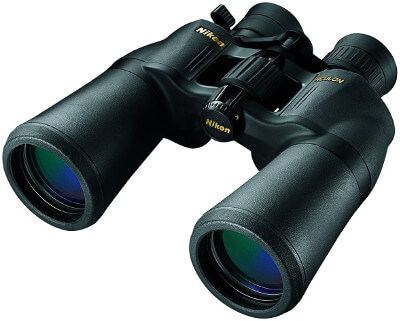 The Nikon Aculon Price Range –
The price range is kept very low in these models, with the cheapest binoculars for just under $50 to the most expensive at under $150. In between this relatively small price range is an extensive selection of great binoculars.
Nikon Aculon Binoculars Review – Watch the Video Below
Conclusion
From features to price, we've gone through everything you need to know about Nikon Aculon binoculars. Whatever you need a binocular for, there is a device in the Nikon Aculon series that will delight you and we hope this Nikon Aculon binoculars review has made the process easier.