If you are looking for a comprehensive Nikon Prostaff 3s 8×42 binoculars review, you are on the right page. These 8×42 binoculars are considered the standard size due to their versatility, and the Nikon Prostaff 8×42, with all its great features, is one of the best in this category. It strikes a good balance between size and performance and is sleek and ideal for multiple outdoor activities.

In a Hurry: CLICK HERE TO SEE THE PRICE & REVIEWS
What Makes This Nikon Prostaff 3S 8×42 Binoculars Different from Other Binoculars?
Good Quality and Workmanship
For a price of around 100 to 140 dollars, you get with this Nikon binoculars a quality device with very little or nothing to complain about. For the Prostaff series, Nikon relies above all on high-quality ECO glasses, as they are completely free of arsenic and lead.
Furthermore, the slim case is additionally provided with a high-quality rubber coating. This armor protects the binoculars from bumps and scratches and ensures a pleasant and non-slip grip in every situation.
Some people like to take a pair of binoculars into nature during their spare time, where there are often changing weather conditions. That's exactly what the Nikon Prostaff 3S 8×42 is synonymous with. With the waterproof housing it comes with, the binocular withstand a depth of one meter to 10 minutes.
A small fall into a puddle or a heavy downpour of rain doesn't affect the Prostaff. The housing also features a nitrogen filling, which prevents the fogging of the inner optics. The binocular is also rugged, and it lasts a long time.
Good performance and Easy Handling
With the 8x magnification, the objects can be observed closely and in detail. The 42 mm lens diameter captures enough light and provides you very bright images. The prisms are also equipped with a highly reflective multi-layer coating, consisting of a high-quality silver alloy.
Thus, the brightness, contrast, and resolution compared to standard prisms are improved. The slim Nikon Prostaff allows easy handling via the large focusing wheel on the center drive, which is like a child's play to operate.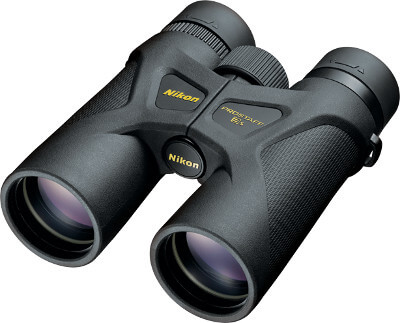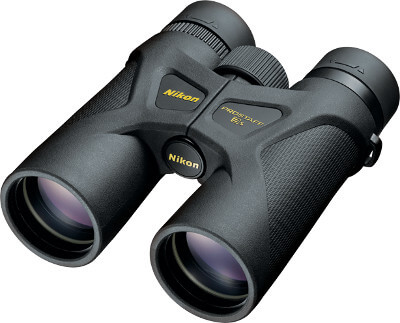 Scope of Delivery and other Features
In the delivery scope, we get the Nikon Prostaff 3S 8×42 and, as usual, a high-quality carrier bag that serves for safe storage and transport. Also in the package are a comfortable carrying strap. Finally, there are covers for the lenses and eyepieces, which keeps them protected from dust and dirt.
Obviously, people with glasses do not have any disadvantages when using this binocular. The long exit pupil of 20.2 mm allows users who wear a pair of glasses to enjoy a pleasant and interesting observation through this device. To make the viewing experience even more comfortable, the binocular has adjustable eyecups that can be individually adjusted to the user's needs.
Pros
Wide field of view.
Extended eye relief.
Compact and lightweight.
Lead- and Arsenic-Free Eco-Glass.
Silver-Coated Roof Prisms.
Multi-Coated Optics.
Nitrogen-Filled, Water, and Fogproof.
Closed-Bridge Configuration.
Reinforced Polycarbonate Chassis.
Large Center Focusing Knob.
Twist-Up Click-Stop Eyecups.
Textured Rubber Armoring.
Highlights Features and Technical Specification of the Nikon Prostaff 3S 8×42 Binoculars:
Dimensions: 5 x 7 x 3.5 in
Weight: 4.8 ounces
Waterproof / fog-proof: up to 1 m for 10 min
Field of view at 1000 m: 126 m
Ideal for leisure activities.
Slim case and comfortable grip.
Waterproof and fog proof.
Highly reflective multi-layer mirroring of silver alloy prisms.
Ideal for wearers of glasses.
Exit pupil (mm): 5.3
Relative brightness: 28.1
Eye relief (mm): 20.2
Close focusing distance (m/ft.): 3/9.8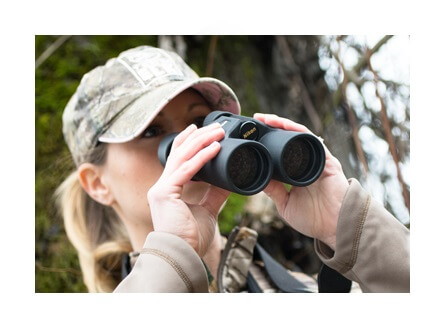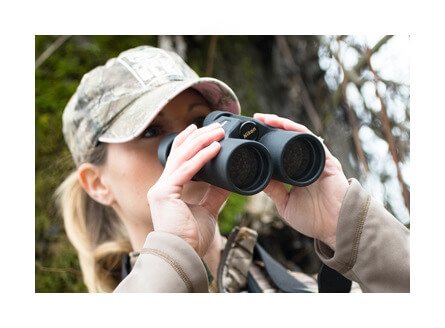 How have customers rated these binoculars?
The reviews of these binoculars buyers show every owner is positively convinced of the Nikon Prostaff 3S 8×42.  The ideal weight of 565 g and the slim dimensions are praised in several Nikon Prostaff 3s 8×42 binoculars reviews.
Their great performance and price make this binocular very attractive.
There is hardly any disadvantage with the Prostaff 3S. The only issue is a long-known problem with some binoculars from Nikon, and that is the somewhat loose covers of the eyepieces and lenses.
Conclusion
If you are making a list of suitable binoculars for hunting, hiking, or any other outdoor activity, then this binocular should be among those and at the top of it. There are only good things to say and about this device, and it's been great sharing all that detail in this Nikon Prostaff 3S 8×42 Binoculars Review.