When it comes to a hunting expedition or an outdoor adventure, the Vanguard Endeavor ED 10×42 Binoculars is your ideal product.
Its optical eye units are made in a way that all users find comfortable. Packed with all the essential optical characteristics, this Vanguard product is one of the most durable on the market. During this article, we take a closer look at the Vanguard Endeavor ED 10×42 Binoculars Review.
Vanguard has produced a 42mm version of Endeavor ED, the 8 x 42 and 10 x 42. We talk about its performance, features included, and other important aspects. Endeavor ED 10 x 42 Binoculars are Vanguard's most popular and best-selling nature and bird watching binoculars.
They comprise high-quality features and components such as fully multi-coated optical elements, ED Glass, phase correction coating, and highly reflective.
Vanguard Endeavor ED 8×42 vs. 10×42 Binoculars in Comparison Table
| Model | Vanguard Endeavor ED 10 x 42 | Vanguard Endeavor ED 8×42 |
| --- | --- | --- |
| Power | 10x | 8x |
| Objective Lens | 42mm | 42mm |
| Exit Pupil | 4.2mm | 5.2mm |
| Twilight Factor | 20.4 | 19.5 |
| View Angle | 6.5° | 7° |
| Field of View | 340 (ft/1000yds) | 367 (ft/1000yds) |
| Eye Relief | 16.5mm | 19mm |
| Near Focus | 8.2 ft | 6.6 ft |
| Weight | 25.8 oz | 25.75 oz |
| Dimensions | 6 1/8 x 5 1/8 inch | 6 1/8 x 5 1/8 inch |
| Water & Fog Proof | Yes | Yes |
| Price | | |
Why is this Vanguard Endeavor 10×42 Highly Recommended for most outdoor expeditions?
An enlargement of 10 x 42 is one of the secrets, with an excellent long-distance view, making the Vanguard indispensable during expeditions. Most units that come with a high magnification end up providing a small field of view, making the focusing tricky and loss of sight of the animal when you move the binoculars even slightly.
This is not the case with the Vanguard. BaK-4 coated prisms, ED glass, and multi-layered lenses work to avoid the focus's delicacy and fragility. This is one of the magical features that these Vanguard Hunting Binoculars provide.
The position locking diopter is also taken into account in the design. The main function is to lock the button once you have searched and found your best focus point.
To make the job even easier and more comfortable, the unit was designed with soft rubber armor, a large focus adjustment wheel, and an open bridge design. Soft rubber armor makes it comfortable to handle. On the other hand, the large adjustment wheel facilitates the centering of the object.
This device can be used in any environment. If you come from places with a winter climate most of the time or even places experiencing very high temperatures, buying a binocular that does not favor such environments is not recommended. Indeed for the best performance, you will eventually have to consider all these meteorological factors.
Water and fog are some of the biggest enemies of a pair of binoculars. This device has been designed to be 100% waterproof and 100% anti-fog, making it an all-terrain device with all other features. A quality lifetime warranty that comes with this product gives you all the confidence and puts you in an awareness that you bought a product designed to last a lifetime.
Do take a closer look at our Vanguard Endeavor ED 10×42 Binoculars Review below.
Why You Choose Vanguard Endeavor ED 10×42 Binocular?
Outstanding Design
As stated above, they can be used by almost all persons. They include an open bridge body design. This body design makes it quite easy for you to hold onto your device. You can easily carry them with just one hand without worrying about them slipping off and falling.
Thanks to its firm grip, you do not need to use your neck strap when walking over rough terrain. It cannot be enjoyable to have a binocular dangling from you when climbing over rocky terrain or hilly areas. If you think about it, not using a neck strap reduces the overall weight of your gadget. This design works in your favor.
Weight and Protection
The overall weight of your Vanguard Endeavor ED 10 x 42 Binocular is approximately 730g. Some models might be lighter than this, but you will find mostly light because of the materials used. Some manufacturers use weaker, lightweight material such as plastic to ensure their devices remain lightweight.
Aside from the two twin bridges, all exterior surface is covered in tactile rubber armor. This feature is handy as it ensures you have a non-slip surface to hold. The rubbery exterior also protects your device from accidental drops, knocks, or bumps.
Rubber exterior also means that there is little to no metal exposed. This is an essential feature as no reflective surface will be visible. Watch your birds without worrying about the Sun reflecting on your device's surface and scaring them away.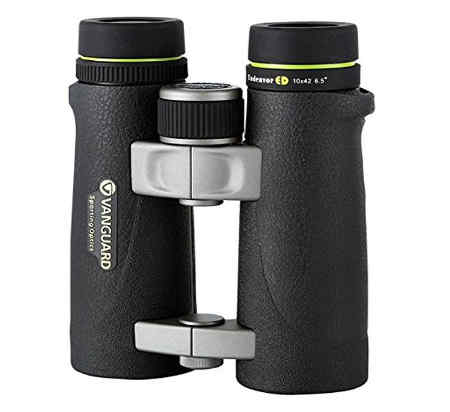 Lenses
ED glass used in the lens helps reduce the amount of color fringing and improve the sharpness of images better than even lenses made from glass. You will have a clear vision, with great focus and contrast.
Extra-low dispersion glass can sharpen images due to the design – it's built to give you a wider range of options to better direct and concentrate the wavelength of light. The better wavelength lights are controlled, the clearer and brighter the image you are looking at will appear.
Vanguard Endeavor ED 10 x 42 Binoculars have fully multi-coated lenses. This will increase light transmission, which in turn produces brighter images. Roof prisms found on this model are made from BaK-4 glass. BaK-4 glass helps produce clearer images.
Endeavor ED 10 x 42 binocular has added P2 Phase correction coatings on the prism aside from quality glass. These coatings keep the light in correct color phases. This way, your view will have better contrast, brighter colors, and higher resolution – even when you zoom in, your images will not become distorted or blurry.
Field of View and Image Quality
The field of view is 342ft at 1,000 yards. For a binocular with a 10x magnification, this is pretty impressive. Close focusing distance is not too great, though. When looking for great focusing distance, you want a device that can provide 6ft or less. This model can focus on an object with the closest distance of 8.2ft. It is still an okay distance, but it can be better.
The maximum eye-relief is 16.5 mm – this is pretty good. Eye relief refers to the distance between your eye and the rear of the binoculars. It ensures you get a clear view without any dark rings around your eyes. The image quality is quite bright.
When you are in thick woods, you want a gadget that offers an Exit pupil and Twilight Factors. Your device will give you an exit pupil of 4.2 and a twilight factor of 20.5. These ratings mean that they will perform wonderfully in almost all low light conditions.
Specifications of Vanguard Endeavor 10×42 Binocular
100% waterproof and fog proof.
Eye relief: 16.6mm.
BAK-4 Prisms.
Phase correction coating on prisms.
ED (Extra-low dispersion) glass.
Lightweight opens bridge body design.
Fully multi-coated lenses.
Magnification: 10 x.
Field View: 340 ft at 1,000 yards.
Field of View Angle: 6.5 degrees.
Near focus:8.2 feet.
Pros
This device has a long eye relief of 16.5 mm. Individuals who wear glasses can use them without their glasses digging into their faces.
The pair of binoculars features the standard prism roof system.
It has a central focusing system and a central focusing button that is large enough to improve the ease of the adjustments you make
It is 100% waterproof and fog proof.
Multilayer optics touts the upper light transmission.
It has BaK-4 prisms that remarkably improve the display by making it much clearer and perfectly bright.
Comes with a premium lifetime warranty
The device comes with a locking diopter locking ring.
Containing 3-stage twisting eyelets
Rubber surface dampens any sound that can be caused by a ring or watch striking against the barrel.
Stylish Excellent quality.
Compact and superb optics.
Fantastic image sharpness and brightness.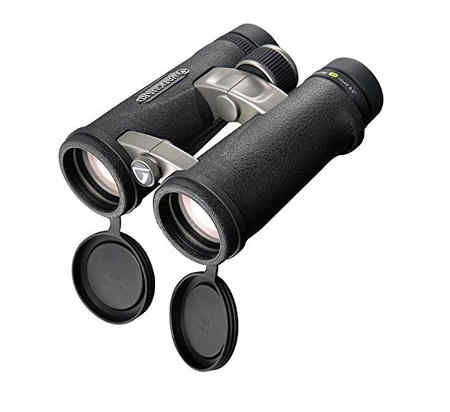 Cons
The closest distance you can focus on with them is 8.2ft (2.5 m).
Heavyweight
A little bit pricey for some people.
Customer Reviews of Vanguard ED 10×42 Binoculars
This piece is loved, and it is among one of the best pairs of binoculars for hunting according to the customers who gave their returns on Amazon and this for its diversity of use. The product is also the best outdoor companion for almost all activities that require binoculars. The fishermen were impressed, and some shared their success in parts of the fisheries after having this aircraft, so it is well understood that these binoculars have changed in their fishing experience and hunters.
On the other hand, sports and fitness enthusiasts could easily learn and implement certain forms of physical exercise, even remotely. Also, those who love to watch outdoor sports loved it. Astronomers, especially amateur astronomers, have credited their gain in addition to experience using this product. Simultaneously, bird viewers also gave these binoculars 'thumbs up' or the 5 Stars on Amazon, which gives this product a too good reputation.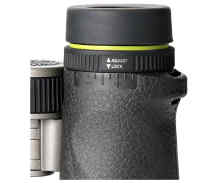 The product has been designed while trying to respect an important factor, "comfort," to get the best performance and have the perfect experience. For example, it comes with a carrying case that gives you ease in transport and gives you peace of mind for your product by being sure that the latter is under the right protection.
Also, the product's design takes ergonomics into account and thus takes into account the thumb rest, which makes it a pleasure to transport and use it. The locking diopter is particularly exceptional as it helps users maintain concentration for a long time without the risk of losing attention unintentionally.
The long eye relief is another thing that has made working with this binocular to be even more comfortable and to use it with full pleasure.
>>> Click Here to See the Price and Reviews <<<
Frequently Asked Questions (FAQ)
1. Can I mount my Vanguard ED 10×42 binoculars on a tripod?
Answer: Yes, they are tripod adaptable.
2. What is the IPD?
Answer: Interpapillary distance is 57mm – 75 mm
3. What are the dimensions?
Answer: 6 ¼ '' L x 5 1/2'' W
Read More: Vanguard Endeavor ED 8×42 Binoculars Review
Final Verdict
In our Vanguard Endeavor ED 10×42 Binoculars Review, we have looked at key features that can help you decide if this model is what you have been looking for. These devices have great balance and feel comfortable in your hands. All small details are designed to perfection. They are also placed in great locations on the binocular to provide optimal performance.
They are of excellent quality, and a user can opt to use their heavily padded neck strap to carry their gadget around. Since its field of view is wider and produces a bright image, individuals can use these devices for bird watching in open areas and over long distances like by the sea or around lakes. Vanguard Endeavor ED 10×42 is a great item to purchase for yourself, a friend, or a family member who loves nature watching.