In this detailed Vortex Diamondback 10×28 binoculars review, we bring you one of the marvels of the world in optical devices, a portable binocular with several magnificent qualities. It is a must-have for campers, nature observers, and travelers who wish to improve their visual experiences.
The ten times magnification power is impressive for a binocular of this size. It's 28mm objective lens diameter makes it ideal for observations during the daytime and delivers very steady images, but use a tripod for even more stable viewings.
The vortex optics is very high quality and incorporate a useful coating that enhances the images. These quality coatings and the rugged armor make for a safe and comfortable grip.
Features of The Vortex Diamondback 10×28 Binoculars
The Quality Optics of the Vortex 10×28 Diamondback Binoculars.
The Vortex optics' unique design features fully multicoated objective lenses, eyepieces, and phase-corrected roof-type prisms. We believe these are upgrades for their Porro counterparts because they allow the objective lens to align in the same path as the eyepiece. This ensures that light travels straight through the binoculars, which results in an improved transmission, good contrast, and color-true images.
The improved 6.5' close focus increases your focusing range and makes sure that you get sharp results when viewing far-away objects and wildlife, street signs, and other nearby features.
The dielectric coated lenses of this Vortex Diamondback 10×28 binocular also perform impressively in low light conditions. Users also get a linear field of view of 273 feet per 1000 yards. This generously wide field of view enables you to scan more areas and observe even the slightest details.

Construction Features and Argon Gas Filling
With a height of 4.4 inches, a width of 4.6 inches, and a total weight of 382 grams (13.5 ounces), this binocular is one of the most compact and lightweight models on the market. The housing body is a lightweight and durable aluminum material.
The binocular features a short hinge, which makes it visually appealing. The high-quality rubberized armor also provides users a non-slip and secure grip and ensures that the binoculars' exterior maintains their sleek look for a very long time.
The Vortex Diamondback 10×28 also features O-ring seals that prevent moisture, debris, and dust from finding their way into the binoculars' internal parts. It's also worth mentioning that these binoculars incorporate an Argon gas filling, which prevents the lenses from fogging due to temperature changes.
Features of the Vortex Diamondback 10×28 Binoculars.
We will also like to highlight the convenience feature in this Vortex Diamondback 10×28 review. The devices come with adjustable eyecups that can be twisted up or down for users with or without eyeglasses.
The sizable center focus wheel adjusts the focus of both binocular barrels simultaneously. A diopter adjustment on the right eyepiece adjusts the differences observed in both of the user's eyes.
These binoculars can be used on a car window mount or a tripod to increase image stability. To know more features and benefits, keep reading this Vortex Diamondback 10×28 binoculars review.
Pros & Cons of the Vortex Diamondback 10×28 Binoculars
The Pros
The binoculars sleekly built, lightweight, and are fairly priced.
The binoculars are fully waterproof and fog proof.
Tripod adaptability and a close focus distance.
The Cons
Even with the high low light performance, the vortex diamondback 10×28 binocular is not the for night viewing due to the relatively small objective lens diameter.
Technical Specification of Vortex Diamondback 10×28 Binoculars
Magnification: 10 x
Objective Lens Diameter: 28 mm
Dimensions (HxW): 4.4 x 4.6 inches
Weight: 13.5 oz
Eye Relief: 16 mm
Exit Pupil: 2.8 mm
Linear Field of View at 1000 yards: 273 feet
Angular Field of View: 5.1 degrees
Close Focus Distance: 6.5 feet
Interpupillary Distance: 55-74 mm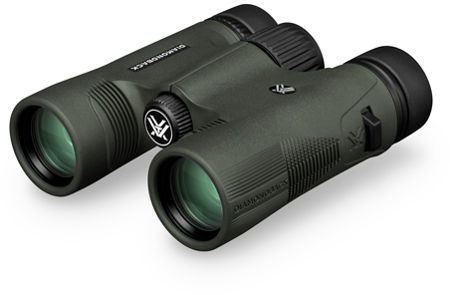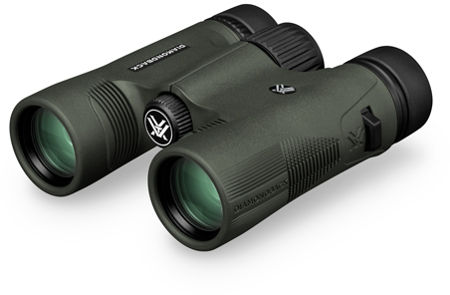 Vortex 10×28 Diamondback Binocular Review – Watch the Video Below
Conclusion
Most nature explorers love to travel light, and this might be the best binocular for you if you fall into this category. The Vortex Diamondback 10×28 binocular, though small, perfectly blends efficient functionality with eye-grabbing aesthetics. These binoculars will last as they use state-of-the-art construction techniques and quality materials.
We recommend you buy this binocular from Amazon, where it is has registered an average customer review of 5 out of 5.
We love to keep our readers updated and hope you enjoyed reading this detailed Vortex Diamondback 10×28 binoculars review.
Read Also: