We've taken the time to write this Vortex Diamondback 8×42 binoculars review in an attempt to bring you all the details of a brilliant and reliable binocular from a well-respected manufacturer. This binocular offers users an impressive 8x magnification power and an objective lens diameter of a substantial 42mm. The Diamondback had been around for quite a while but got redesigned in 2016 to an exceptionally impressive version.
We like several aspects of the new design which particularly features quality ergonomics, high performing optics and a rugged and highly durable housing. This binocular is an ideal choice for hikers, nature lovers and even for professional hunting.
There are so many notable features and the most noticeable ones among them include the quality rubber armor, sleek build and O-ring seals. Lest we forget, this binocular is fog proof too.
Awesome right? Keep reading this Vortex Diamondback 8×42 binoculars review as we reveal much more interesting features of these 8×42 binoculars.
Features of Vortex Optics Diamondback 8×42 Roof Prism Binoculars
Optical features of the vortex optics new 2016 diamondback 8×42 binoculars
The primary function of any binocular is to make things look bigger, but this binoculars features a top quality optics that offer you much more than just the zoom. The fully multicoated lenses together with high-performing quality phase corrected prisms guarantee a much-improved light transmission process, perfect contrast and color-accurate images.
The 8x magnification power allows for highly stable images, and the large objective lens diameter of 42 mm equates to a substantial 7.5° angular field of view. Hence, you get bright and clear images even at low light conditions. The linear field of view is 393 feet per 1000 yards so hunters particularly can get full images of their targets for a more productive hunting experience.
Gas filling and construction
Binoculars are often exposed to extreme weather conditions which often includes temperature fluctuations and high moisture levels. These are not issues for the Vortex Optics Diamondback 8×42 binocular which are equipped with O-ring seals and an argon gas filling which make them completely waterproof and fog proof.
The O-rings also prevent debris and dust from penetrating your binoculars for a highly reliable performance in all kinds of environment. A quality rubberized armor provides a long-lasting external protection against abrasions and impacts as well as a highly secure and non-slip grip.
The aluminum material used in making the casing is durable and lightweight. This helped to keep the total weight of the binoculars at 21.8 (approximately 618 grams.) which is very good for a binocular with all these great features. The dimension of this binocular is 14.73cm x 12.95cm which means that they fit into your bag pack seamlessly without taking up too much space.
Ergonomics and Convenience Features.
This Vortex Diamondback roof prism binoculars are very gentle on the hands and highly convenient to use even for extended periods. The ergonomic design is incredible and this is evident in the short hinge and easily adjustable multi-positional eyecups which allow users to view objects with or without glasses.
The central focus wheel is smooth and easily accessible. In addition, the right eye features a diopter which eliminates the differences observed in both eyes. These binoculars just like others in others variants of the Vortex Diamondback are tripod adaptable for stable hands-free observations.
Accessories
You can find Vortex Diamondback 8×42 binoculars for sale at the best prices available at Amazon. In addition to your binocular, you'd also receive a high-quality case for storing your device, neck straps, a piece of cloth for cleaning the lenses and objective lens covers in the delivery package. Keep reading this Vortex Diamondback 8×42 Binoculars Review for more features & specifications.
Pros of vortex new Diamondback 8×42 binocular
Highly versatile and well suited for all situations.
Great performance in low light conditions.
Large linear and angular field of view.
Highly durable construction.
Top quality accessories included in the delivery package.
Cons of vortex diamondback binoculars 8×42
There is hardly anything to complain about Vortex optics binoculars though some customers have reported that the lens caps of this model is sometimes not secure. However, if this causes you any problem, you can always get it resolved by contacting customer care service.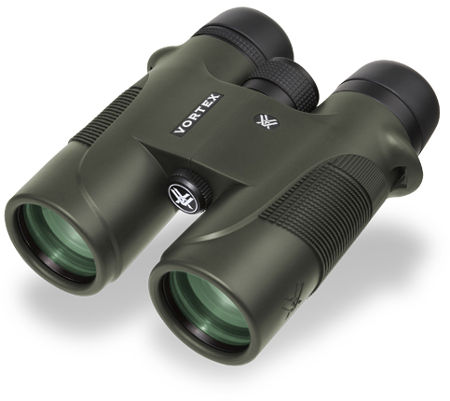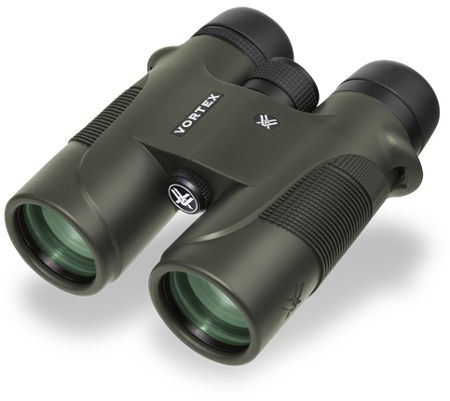 Technical Specification of Vortex Optics Diamondback 8×42 Binocular
Magnification: 8 x
Objective Lens Diameter: 42 mm
Dimensions: 2 x 6 x 5 inches
Weight: 25.2 ounces
Eye Relief: 18 mm
Exit Pupil: 5.3 mm
Linear Field of View @ 1000yards: 420 feet
Angular Field of View: 8 degrees
Close Focus Distance: 4.5 feet
Interpupillary Distance: 57-73 mm
Vortex Diamondback 8×42 Binoculars Review – Watch The Video Below
Final Thoughts
Without a doubt, Vortex optics has become one of the leading manufacturers of top quality binoculars and it is very much easy to see the reason why.
The binoculars are built to last a lifetime and you also get a long-term warranty. The fully multi-coated lenses will ensure that your binoculars get sufficient light even at dawn or dusk when the lighting condition is poor.
Even though there are other variants of binoculars from Vortex optics that command a 10x magnification power, you will definitely appreciate the clarity and stability you get with these 8×42 models.
The fog proof and waterproof features are more than enough assurance that you will never get your vision restricted. We really enjoyed writing this Vortex Diamondback 8×42 binoculars review and we hope you enjoyed reading it.
Related Article: Vortex Diamondback 12×50 Binoculars Review