In this Vortex Viper HD 10×42 Binoculars review, we look at every aspect of a brilliant binocular with unique features that many professionals and customers alike.
This binocular is versatile and an ideal choice for birdwatchers, hikers, hunters, and anyone who appreciates spectacular views through a binocular lens.
Let's give you a rundown of some unique features the device offers.
 In a Hurry? CLICK HERE FOR LATEST PRICE & REVIEWS 
Special Features of Vortex Optics Viper HD 10×42 Roof Prism Binoculars
High-Quality optics
The Vortex Viper HD 10×42 binocular comes equipped with extra-low dispersion glass (ED), which controls chromatic aberrations to provide brighter images. ED glass is expensive to manufacture and is usually reflected in the price of the binoculars.
The Vortex 10×42 also has added coatings on the glass that ensures low dispersion of color and therefore produces a good contrast of the image of interest. The lenses are equipped with anti-reflective coatings that allow these binoculars to provide clear images in low lighting.
Eye Cups & Eye Relief
The eye relief of the Vortex Viper HD 10×42 is 20 mm, which would suffice for users who need to wear glasses. The eyecups are lined with a non-bulky rubber making these binoculars comfortable during use.
The Vortex Viper also has adjustable sockets that lock, allowing users to set their eye relief preferences for future use without re-adjusting.
Diopter Ring
The diopter ring works hand in hand with the eye relief component of the vortex viper 10×42. Like the eye relief, the diopter ring locks in the preferred adjustment.
It means that you can use these binoculars frequently without having to adjust your settings each time. The lenses can also be adjusted as required by individual users.
Waterproof & Fog Proof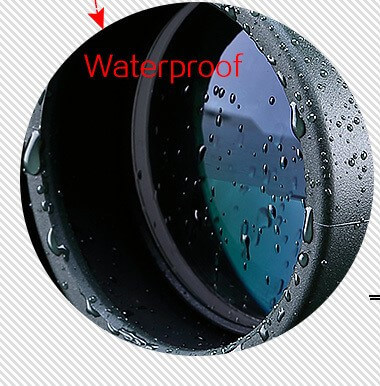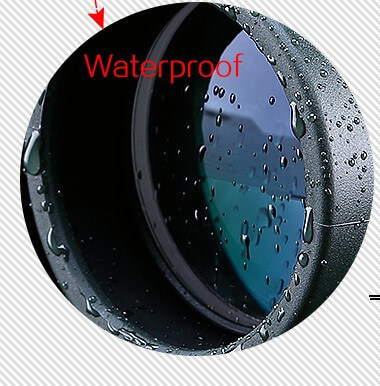 The Viper HD 10×42 roof prism binocular is both waterproof and fog proof is making them an asset in extreme weather conditions. The lenses are filled with Argon gas, ensuring that condensation will not occur in any situation leaving the lenses always clear to view the image.
Their lenses are sealed with O rings that prevent moisture from entering and coated with a substance that repels water making them waterproof.
There is an added assurance that foreign particles or even dust will be kept away from the lenses because of the seals.
Should the Vortex Viper HD 10×42 ever get dirty, they are easily cleaned with the assurance that there will be no leftover smudge or streaks on the lenses, as is the case with regular glass.
Portability
Vortex optics viper HD 10×42 is small and lightweight, making it very easy to carry around. It also hooks onto a neck strap so that you can carry it around your neck.
Viewing (LOW & Strong light)
The Vortex Viper HD 10X42 binoculars have a field of view of 319 feet, which is an average expectation with 10×42 binoculars.
The lenses are high density and coated to allow the Vortex Viper to control excessive light, such as on a very sunny day or if the image is illuminated by bright light.
This is an advantage because harsh lighting causes reflection and can induce blurred images.
Construction Materials and Durability
The Vortex 10×42 uses high-quality materials, making it a fierce competitor to its counterparts. It comes equipped with ED glass and a rubber-coated body that keeps it intact in case of falls or run-ins with nature, such as thorns, mud, and rocks.
The rubber also ensures a non-slippery grip and adds to the durability of the binocular. These binoculars' purchases come with a manufacturer's warranty that offers to repair or replace the Vortex when needed.
Accessories
The Vortex Optics Viper HD 10×42 comes with a carrying case, a neck strap, a lens cloth, rain and lens cover. The carrying case has padding and also a small pocket inside it.
The neck strap is wide, padded, and has connectors that allow the binoculars to be attached to it, enabling them to hang on the chest.
The rain and lens cover is soft rubber that fits comfortably and stays in place, ensuring that they don't easily fall off during use. A user manual outlines the best way to use the Vortex.


Vortex Viper HD 10×42 vs. Nikon Monarch 7 Binoculars
If you've done any bit of research about the two devices, then you know the Nikon Monarch 7 binocular costs slightly more than its Vortex Viper HD counterpart.
They are both water and fog proof though the Nikon Monarch comes with a nitrogen purging while the Viper relies on Argon.
They both utilize roof prisms and ED glass to offer users excellent views and also feature O-ring seals.
These binoculars are fantastic and have an impressive best price/performance ratio. Hence, choosing between the two might boil down to your intended application.
The Monarch is more famous for bird watching, while the Vortex Viper HD device is excellent for hunting.
Vortex Viper HD 10×42 vs. 10×50 mm Binoculars
The obvious difference between these two Vortex Viper HD binoculars is their specifications. While one comes with objectives with diameters of 42mm, the other incorporates 50mm objectives, but both offer 10x magnification powers.
This difference is in their respective sizes and light gathering ability. The 10×50 binocular is slightly heavier and less compact than the 10×42 binocular but has a slightly higher light gathering ability.
Make no mistake, the Vortex HD 10×42 binocular by no means underperforms in these areas. Its price is a little lower than its big brother, but it's more compact and easier to take with you on your travels.
For applications that require use in low light, perhaps the 10×50 model is preferable; otherwise, the 10×42 binoculars are great.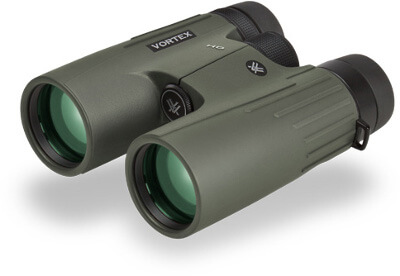 Pros of Vortex 10×42 Viper Binoculars
The vortex viper 10×42 offers a range of features at an affordable price.
They are lightweight, therefore easy to transport and carry; the accessories have added comfort features such as padding on the neck strap and loops to hook the binoculars on.
You can set your preferences on the diopter rings, which is an excellent added touch.
Drawbacks of the Vortex Viper HD 10×42 Binoculars
There is hardly anything to complain about the quality and performance of this binocular's optical and non-optical aspects.
They've earned lots of praise and made a good name for themselves on several reviews.
The eye relief of 16.5 mm is above the minimum 15 mm required for smooth viewing by eyeglass wearers,
The binoculars are slightly heavier than other similar devices, and the lens covers don't always fit perfectly.
Recommended Usage
The Vortex Viper HD 10×42 would do well in most outdoor activities. The Viper quality optics, the field of view, and the ability to produce quality images in low light make the Vortex  Viper HD 10×42 binocular ideal for bird or wildlife watching.
The anti-reflective coating on the lenses would be suitable for users viewing images on reflective surfaces such as a lake.
It is also small enough for safaris or camping expeditions, especially because of the well thought out mechanical and durable build.
What's in the Box?
In addition to the binocular, when you order the vortex viper 10×42 binoculars, you get a soft and well-padded carrying case made of nylon, a comfortable neck strap, objective lens covers, and a rain guard.
Vortex Viper HD 10×42 Review – Watch The Video Below
Final Verdict
The Vortex Razor HD 10×42 binocular is one you should consider adding to your pack.
It has awesome features and has a fully transferable lifetime warranty backing its quality.
You will see how a binocular should feel and perform once you hold it in front of your eye for the first time.
The binocular holds up well in comparison with other similar devices at a similar price. Upgrading your binocular then we hope you liked our Vortex Viper HD 10×42 review.