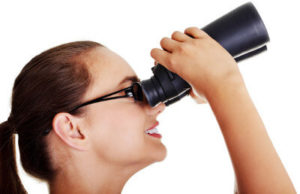 What are the best binoculars for eyeglass wearers? That's one question every binocular lover who wears corrective glasses has asked at least once before. The most crucial feature of binoculars for glass wearers is eye relief.
This guide will give a concise explanation of what that means exactly and highlight other features to watch out for in a binocular if you wear spectacles.  Everyone deserves an unhindered and hassle-free experience when viewing through a binocular lens, whether you wear glasses or not.
Top-Rated Binoculars for Eyeglass Wearers 2023
What is Eye Relief?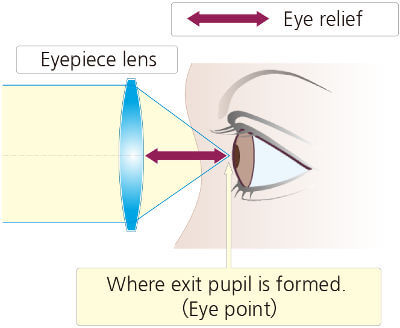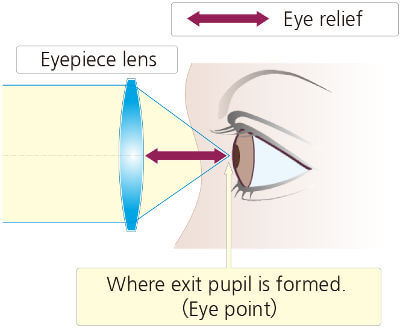 In the simplest terms, the eye relief of a binocular is the distance between the exterior surface of the eyepieces and the user's eye at which the entire field of view can be wholly observed.
If your eye is placed beyond this distance, you only get to observe a portion of the field of view, probably half of it or even less. Invariably, long eye relief is needed for people who wear glasses. But how much eye relief is ideal?
Find out the answer in the next section.
How Much Eye Relief  Do You Need for a Binocular to Use with Glasses?
Spectacle frames and their lenses prevent eyeglass wearers from holding binoculars close enough to observe views within the range of eye relief.
To overcome this issue, get a binocular with an eye relief long enough to accommodate your glasses without losing any bit of the field of view the device offers. The best binoculars for spectacle wearers are those with eye reliefs reaching or exceeding 15mm; the longer you can get, the better.
Do not assume that a pair of binoculars meet this recommendation just because the manufacturer tags it as "a long eye relief binocular." Make sure to see the figures for yourself before making your purchase, as some of these devices only have 13mm or 12 mm eye reliefs.
Long Eye Relief Binoculars vs. Short Eye Relief Binoculars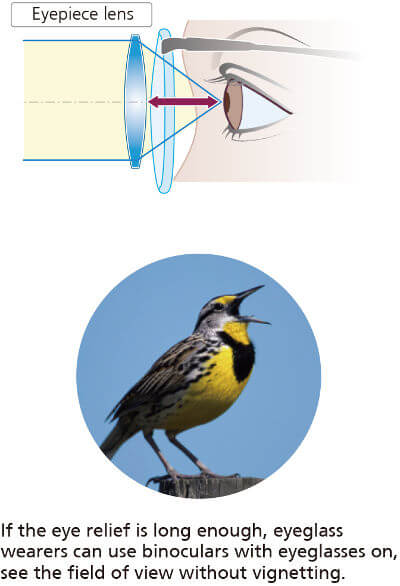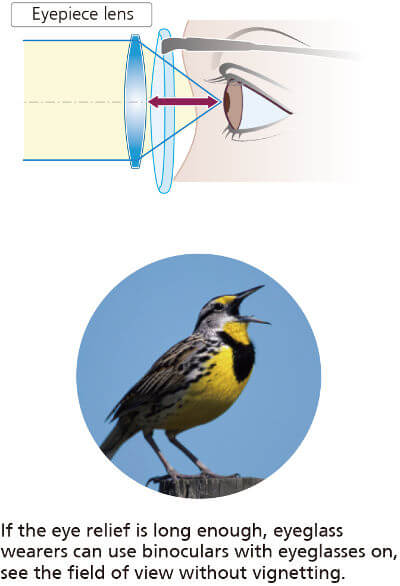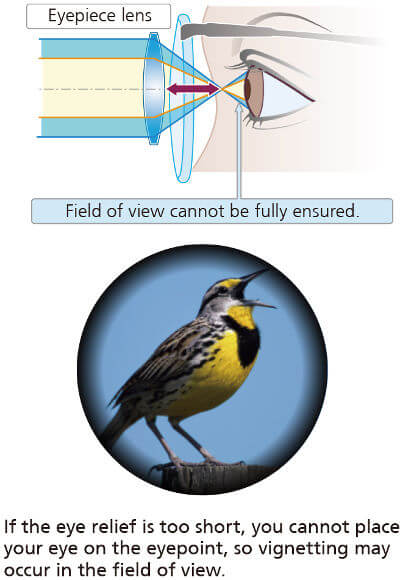 Factors to Consider Before Buying Binoculars for Eyeglass Wearers
Besides the eye relief, other features to consider when purchasing one of the best binoculars for eyeglasses are;
Magnification:
The magnification power is a key factor to consider when buying any pair of binoculars. It is directly related to the level of image stability and the size of the field of view. Generally, higher-powered binoculars offer less stable images and narrower fields of view, allowing you to observe more details.
High magnification devices also tend to offer shorter eye reliefs as compared to lower magnification binoculars. Our recommendation would be 8x to 10x devices because these devices provide very stable images and often feature eye reliefs reaching the recommended 15mm and more.
Field of view
This is the term for the width of the object or view that is observable through binocular lenses. Whatever your purpose for buying a binocular, you'd appreciate a pair of binoculars with a large field of view. It makes focusing on moving objects very easy and ensures that your eyes feel much more relaxed. As we've mentioned earlier, lower magnification binoculars offer more regarding the field of view. You can hardly go wrong with a nice pair of 8x or 10x binoculars.
Eyecups
These binocular components make the positioning of the eye more pleasant, and most binoculars feature plastic or rubber eyecups around the eyepieces. For eyeglass wearers, these eyecups should be retractable or at least adjustable (twist up/down). Such binoculars enable the spectacle wearers to completely remove the eyecups or adjust the space between the eyecups and the eyepieces to suit their needs.
Size of the Objective Lens
The size of the objective lenses of a pair of binocular reflects its light gathering ability and weight/size. The bigger the objectives, the better the binocular's low light performance, but then you'd have to deal with some extra weight.
Compact binoculars (21-25mm objectives) are great for people who want to enjoy clear views during the day but are not so suitable for use at night, but quality mid-sized objectives (32-42mm) perform well in low light situations. To get the best images at night, you'd need specialized night binoculars that have objectives reaching 50mm or more, however. We must say that these are quite bulky.
Reviews of the Top 5 Best Binoculars for Glasses

1. Opticron Savanna R 8×33 Binoculars
Best Binoculars to Use with Glasses
This Opticron Savanna 8×33 binocular is first on our list for all its wonderful features. To begin with, it comes with a very long 20mm eye relief, which makes it every eyeglass wearer's dream.
This binocular also features twist-up and down eyecups, which allow eyeglass wearers to enjoy the entire field of view once completely twisted down. The design is sleek and built from materials that are robust and durable. The Opticron Savanna 8×33 binocular also comes with a black rubber armor that protects it from shock and provides a safe grip.
The imaging performance is awesome, thanks to the fully multi-coated lenses and the top-quality BaK-4 prisms. The ergonomic center focus wheels are large (34mm) and easily accessible. At 428g, this binocular is quite sizable, but at the same time, it is one of the lightest mid-sized binoculars you'd find on the market.

Pros
Sleek design and ergonomic build
The 20mm eye relief is perfect for glass wearers.
Outstanding imaging performance.
Wide field of view: 122 meters at 1000 meters.
Cons
The near focus of 11.5 ft. (3.5m) is not the closest you'd get with mid-sized binoculars, so it's not the best for observing the nearby object.
2. Swarovski EL42 Binocular 8.5×42 with FieldPro Package.
Best Eye Relief Binoculars
This 8.5×42 binocular from Swarovski is another delight for eyeglass wearers. It offers a bit more magnification than 8×42 binoculars without compromising on any bit of image stability. The eye relief here is also a long 20mm, and the splendid eyecups are adjustable by twisting up/down.
The high-end binocular features a beautiful open bridge body design; the dimensions are 15-inches x 11-inches x 7-inches, and the entire weight is 835 grams. Thanks to the magnesium chassis and nicely textured rubber armor, the binocular is shock resistant, feels nice on the hand, and is very durable.
Views are crisp, clear, and very bright, evidence of the quality of the fully multicoated 42mm objectives and roof prisms, which feature phase correction and dielectric coatings.
You will never have to worry about the weather because this award-winning binocular is fog and waterproof. The linear field of view measured at 1000 meters is an impressive 133 meters.

Pros
Long eye relief
Great quality optics
Wide field of view
Twist-up/down eyecups
Fogproof and waterproof
Impressive low-light performance.
Cons
These binoculars are not the lightest standard binocular on the market.
3. Tract Toric 8×42 Binocular
Best Compact Binoculars for Eyeglass Wearers
The Tract Toric 8×42 binocular was manufactured in Japan using high-end raw materials. The result is a sleek, versatile, and top-performing binocular suitable for eyeglass and non-eyeglass wearers alike.
The fully multi-coated lenses are made of extra-low dispersion (ED) glass, while the BaK-4 roof prisms are phase-corrected and feature a dielectric mirror coating. Spectacle wearers wouldn't have any issue observing the entire field of view of 377ft. at 1000 yards because of the long 19mm eye relief.
This binocular is one for all weather as it is fully sealed, and the casing is argon purged, making it water and fog-proof. The ergonomics is spot on, and the 8x magnification allows you to view detailed images of whatever interests you.
To back the quality of this binocular, the manufacturers provide a lifetime warranty. This has earned the 8×42 Tract Toric binocular lots of praise in several long eye-relief binocular reviews online.

Pros
High performing optics
Very versatile pair of binoculars
Durable and weatherproof.
Long eye relief
Wide field of view.
Cons
No significant con, just that the included accessories lack a carrying case.
4. Eyeskey 8x56mm Large Objective Lens Roof Prism Binoculars
Best Birding Binoculars for Glasses Wearers
The Eyeskey 8×56 binocular is a popular option for bird watchers, hunters, and general nature lovers. It provides an 8x magnification power, and the 56mm can gather sufficient light in all conditions making this binocular ideal for nighttime use.
The exit pupil measures 6.9mm, while the field of view is 320 ft. at 1000 yards. Unfriendly weather conditions never mar the pleasant experience of using these binoculars because they are completely waterproof and fog proof.
Thanks to the fully multicoated optics, the color reproduction is supreme, and image sharpness is at its best with the Eyeskey 8×56 binocular.
This list is for eyeglass wearers, so we must mention that the eye relief of 17.5 mm easily accommodates different eyeglass models. The only catch is that this binocular is quite heavy (1.3kg) but still deserves its place on our expert list of the best binoculars for spectacle wearers due to its excellent features.

Pros
Very sharp and bright Images
Weather-resistant
Great for nighttime viewing
Tripod adaptable
Great value for money
Cons
This binocular is one of the heaviest in the 8x category.
5. Alpen Optics SHASTA PEAK 10×42 Waterproof Roof Prism Binocular
Best Long Eye Relief Binoculars
Alpen Optics is not the most renowned manufacturer of binoculars we know, but they absolutely nailed it with this quality 10×42 binoculars. The ergonomics are well thought, the eyecups are adjustable, and the decision to go with a long eye relief (16mm) makes this binocular great for spectacle wearers.
The centered focus wheel turns smoothly but not loosely to prevent any accidental adjustments. The field of view of 330 ft. at 1000 yards is sufficient for most activities.
The 10x magnification is the highest on our list, while the 42mm objectives make sure your views are bright and clear. The optics are fully multi-coated, while the BaK-4 roof-type prisms feature a phase correction coating.

Pros
Great value for money
High-quality images
Waterproof and fog proof
Bright images even in low light conditions.
Great eye relief.
Cons
The binoculars are quite bulky.
Conclusion
Binoculars are blessings for outdoor lovers and professionals, and just because you wear spectacles, corrective glasses, or sun shades doesn't mean the case should be any different.  To save you the stress of several trips to Google and binoculars forums, we've put together all the information, tricks, and tips you need to find your best pair of binoculars for eyeglass wearers.
Top-Rated Binoculars for Eyeglass Wearers