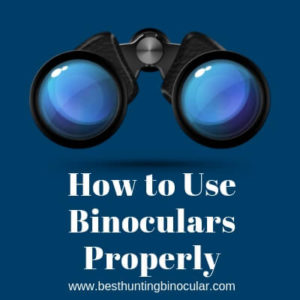 Many beginners often struggle with one question in mind- how to use binoculars? And that's an excellent question for all. Everyone whether a beginner or professional needs to know how to use a particular or different binocular properly.
Most binoculars are different but they all come with some pretty basic things, like a focusing wheel, prism roof, and eye cups that need to be adjusted.  Some high tech binoculars include more settings that count towards that perfect view.
Take your binoculars out and carefully check out the things we do regularly until this becomes second nature without having to be thinking about it.
The binocular comes with two eyepieces with their objective lenses. The objective lens is responsible for viewing an object and how well the view depends on the lens size and type. The lens attaches to a wide bridge which includes a magnification wheel or buttons and probably some other buttons with different features.
There are two types of lenses attached to the barrel. One larger lens for the view in the front and a smaller one that you look through.
The pivot incorporates in the center of a hinge the focus wheel or dial to set the focal distance. Some fixed focus binos do not include the central focus wheel.
For calibrating a binocular to match your vision, there is a diopter ring or dial located on the right eyepiece. As eye vision varies from user to user, this adjusts for the user's needs or preferences.
You binos should come with some other things like a carrying case, neck straps, and a cleaning cloth. The shoulder or neck straps may or may not attach to the barrel. Moreover, you will find two lens caps for the objective lenses. These protect the lens from rain, dust and sharp outside objects. Some lens caps are attached to the eyepiece some are threaded through the neck straps.
How to Focus your Binocular?
Focusing a binocular is pretty basic and almost the same for every binocular. When the binocular focus is accurate you will see the distant object more clearly, larger and brighter.
Uncover the objective lenses and cover the right objective lens with your hand or close your right eye. Now focus on some object in the distance and turn the main focus dial until you see it clearly with your left eye, you can stop turning the dial.
Now cover the left lens with your hand or close your left eye and turn the diopter dial. The diopter dial is located in color to the right eye-piece. Turn it on or off until you see a sharp image.
Now its time to look through the binocular with your two eyes. The view you are seeing should be perfectly bright and clear. From now all you need to adjust the central wheel to focus on different objects from different distances, the diopter is set now. Remember one thing, don't touch the glass of the lens while focusing. If you accidentally touched it, wipe it with the cleaning cloth immediately.
How to Aim
The natural role is to find your object with a bear eye first and then focus it with your binocular. You will save more time with it and fewer headaches. If you always glue your eyes on binocular it will make your eye tired. Or you can start with a large object (Tree, tower, lighthouse, etc.) and scan its surroundings to look for birds, animals or other interesting objects.
How to use Binoculars with Glasses?
It's important to know how to use binoculars with glasses if you regularly or occasionally. Many of use binocular wearing sunglasses as well.
So if you a person with all spectaculars you need two things in your binocular.
Eye Relief and Eyecups
These two give you the proper space to look at an object through the eyepieces. The focusing process is the same. So we decided to tell you something about these essential objects only.
Eye relief is essential for every binocular user. It gives the minimum distance between your eye and the ocular lens on the binocular. Quality binoculars come with adjustable eyecups so you can set it according to your needs. These give you the distance right to see the full image without any bark rings on the corners.
If you don't use glasses, the usual setting for you has the eyecups extended fully. Different users have different shape faces, so having adjustable eye cups will be useful to get things focussed right.
How Much Eye-Relief is Most Suitable for Glass Wearers?
You should get the maximum amount of eye relief if you wear glasses. This is because your glasses sit in between your nose and the binocular increasing the distance between your eyes and the lenses.  Having fold or twist eye cups is a significant advantage for glass wearers, so look out for this feature too.
Most binoculars come with a 10 mm eye relief. You need to get a long eye relief from 14-15 mm at least. You can also find binoculars with 17-21 mm eye reliefs for more spacing.
Conclusion
Knowing you're binocular is essential as well as how to use it well, but before that determine what purpose you are using it for. Some people like watching wildlife, birding or for fun adventures.  If you spend lots of time using your binocs, look for comfort specifications (like weight, grip, etc.) including safety features along with the magnification and lenses.
Read Also: