Quality binoculars cost a lot, but here are some of the best binoculars under 100 dollars available for the hunter, bird watcher, and other viewing hobbyists. In this price range, you get a decent variety of binoculars that can do the job well.
Binoculars with super range and other features are costly, but not everybody needs them.

Some binoculars within this price can give you the quality performance that you are looking for.
Top-Rated Binoculars Under 100 Dollars for 2023
Recommended Best Binoculars Under 100 Dollars
Here are our reviews of some of the Best Binoculars for Under $100.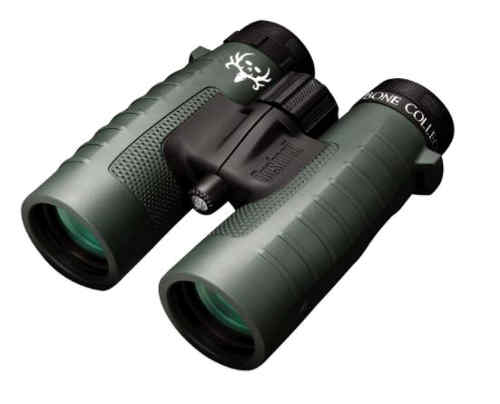 A perfect binocular means great views and magnification along with a comfortable grip and simple operation. In this case, the Bushnell Trophy XLT Roof Prism Binoculars fit all these criteria. It's one of the Best Binoculars for hunting under $100, which has quality features hard to find in this price range.
It's Bak 4 prism, and the multi-coated optics work together to give you bright and sharp images in different light conditions. Some quality hunting binoculars cannot show you sharp images in low light. It shows clear images in the dawn and at twilight.
This binocular includes  10x magnification with 42 mm objective lenses. High magnification seems appealing to some people, but it does not always give a beautiful view, and this binocular shows some shaky images when you try to see objects more closely.
It has twist-up eyecups or eye relief that helps you to achieve a more stable focus. If you wear glasses, then these features will be helpful to you.
This binocular is very lightweight and easy to carry, and it has soft thumb grips, flip object covers, and some other useful features.
Technical Specifications
Magnification X Obj Lens: 10x42mm
Close Focus: 8.2ft / 2.5m
Lens Coating: Fully Multi
Field of View: 325 ft @ 1000 yds
Eye Relief: 15.2mm
Focus System: Center
Exit Pupil: 4.2mm
Prism Glass: BaK-4
Weight: 25 oz
Things we liked
Its multi-coated lenses allow for low-light viewing.
Good for easy and fast focusing.
Soft but secure grip even on slippery hands.
Includes flip objective covers, twist-up eyecups, and much more.
Very lightweight-only 25 ounces.
Very affordable price.
Things we disliked
The quality of the flip cover is not so great.
Doesn't come with a carrying case.
Apart from some small trouble with the flip covers it's a good quality durable binocular at a very low price. I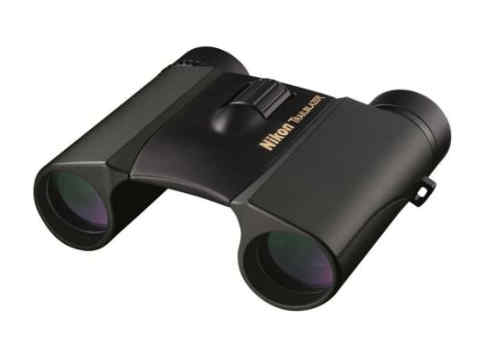 This Best Hunting Binocular Under 100 Dollars is from Niko, one of the optical industry's top brands.  Nikon shows its best effort with the Nikon 8218 Trailblazer 10×25 Hunting Binoculars.
This binocular comes with a high range of magnification, a particular optical lens, and a comfortable grip. It's also weatherproof and very durable.
Nikon 8218 has 25 mm objective lenses with 10x magnification, which shows a clear image in different light conditions and the zoom-in mode.
It has 6.3 brightness and FOV at 100 yds. It's multilayer anti-reflection glasses and angular field of view are perfect for crisp views on the brightest days and even in low light.
It also has a 10 mm eye relief, allowing you to see through the eyepiece with more comfort. One thing to mention is the exit pupil of this binocular is around 2.5, so if you have an extra gap between the pupils, you may feel a little awkward while using it. Still, it's manageable with its easily adjustable settings on the eyecups.
Technical Specifications
Magnification X Obj Diameter: 10x25mm
FOV: 342 ft @ 1000 yds
Close Focus: 11.5 ft
Exit Pupil: 2.5mm
Relative Brightness: 6.3
Eye Relief: 10mm
Size (Length x Width): 4.1×4.5 in
Weight: 9.9 oz
Prism: Roof
Focusing System: Central Focus
Things we liked
Beautiful and compact design that goes with every style.
It's ideal for use in any weather or any adverse weather.
It has long eye relief to enjoy the view more comfortably.
Very lightweight-only 2.4 ounces.
Things we disliked
The plastic bridge looks cheap and less durable.
Its extra-wide spacing may feel uncomfortable to some people while seeing.
This is a beautiful, sleek, and lightweight binocular which is perfect for the professional or novice hunter. It's very affordable, so anyone can try it and learn how amazing it can be.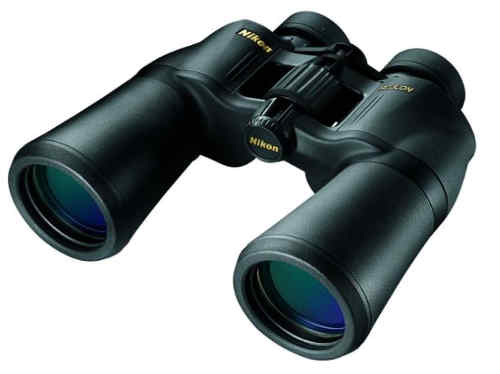 Here is another high-quality best 10×50 binoculars under 100 dollars, along with greater magnification and lens. The Nikon 8248 ACULON A211 10×50 Binocular is made for those who like compact binoculars at an affordable price. This black binocular is great in design and feel, especially with its multicoated lens adds a significant dimension to the dark color when it shines in the light.
Its 10x magnification and the 55mm objective lenses are really stunning and show a crisp and clear view.  It's made of a Porro-type design that gives more contrast, vibrant colors, and a much stronger 3D effect.
The weight of the binocular is almost two pounds, which is a drawback for ease of carrying. It seems better to carry in a backpack rather than hang it over your shoulder.  It's made of eco-friendly components that are not only safe but also nice to use.
Technical Specifications
Magnification X Obj Diameter: 10x50mm
FOV: 341ft @1000 yds
Close Focus Distance: 23 ft
Exit Pupil: 5mm
Relative Brightness: 25
Eye Relief: 11.8mm
Size (Length x Width): 7×7.8 in
Weight: 31.7 oz
Prism: Porro
Focusing System: Central Focus
Things we liked
Smart and ergonomic design.
Straightforward and comfortable rubber eyecups are also quick to turn or slide.
It consists of multicoated spherical Eco-glass lenses, which provide brighter and clearer images for a long time.
Its central focusing knob is useful for smooth focus and operation.
Suitable to use on the tripod.
Things we disliked
This binocular is a bit heavy.
A Hazy image at high magnification.
This binocular is ideal for all people who are seeking a versatile and high-quality but affordable binocular. It's overall durable and shows great images in different light conditions.
This is the Best Compact Binoculars for Under 100 Dollars and is very effective and lightweight. USCAMEL 10×42 Military HD binoculars can provide bright images and easy adjusting features. It offers a high level of performance, which makes it popular among hunters or bird watchers.
It has a sleek magnesium alloy body with a durable frame, which generally is robust and durable. It's not so good for shock absorbance but is fog-proof and has waterproof features.
Furthermore, its BAK-4 prism with phase and dielectric coatings is quite a performer showing different types or sizes of objects in various light conditions. Its 10x magnification and 42mm object lens is best for fishing, hunting, and wildlife observation. There is another unique feature of this binocular, and it is the adjustment knob.
It has an adjustment knob in its right eyepiece for a more detailed view. As you know, our left and right eye vision are not always the same. This feature allows you to rotate to adjust the right eyepiece for a more vivid and closer view.
Technical Specifications
Magnification X Obj Diameter: 10x42mm
FOV: 303 ft@1000 yds
View Angle: 5.8
Exit Pupil Diameter: 4mm
Exit Pupil Distance: 15mm
Eye Cups: Twist up
Coating: FMC
Prism System: Porro
Prism Glass: BAK4
Things we liked
Perfect for use for any work or recreational activities.
It comes with Bak-4 Prism with phase and dielectric coating.
It comes with an eyepiece diopter adjustment knob to adjust for clarity.
Prevents moisture, dust, and debris inside the binocular.
Sleek and lightweight design.
Things we disliked
Not durable for extended periods.
No eyecups, so, glass users may find it uncomfortable to use.
This binocular is of great quality overall. It has got nice glasses, a small shape (not tiny), and is lightweight and comfortable to use. It doesn't show a double vision that many cheap binoculars do, and if you take good care, it will last for years without giving you any trouble.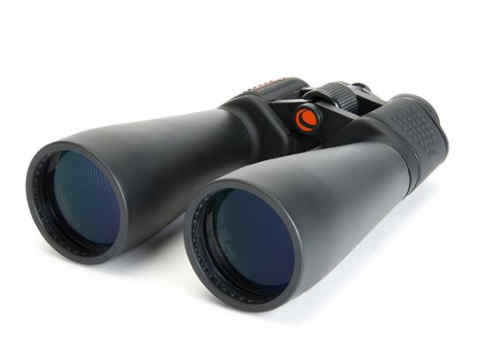 Finally, the Best Bird Watching Binoculars Under $100 suit all sectors of exploring. The Celestron SkyMaster Giant shows incredible performance in sports, hunting, and wildlife watching.
It can show a clear and bright view in different light conditions; in fact, it's suitable for astronomy too. However, it's not a telescope, so it's best for occasional terrestrial viewing.
It has 15 x magnifications with 70 mm objective lenses. It has a bright flat field that allows a sharp focus to the edges. The chromatic aberration is visible as a red+blue border on bright objects.
It may not be sharp in all conditions, but it's good in a bright and high-contrast object. It's better in the center than the edges. This binocular's total weight is more than 3 pounds s; it's a bit difficult to carry for a long time. The binocular has a solution, too, as its tripod adaptability allows you to observe more smoothly and steadily.
Technical Specifications
Prism Type: Porro
Magnification X Obj Diameter: 15×70 mm
FOV: 231 ft @1000 yd
Minimum Focus Distance:13 m
Exit Pupil Diameter: 4.7 mm
Eye Relief: 18 mm
Focus Type: Center
Weight: 48 oz
Things we liked
High-range or multi-coated lenses.
Its large aperture is perfect for low-light conditions and stargazing.
Suitable for use with a tripod adapter.
Suitable for eye relief for eyeglass wearers.
Diopter adjustment for well focusing.
Very cheap in price.
Things we disliked
The outer field is a little blurry and soft.
A Little heavy.
This Best Waterproof Binoculars Under 100 Dollars is a great product, especially if you compare the price range. This binocular is made for hunting, fishing, kayaking, etc. it is also perfect for observing the large deep sky at night.
The advanced astronomer may prefer more futuristic binoculars for astronomy, but a beginner will find it very helpful and mesmerizing. It's a better entry into the world of astronomy than a telescope as its lighter than a telescope and easy to operate
If you want a powerful binocular that provides a crystal clear picture but does not weigh much, then here you have it. The CIWA 10X42 Compact HD Professional Binoculars offer both power, features, and convenience.
The binocular features 10x magnification power with 42 mm objective, 18 mm eyepiece, and 4 mm exit pupil diameter.
The field of view of this binocular is 1000 yards or 305 ft. Its exit pupil distance is 13.6 mm. and is usable with a smartphone adaptor and tripod. You can attach your iPhone or Samsung smartphone to see the view through the phone.
The best Side of this binocular is the focusing mechanism. It's really user-friendly. The focusing wheel is robust and non-slip and precise on the focus point. It's made of metal and always works accurately.
The CIWA 10X42 Compact HD Professional Binoculars offer an extra-wide field of view (58-degree). That results in a linear field of view of 305 ft at 1k yards. You see a panoramic view with that even from a long distance. This binocular is suitable to use while wearing glasses too.
The optics of this binocular are fully multicoated, which helps to reduce light loss and glare. The high-index prisms work to show crisp and clear images with proper contrast, color, and sharpness.  There is the right balance of clear imaging on both near and distance focus which is most surprising.
Things we liked
Provides a clear image in any light condition.
Lightweight, so easy to carry.
Smooth focus adjustment.
Easy functionality.
Suitable for different outdoor activities like sports, concerts, birdwatching, etc.
Things we disliked
Not soakable in water.
The phone attachment is not easy to use.
Buyer's Guide to Choosing  Quality Binoculars Under $100
What is the first thing one should think about a good binocular? The magnification power of the lens. Without that, no matter how many features it has, your binocular is utterly useless. Also, another quality that one should consider about a binocular is the objective lens. Numbers present these qualities with the binocular.
If you see in any product details of binoculars "10×42", it means the pair of binoculars has a 42mm objective lens and can magnify an image ten times bigger. There is some other stuff that has some technicalities that you should understand before going to buy the Best Binoculars Under $100.
Magnification
Usually, experts prefer binoculars for watching birds, and wildlife is mostly average in magnification. This is because binoculars that don't have extremely high magnification can provide a clearer view of an object.
When you go for high magnification, it will need lots of light to produce a cleaner image. And these lights need more than standard objective lenses to work. So, it will be slow and create a gloomy picture. High magnification can make it hard for the binocular to hold the images in a stable position. So naturally, you will feel uncomfortable when trying an object to see closer more.
That is the reason bird or wildlife watchers can deduct the extremely high magnification feature for their binoculars. Go for 8x or a maximum of 10x magnification binoculars; they are a perfect balance of power and practicality. To things, it more understanding here is a clue for you.
When you see an image/object through a lance with your naked eyes as 1x, you see the real image in real distance. But when you magnify the image 8x, it appears eight times bigger in front of your eyes. The picture must be bigger but not in a detailed view. But if increased by 16x or 20x, the image will be 16/20 times bigger, making it difficult to reorganize anything.
So, those who watch birds in the open country or across vast stretches of water can go for 10x magnification binoculars. And for those who go for bird watching in the forest or any other fairly close quarters or go out when the light is low (for example, dawn and dusk), the best magnification for them is 8x.
Brightness
After the magnification, it's important to consider the brightness. Brightness helps to see an object's shape and color cleaner. To understand binocular brightness, you need to divide the diameter of the objective lens by its magnification. For example, an 8×42 binocular has a brightness score of 5.25 (Diameter- 42/ Magnification- 8= Brightness- 5.25).
Sometimes, you will find the best binoculars for under $100 that have sophisticated coated lenses with highly engineered glass on some websites. They are great for crisp, clear views with proper lighting but are also very expensive.
Field of View
The field of view or the width makes following an object easier. If you are a bird watcher, then this feature will lot more helpful for your job. If you wear glasses, look for twist-down eyecups for an easier view. It will allow you to see the same size as the circle like a non-glass wearer. They are convenient while swapping quickly between glass and non-glass observing. For the full field of view, 8x is better than 10x magnification.
Weight & Size
Choosing a lightweight and compact design for binoculars is critical. Especially if you usually carry lots of stuff with your binoculars or have injuries on your shoulder, head, or back. Also, check the strap that will help you to carry your binoculars.
For a better quality image, you will need a better lance, and most of the time, they are a bit heavy. So weight is associated with better quality sometimes. However, you will find a compact design and lightweight body in any best binoculars for under 100 bucks.
Maximum binoculars are useful for watching wildlife in proper light conditions. Due to their size and weight, the diameter of the objective lenses is weak. A standard compact objective lens would be a 25mm diameter, but a full-size model would have 42mm objective lenses.
Close Focus
Close focus is important for wildlife observers. Make sure your chosen model can focus down between 3 m or less. If you like to watch butterflies, dragonflies, flowers, or plants, go for 8x magnifications.
Price
Price is a key element while having a quality product. In most cases, you will get what you pay for. So, as the price increases, the possibility of the high features product increases. Even the guarantee and customer services offer as well. So here we are talking about the best binoculars under 100.
This price range is incredibly cheap, but some models offer decent binoculars that can be good with your work. We have here something that will suit your demands. Not all binoculars are suitable for providing a high-quality image when zooming in.
If you research the available binoculars in this price range, you will know they lack refined image quality but still produce that advanced-grade optic that you are looking for. Like those with a 70 mm objective lens and 15 x magnifications. These binoculars are for a long-distance view with clear and crisp images. If you think you will not get anything in this price range, you are absolutely wrong. Still, there is a chance to get a quality binocular in this price range. We have made a collection that has affordable binoculars and
has good-performing binoculars that will be durable.
Things To Be Considered Before Buying
A binocular is an excellent tool for exploring the real beauty of nature. You should buy which one you should buy is completely up to your own choice, but still, you should consider something. Along with personal reference, binocular is total science. At fast examine and compare the magnification, size, focus, etc., then go for the size, price, and all. Also,
Look for the binocular that offers a guarantee or warranty. Most of the small-price binoculars do not come with a warranty, but still, there is a chance to find some warranty-included binoculars. You will find on some of our pages the best binocular under 100, including the guarantee/warranty.
You will not use your binoculars in your home, watching the garden and birds or butterflies. You will use it in the forest, hills, or near the river. To watch or hunt the wildlife, you will need to go to the wildlife. So, your binoculars under 100 dollars should be weatherproof, especially waterproof. Many manufacturers made binoculars that also have a UV ray protection layer. Moreover, weatherproof binoculars are good for giving you a view of the fog. Binocular water and sun protection will help you use them in the rainy season or stormy weather. Besides, they are suitable for use while fishing, kayaking, or boating.
But keep that in mind, waterproof binoculars are safe for use deep down in the water. Or else, this protection will not save it when the binocular is sunk for a long time. It only protects the product from water splashes or rain. So while using waterproof or weatherproof binoculars under 100 dollars, consider these things must.
Final Thoughts
If you often use a binocular for a long time, it's better to use a tripod. Most binoculars are heavy, especially if you are using them for bird watching. They will be uncomfortable to hold.
So, it's better to use a tripod for the binoculars. So, determine the size, weight, magnification, view field, and finally, the budget of your ideal binocular.
If you know your viewing areas and the desired magnification,n then finding the best binoculars under 100 dollars will be a lot easier.
Top-Rated Binoculars Under $100 Dollars
| # | Preview | Product | Rating | |
| --- | --- | --- | --- | --- |
| 1 | | Bushnell Green Roof Trophy Binoculars, 10x42 | | CHECK PRICE |
| 2 | | 10x25 Trailblazer | | CHECK PRICE |
| 3 | | Nikon 8248 ACULON A211 10x50 Binocular (Black) | | CHECK PRICE |
| 4 | | USCAMEL 10x42 Binoculars for Adults, High Power... | | CHECK PRICE |
| 5 | | Celestron – SkyMaster 15x70 Binocular – #1... | 7,689 Reviews | CHECK PRICE |
Read Also: