In this Canon 10×30 IS II binoculars review, we discover all the features, performance, and the negative and positive sides to this binocular.
Canon is one of the top brands and the first choice in binoculars and cameras for many stargazers or astronomers.  If you are a backyard stargazer and want to have something at an affordable price, then the Canon 10×30 IS II will be a smart choice.
 The Canon 10×30 IS II binoculars are very light and provide a good sharp and steady view in different light conditions. Due to its affordability, they are great for starters. We also reviewed this product in our best image stabilized binoculars article.
Canon 10×30 IS II Binoculars Review
Technical Specification of Canon 10×30 Image Stabilization II Binoculars
Magnification: 10x
Effective lens diameter: 30 mm
Dimensions: 2.8x5x5.9 inches
Weight: 1.33 pounds
Real visual field: 6 °
Field of view @1000 m: 105 m
Exit pupil: 3 mm
Eye relief: 14.5 mm
Type of prism: Prism Porro II
Closest focus distance: 4.2 m
Battery: 2 AA
Battery life: +25 ° C: about 9 hours; -10 ° C: about 1 hour (with alkaline batteries).
Read Also: Canon Image Stabilization IS Binoculars 
Features of Canon 10×30 Image Stabilization II Binoculars
Ultra-stable vision 
A powerful optical image stabilizer design quickly and accurately compensates for many types of shaking and movements. It even corrects tremors in a panoramic view when you follow your subject or you are in a moving vehicle. With Canon 10×30 Image Stabilization II Binoculars' ultra-low power consumption, these binoculars offer up to 9 hours of continuous battery life with only one set of batteries.
Canon Precision Optics
With this amazing Canon 10×30 IS II Binoculars, you can enjoy the unparalleled quality and high resolution with low distortion thanks to the Canon's precision optics. These lenses feature the Super Spectra treatment of Canon's famous EF lens series, delivering brilliant, contrasting shots with true color rendering while eliminating unwanted internal reflections that can cause ghosting and reverberation.
Visual field seizing from edge to edge
With Canon 10×30 IS II Binoculars, you stand to benefit from a great field of view for a bright, low-distortion view from edge to edge, using field-equalizing optics and Porro II prism technology. You can also appreciate every object's details, thanks to its 14.5 mm eye relief, which makes it ideal if you wear glasses.
Designed to ensure ease of use, resistance, and comfort
These innovative Canon 10×30 IS II Binoculars offer superior grip and feel. It also features large rubber eyelets for comfortable and balanced viewing. Its ergonomic Image Stabilizer button is easy to access, and the high-speed focus adjustment ring offers simple touch-sensitive controls with both hands. Also, low-reflection outer hulls and matte front hulls make it easy to observe birds and other wildlife.
Quality Equipment
Canon 10×30 IS II Binoculars has an optical image stabilizer (IS) and comes to the customer with 10-fold magnification. Additionally, the manufacturer confirms that the product has a hushed image quality, and due to the construction with Porro prism II, very detailed images can be achieved. The delivery scope includes the 600 g IS II binoculars and the appropriate cover, bag, and corresponding operating instructions in 12 different languages. Keep reading this canon 10×30 IS II binoculars review to know more about this high quality IS binocular.
Delivery
The Canon 10×30 IS II Binoculars are delivered together with a carrying strap and a case, in which the model can be stored comfortably and securely. Also, glass protection caps are included, which are very well made and firmly fixed on the lenses to efficiently and thoroughly protect them from the elements such as dirt and dust.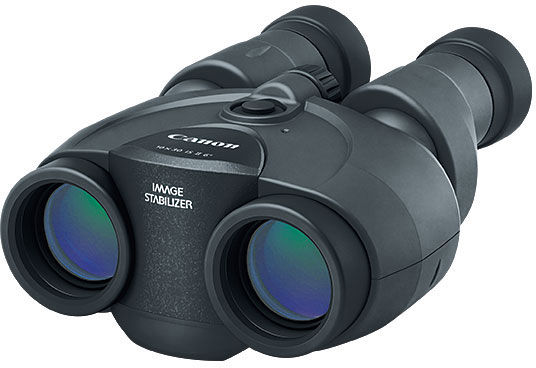 Material
The Canon 10×30 IS II Binoculars are wholly equipped with handy rubber armoring at the most critical points. This enhances the comfortable handling of this device. Simultaneously, it is adequately protected against damages from impact; this further increases the operating comfort. The rest of the material is made of high-quality plastic and metal, making these binoculars very stable and resistant.
Processing
Regarding processing, Canon 10×30 IS II Binoculars has an excellent performance rating. All materials are combined successfully, and even during the closer examination, we can hardly find fault with our tests. This is complemented by the lightweight and compact design of this model from Canon, which increases the usability even further.
Read Also: Canon 8×25 IS Binoculars Review
Canon 10×30 IS II Binoculars in Practical Use
During longer hikes or other leisure activities, heavy and unwieldy binoculars are often a hindrance. However, with the Canon 10×30 IS, this barrier is eliminated and as such cannot happen; this model is distinguished by its lightweight and compact design, which made the operation very pleasant.
Canon's binoculars gave positive results regarding imaging performance. This feature has permitted us to benefit from its very sharp and contrast-rich images during the entire test phase, an imaging performance even at dusk did not decrease appreciably.
Particularly noteworthy is the integrated image stabilizer, which provides for shake-free images and better optical performance. In our tests, we were able to see many more details thanks to this mechanism, which had a very positive impact on the observation experience.
Regarding handling, the Canon 10×30 IS II Binoculars also stands out and excellently too. Thus even spectacles users can use this model thanks to the foldable eyecups. The rotating wheel was straightforward and comfortable to use in our tests in the middle, which improved comfort. However, it is objectionable that the button for activation of the image stabilizer cannot be fixed. Moreover, a tripod holder or the possibility of providing such an external holder is also missing, which would be particularly desirable in the case of more extended operations. We also discuss this model in our other post title binoculars under 500 dollars.
Conclusion
The Canon 10×30 IS II has proven to be a powerful and quality binocular that can convince with an excellent optical performance in our tests. Particularly noteworthy is the integrated image stabilizer, which provides for shake-free and extraordinarily detailed images. Also, this model from Canon is perfect to use and is thanks to the compact design.
This best image stabilized binoculars are reasonable in overall facts. It runs on a cr123 A battery, which is also a cheap option. The battery is expensive, so that it will increase your maintenance cost. In general, this binocular is fine for giving a bright and steady view but works well with the most daylight. You can also use it at night, but the performance may not be satisfactory as an astronomer would like to have. You Need a well-priced, lightweight, and durable Image stabilizing pair of binoculars, or you are a starter, then the Canon 10×30 IS II binocular is fine for you. I hope you read this canon 10×30 IS II binoculars review carefully as it will help you to find the best one.