Canon binoculars are popular for their excellent close-up views, and in this canon 8×25 IS binoculars review, we will discover how it rates. Image stabilization binoculars are getting more and more popular. They are ideal for providing rock-steady images from moving vehicles and for shaking and vibration. Not only do hunters, boatmen, and bird-watchers like them, but everyday people love to have them for special occasions.
The Canon 8×25 IS Binocular offers some outstanding features at a reasonable price. People who love to watch theatre or opera shows, follow sports races, etc., can easily consider having a pair to give you a crisp, clear view.
This best image stabilized binocular is equipped with a multicoated 8x lance.  Its strong construction, rounded design, and smooth finishing are overall very appealing and practical. You will enjoy using this binocular with its anti-slip exterior, which keeps the binocular safe if you accidentally drop them.
Canon 8×25 IS Binoculars Review
Technical Specification of Canon 8×25 Image Stabilized Binoculars
Magnification: 8x
Dimensions: 4.7 x 5.4 x 2.4 inches
Weight: 1 pound
Effective lens diameter: 25 mm
Field of view at 1,000 m: 115 m
The diameter of the exit pupil: 3.1 mm
Type of prism: Porro Prism II
Lens Coating: Super Spectra Coating
Closest focusing distance: 3.5 m
Motion Detection System: 2 gyroscopic sensors
Power supply: 1 lithium battery
Battery duration: 6 hours
Battery Level Indicator: Yes (LED)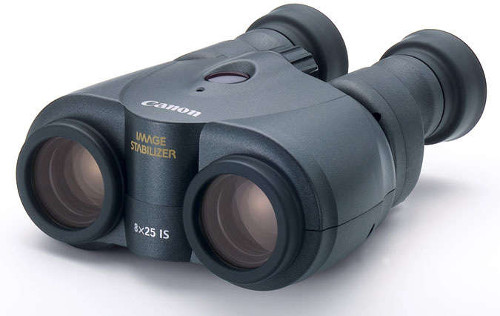 Features of The Canon 8×25 IS Image Stabilization Binoculars.
Compact and Lightweight
Canon 8×25 IS image-stabilized binoculars are best described as being Ultra-compact, with a width of only 12 cm and a weight of just 490 g. These compact binoculars can easily be carried and stored in a bag. It can zoom up to 8 times the original size of an object regardless of where you are. They are ideal for trips, plays, concerts, and a wide variety of sports spectators.
Super Stable Vision with Optical Image Stabilizer
You can enjoy a very stable and comfortable vision from these binoculars comfortably for extended periods, thanks to the Canon 8×25 IS image stabilization binoculars' in-built Optical Image Stabilizer compensates quickly and accurately from different movements and trepidations. Its CR123A lithium battery offers up to 6 hours of continuous use.
Canon High-Resolution Optics 
With this marvel, you can now enjoy excellent quality with low distortion and high-resolution vision with Canon's precision optics. The Canon 8×25 IS binoculars lenses feature a Super Spectra coating that delivers intense, high-contrast images with precise colors while eliminating unwanted internal reflections that can cause parasitic and optical veils.
Beautiful Field of View
The Canon 8×25 IS image stabilizing binoculars' field flattening lens element offers you the opportunity to enjoy a magnificent field of clear vision to the edges. It can focus on objects at a distance of 3.5 m while you enjoy a pupil extraction of 13.5 mm.
Durable and Comfortable
The large, centrally placed IS button and soft focus adjustment ring provides comfortable and convenient control at the fingertips of either hand. The Canon 8×25 IS binoculars are fitted with a +/- 3.0 diopter adjustment, which fits your vision, and rubber eyepieces that fit users with glasses.
Equipment
Over time, this fantastic piece has posted a 4.5 out of 5 stars user review, mostly thanks to its 8x magnification and optical image stabilizer. Additionally, the manufacturer has integrated this model with Porro prisms. Canon 8×25 IS binoculars are very easy to handle. Hence making it perfect for hiking or travels.
Delivery
In addition to the Canon, 8×25 IS image-stabilized binoculars, you will also get a high-quality nylon stand-up case, making this model perfectly protected. It also comes with a carrying strap, which makes transportation even more convenient and pleasant. A maintenance cloth is included, and you also have a durable battery that allows continuous operation of up to six hours.
Material
The Canon 8×25 IS is equipped with a handy rubber coating at all crucial points, further enhancing its ease of grip and non-slip in hand. Also, it is well protected against possible impacts or bumps. Even among its remarkable features is the environmentally friendly materials used by the manufacturer in this model: For instance, only lead-free glass was used for the optics.
Canon 8×25 IS Image Stabilized Binoculars in Practical Use.
The innovative Porro prism binoculars from Canon can be equipped with a suitable optical image stabilizer. No wonder Canon 8×25 IS binoculars have particularly impressed us with its efficient performance.
Its tilting mechanism was built on the principles of the latest stabilization technology. For example, manual movements such as trembling are quickly corrected, which resulted in very quiet pictures in the Canon 8×25 IS test.
In this process, color errors are also suppressed. At the same time, no disturbing color smears were recorded during test sessions. No less impressive is the high detail accuracy of the Canon 8×25 IS. Only the relatively low dusk number and low light intensity can be objected to, diminishing the imaging performance somewhat, especially at dusk.
Regarding usability, the Canon 8×25 IS image stabilization binocular allows you to quickly and easily adjust the desired sharpness using the rotary knob. Simultaneously, this model from Canon is equipped with a diopter compensation of +/- 3.0, which makes usage comfort, especially for spectacle wearers, all the more pleasant.
The invertible eyecups made of soft rubber also contribute to this. Furthermore, the IS optics allows the regulation of applied voltage using the corresponding button; hence it is economical regarding power consumption.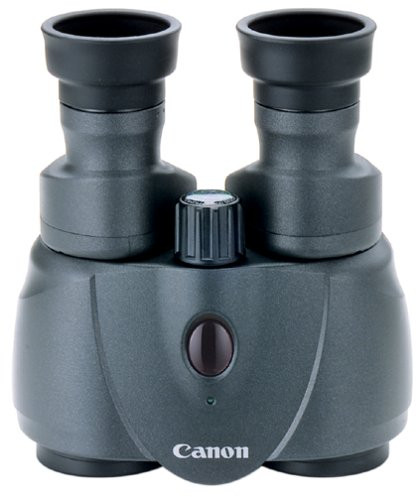 Conclusion
Overall, this binocular is most suitable for general outdoor purposes like sight-seeing, watching a game, race, concert, etc. Image stabilization binoculars are also great for nature view, but this cannon 8x is simple for giving a detailed view of nature that you need to hunt or watch birds.
If you are keen on nature or a wild live observer, you may find them a little disappointing. But for another purpose, as we said earlier- this binocular from Canon will surely give you sharp, bright, and vibrant images in any light conditions. So, we recommend the Canon 8×25 IS Image Stabilized Binoculars Review for all outdoor enthusiasts and amateur wildlife observers.