This Vortex, Diamondback 12×50 Binoculars review, is for those that like hiking, viewing the mountains, and for nature lovers. You'll be glad to know this Vortex Diamondback Binocular can provide optimum characteristics for distant observations. It is one of the top binoculars, and people love it for its efficiency.
Unlike others, this binocular can zoom in with a high level of magnification.
The most noticeable feature is that it is waterproof with O-rings to prevent moisture, dust, and debris from getting inside, and it's fog proof.
The neck strap is amazing and is wide and well-cushioned to rest on the neck properly, making it easier to carry for a  more comfortable use.
It has a soft rubber rain guard and tethered caps.
This is top hunting binocular for the great outdoors, and this Vortex binocular comes at a great price and is not going to disappoint.
In a hurry? >> Check out this Vortex 12×50 Diamondback on Amazon
Features of Vortex Diamondback 12×50 Binoculars
Optical Features:
Phase corrected prisms
The Vortex 12×50 Diamondback binoculars use the roof prism technology, which uses only two lenses forcing light to travel directly to the eye. However, with this technology, the image tends to reflect off the prism surface causing the light to split into two beams.
This phenomenon produces a blurry, less sharp image and, therefore, usually needs to be corrected. The Vortex 12×50 Binoculars contain a phase correction coating on the prism's surface, allowing for a sharper image with good contrast.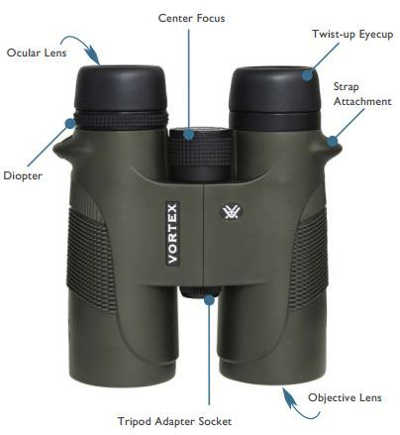 Fully multi-coated optics
Most binoculars have a single-layer coating on one lens, making the vortex binos a high-end pair. This Vortex 12×50 Diamondback contains multiple layers of coatings on the lenses, meaning that great care has gone into the design.
The lenses are also anti-reflective allowing for high-quality images and using the Vortex in bad lighting conditions. Fully Multi-Coated optics increase light transmissions with multiple anti-reflective coatings on all air-to-glass surfaces.
Dielectric Coating
Dielectric multilayer prism coatings provide the Vortex 12×50 binoculars with bright, clear, color-accurate images.
Construction Features:
Argon Gas
The Vortex 12×50 Diamondback Binoculars have argon gas, which purged and O-ring-sealed for fog-proof and waterproof performance.
Fog Proof
Argon gas purging prevents fogging over a wide range of temperatures. The lenses are then sealed with O-rings to avoid any moisture from going inside and causing fog.
Complete Waterproof Protection
Vortex Diamondback 12×50 Binoculars come equipped with waterproof capabilities. It means that all the air has been sucked out and replaced with an inert gas (e.g., Argon or Nitrogen).
O-ring seals prevent water, moisture, dust, and debris from penetrating the binocular for reliable performance in all environments. Vortex 12×50 Binoculars are also very usable during rainy moments as the lenses have been coated to repel water and stay streak-free.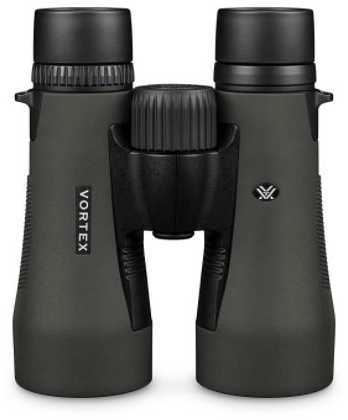 Protective and Rugged Rubber Armor
Hunters and those who use binoculars in extreme conditions will love this feature. The Vortex Diamondback 12×50 Binoculars have a rubber exterior that will protect them from drops, scratches, or even bumps against surfaces.
The rubber is also ridges sculpted into the rubber giving the user the ability to have a better grip. It means that the chances of you dropping them are slimmer because it won't be slippery when handled with wet hands.
Convenience Features: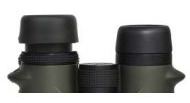 Adjustable Eyecups
Eyecups are adjustable. It Twists up and down for comfortable viewing with or without eyeglasses.
Focus Wheel Center
The wheel adjusts the focus of both binocular barrels at the same time.
Diopter
Diopter adjusts for the user's eye differences. It is positioned on the right eyepiece.
Adaptable Tripod
Vortex 12×50 Diamondback Binoculars compatible with the tripod adapter. It allows use on a tripod or car window.
Smooth Operation:
Functionally, as well as aesthetically, the little hinge and fashionable, a sleek new look not only grabs your eye but leaves more room for your hands, making it physically easier to hold.
Accessories
The Vortex 12×50 Binoculars comes with a carrying case and a removable strap. The Neckstrap padding allows for less strain when worn on the move. The purchase also includes a rain guard made with soft rubber and tethered covers that fit the lenses.
Let's not forget the warranty. Vortex has a no-fault lifetime warranty allowing you to use them for a long time and even pass them on to a loved one. Keep reading this Vortex Diamondback 12×50 Binoculars Review for more features.
 Specifications of Vortex Diamondback 12×50:
Prism Type: Roof (BaK-4)
Magnification: 12 x.
Objective Lens Diameter: 50 mm.
Eye Relief: 14 mm.
Exit Pupil: 4.2 mm.
Focus Type: Center.
Linear Field of View: 1000 yards/241 feet
Closest focusing distance: 2.1 m
Interpupillary Distance: 60 – 75 mm
Height: 6.8 inches.
Dimensions: 17.27 x 14.22 cm.
Width: 5.6 inches.
Weight: 31 ounces.
Tripod Mount: Yes (Adapter Optional)
Light intensity: 17.64
Twilight: 24.5
Field of view at 1000m: 82 m
Gas Filling / Waterproof: Yes
Waterproof: Yes
Twist-up Eyepieces: Yes
Tripod connection: Yes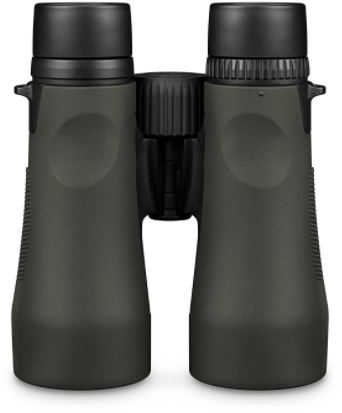 Pros of Vortex Optics Diamondback Binoculars 12×50
The Vortex binoculars are extremely durable and secure to hold due to its rubber and rugged exterior.
The purchase comes with a lifetime VIP Warranty in case you encounter a problem. It is transferable and allows you to pass them on to a loved one. If you need to file a claim, you don't need your original receipt as proof of purchase.
They can be used in extreme weather conditions and has a high magnification property.
Compact and lightweight.
Phase-corrected prisms provide a sharp and contrast-rich image.
BaK-4 prisms ensure a uniformly bright field of view.
Twist eyelid for relaxed observation.
Easy to carry around.
Cons of Vortex Diamondback 12×50 Binoculars
The field of view is, to some extent, less than some binoculars in this range.
What's in the box?
 Vortex Diamondback Binoculars 12×50.
Eyepiece cover.
Tethered Objective Lens Cap.
Comfort Neckband.
Deluxe custom-molded carry bag.
 Recommended Usage
The Vortex Diamondback Binocular 12×50 impresses with its wide field of view, and it's a very short centering distance so that you are perfectly equipped in all areas of nature observation.
Vortex 12×50 Binoculars are usable in various conditions like snow, rain, heat, or cold weather. Their rubber exterior makes them ideal to use in hunting expeditions. It can rub against bushes and thorns, and you can be certain they will remain intact.
The field of view is slightly less than some of its counterparts; however, it still serves its purpose when focusing on a single object. The Vortex 12×50 is ideal for poor light conditions and bird watching activities due to its high-end optics.
Conclusion
Vortex 12×50 Diamondback Binoculars series got a new design in the year 2016. So the remote flash is much more compact than the previous model. The Vortex Diamondback 12×50 Binoculars are extremely competitively priced and greatly valued compared to more expensive sets.
It is compact, as well as its accessories that are a great addition to prevent you from paying extra to obtain these items.
The Vortex manufacturers are a family-owned renowned American company based in Wisconsin. This is a great piece of information because it means that the binoculars are not imported, and therefore the company can offer high-quality products at competitive prices.
I highly recommend the Vortex Diamondback 12×50. The above vortex diamondback 12×50 binoculars review will help you with well informed and make you happy to choose this product.