After buying your binocular, the next main thing to learn is how to focus the binoculars.
Two Types of Focus
The focusing systems of these two are not the same.  You"ll need to focus the binocular to be able to see an object clearly.
We hope it is easy to focus your binocular after reading this article.
How to Focus Binoculars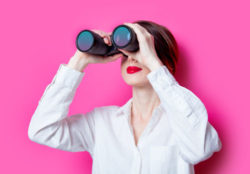 Binoculars are mainly of two types depending on focusing.
They are either a center focus binocular or an individual focus binocular.
Let's see the processes of focusing these two different types of binoculars.
Center Focus Binoculars
Most of the modern binoculars are center focus binoculars and are easy to use. The center focus binocular has a wheel in the center of the binocular.
Usually, the wheel is at the middle side of the two barrels and you can use your fingers to move the wheel.
The Steps of Focusing a Center Focus Binocular.
At first, you should correct the eye relief and IPD distance. Then the right holding position. After confirming all these, you will feel comfortable to see the whole circle or the entire field.
Then select an object of moderate distance as the target and look through the binocular.
Now close the right eye. Or you can also block the right lens with the objective lens.
Look through the left eye to the target and use the focus wheel to focus the image. When you have a clear and sharp view, you have done it.
Then it is time for the right eye. Look at the object and use the diopter to see the image in the focus position. In this case, do not use the focus wheel. Just rotate the diopter to see the sharp image.
You can take note of the setting that you have, so as to use this setting in the future.

Individual Focusing Binoculars
Individual focusing binoculars are easy to focus. Let's see the process.
Look at a distant thing through the binocular. Then close your one eye and see the object with another eye.
Use the diopter to have a sharp, crisp image.
Now open the closed eye and close the other eye. Again use the diopter and set it to the point to see the image clearly.
Then see the object through the binoculars with both eyes. If you are able to see the clearest image, you have successfully focused the object.
To get the best result from your binocular, you must focus it properly.
Focusing on these two types of binoculars is not complicated, we hope you enjoy clear and crisp images during your hunting, bird watching and other activities. Without correct focusing, you cannot use your binocular with full satisfaction.
Read Also: