In this article, you'll get some quality and high performative best binoculars under 500 dollars price range. When you can afford a good amount of money on binoculars, you have the chance to get hunting optics with sharp and brighter performance.
Having a quality binocular can change your experience hunting or touring experience day to night. So, it good to choose a better quality gear even it cost little high.
The good news is, you will get the best binocular under 500 dollars that not only higher in quality (like the frame, glass, prisms, lens coating, etc.) but also very durable.
A binocular with ideal quality glass and lenses coating is suitable for a clear view in low-light. There is another important thing that we forget to consider.
Many binocular may good in low light but very glare in high/bright lights. But if you can get binocular with high-quality glass and prism, it will able to provide fewer glares on bright sunny days.
Top-Rated Binoculars Under $500 in 2019
Buyer's Guide for the Best Binoculars Under 500 Dollars
Binoculars are science more than art. So you have to understand all its scientific option first. These are the things that work for target and show the detail view of an object in front of you.
You will find some numbers or tags o the product description box like 10×42 mm, 4.2, 8x, etc. these are numbers for magnification, brightness and object lenses.
So, while you are reading a product description, you will know how the binocular perform while magnifying an object in different light condition or how bright the image will be. To understand these things better here is some elaborate discussion about the binoculars under 500 dollars.
Magnification
Different type of user need or prefer different types of magnification. A hunter needs high magnification along with a wider view. His importance is locating his prey or an object rather than having the detail view.
On the other hand, those who like to watch the beauty of natures or work with wildlife or birdwatching needs detail view of an object. They need to spot and see an object as clear as a binocular could show them. Usually binocular with fewer magnifications are best for this type of performance. Also if your binocular is with high magnification feature. It will hard for it to hold an image.
To understand this thing easier let's imagine about a glass filled with water in front of you about 8foot distance. In your naked eye, you will see it in a standard size and position like, 1x. When you get close to it like 1 feet, it will appear little big and more clear to you. As you close to it ft by ft, it will be bigger and more precise.
But as you cross the last foot means the eighth ft and there is no distance expects few cm or mm it will be gloomy and very hard to see anything clear. The same thing goes with your binoculars. When you get, 8x-magnification binocular or 10x the last viewing scenario is like the unsharp image with light/color fragmentations.
So, birdwatchers and wildlife watcher should go for 8x to 10x magnification for proper view and clarity. This type of magnification is a good balance of power and realistic view. Others who need to spot their object than seeing in details can go for extensive magnification.
Field Of View
Field of view determines the area of your observation on a single target. The wider field of view is better for easy watching, especially if you wear glasses. Most of birdwatcher or wildlife watchers prefer the wide field of view along with the twist down eyecups.
These eyecups provide better support with the spectacles. So if you wear glass, you will get lot more advantages with the twist down eyecups. Moreover, if you want a clear, crisp view then choose low magnification than the high.
Weight & Size
Binoculars are commonly used is in average size or small in size, but some high features binoculars could be huge in both size and weight. These types of binoculars are perfect for tracking prey and gives an excellent view of both object and background. But heavy binoculars are not easy to carry when you are already carrying lots of stuff in your backpack.
So, if you are a tourist or like to watch view around you then choose the lightweight binoculars. They are easy to carry and make you feel comfortable with holding a long time. Besides, those who have medical issues for carrying the weight they should consider light and compact binoculars for carrying.
This the lenses weight of binoculars that makes it heavy, not the frame. Usually, a low lenses binoculars like 25mm are light compares then a 42mm objective lens binocular.
Brightness
Brightness helps you to see different types of object in various light. It's also useful to show an image with proper color and shape. So, while going to buy a binocular see the brightness features too. If your binocular has 10 x magnifications with 42 mm objective lenses than it brightness will be 5.25.
The higher light points will be more helpful in providing clear, crisp images. But this type of binocular is very expensive. Some manufacturers use a particular kind of coating with highly engineered glass in fewer magnification lenses. These are also pricey but quite helpful for a beautiful view.
Close Focus
Usually binocular in 3m or less along with 8x magnification are good for providing this kind of feature. If you wish to discover the natures of beauty or you are a birdwatcher you can go for this range of binoculars. Tiny things like flower, dragon and butterflies or plants appear very well see through a tight focus binocular.
Price
And finally the price. Price will limit your choice before selecting any product. Here we are discussing the binoculars under 500 dollars so that you will get some best quality product in this range. High-quality products demand a right amount of money no matter what brand it is. Don't go for any binocular more than 200 or 100 dollars.
If you have a tight budget or don't need to spend having a standard hunting gear than stay with the 200/100 dollars budget/ even the 200-300 dollars binoculars suitable for multitasking and give your good view.
Binoculars with a protective coating, high-fi lenses, etc. usually are expensive. They provide a quality performance while zooming in along with a stable image.
So, at first, determine your necessity and working place then look for the available option. After that think about the money you want to spend. If you are entirely new on binocular, it's wise not to go for the expensive product at the first time.
Best Binoculars Under $500 Reviews
Her give some best-rated binoculars under 500 dollars which are great in overall quality and performance. Check them out below.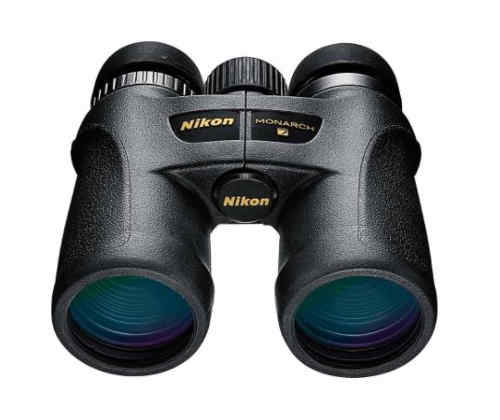 This best binocular under 500 dollars is great for any professional or novice binocular users due to its simple but elegant design structure. It's good for providing impressive image quality and an ergonomic set of optics. That is why Nikon 7548 MONARCH 7 8×42 Binocular is popular among naturalist and hobbyists for many years.
This binocular has 8x magnifications along with 42 mm objective lens that gives you a full field of view. When you are working or observing on a moving object, this wide area make easier with tracing or follow.
Also, it's Dielectric high-reflective multilayer prism also perfect for seeing the bright and more realistic image. So that this binocular is not only gives you the flexibility of wide angle, its come handy on crisp, clear images too.
Furthermore the extra low desperation glass of the binocular works for enhancing the brightness and color fidelity. Beside the roof prisms including phase correction works on detail and bright edges. This binocular has the nitrogen fills housing which keeps it safe from water or being foggy.
It doesn't have the eye relief option which is a drawback for many users especially for those who wear glasses. But still, it's good to use for far or closer to be viewed closer.
This best hunting binoculars under 500 is overall a well performative binocular which suitable for all type of outdoor observation. It's actually brighter, and detail with image compare than any other binoculars. Also, it's handy in weight and design which make it versatile more.
Technical Specifications:
Magnification X Obj Diameter: 8x42mm
Prism Type: Roof
Field of View:420 ft@ 1000 yd
Minimum Focus Distance: 8.2 ft
Exit Pupil Diameter: 5.25 mm
Eye Relief: 17.1 mm
Focus Type: Center
Dimension: 14.2×13.0 cm
Weight: 22.9 oz
Things we liked
Provides extreme wide field of view that makes easier to find your subject or follow.
Good for showing high contrast images with real color.
Includes durable rubber coating for rugged holdings.
Anti-reflective multicoated lens system.
Completely fog and waterproof performance.
Things we disliked
No warranty services.
Eye protectors did not fit well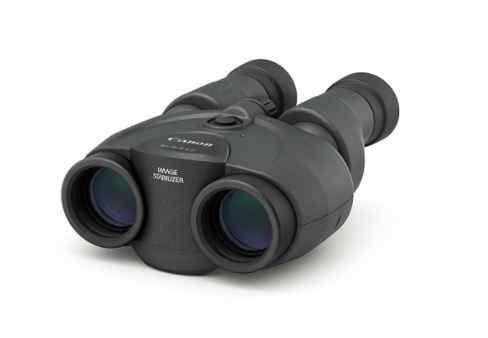 Here are another best-rated binoculars under $500 which are highly portable and perfect for any work of observation. The Canon 10×30 Image Stabilization II Binoculars are excellent stabilization which is similar to Ef lenses from Canon.
However, it has 1.18 inch or 30 mm objective lens and 10x magnification with Porro II prisms. That is why it's useful for providing much clear and satisfying view in perfect daylight or low light.
For more relaxed and comfortable view this binocular also has 15.5 mm eye relief which helps to glass or nonglass users more relaxing usage.
Furthermore, it has improved design on its external body. It has a matte front cover and anti-reflective design which increase its versatility.
That is why the binocular is suitable for watching birds, observing wildlife, fishing, kayaking, hunting or sightseeing. Its rubberized layer on the focus adjustment rings is also added a good control in your hands.
This binocular can maintain stable imaging without using any tripod. Its image stabilization technology that includes vari-angle prism in the front lens and primary crystal work for adjust and correct any external shaking and provides even planning.But not the optic only a microcomputer also enhance this image stabilization.
It works for shorter startups and efficient energy consumption as well. So that you can get balance and stable view when mounting tracking a bird flight or seeing a moving vehicle better than before.
Overall, it's a great binocular with a sharp and clear view. Its extended lens magnification and doublet field flattener show realistic distortion-free images from edge to edge. You can check out our another article title best bino under $500 where we also review this model.
Technical Specifications:
Prism Type: Porro
Magnification X Obj Diameter: 10×30 mm
Field of View: 315 ft@ 1000 yd
Minimum Focus Distance: 4.2 m
Exit Pupil Diameter: 3 mm
Eye Relief: 14.5 mm
Interpupillary Adjustment: 55-75 mm
Dimensions: 5.9 x 5.0 x 2.8 in
Weight: 22.2 oz
Things we liked
Comes with Lead-free glass and Porro II prism.
Lightweight and handy to use.
Long eye relief for the more comfortable view.
Comes with strap and case.
Things we disliked
They are not water resistant.
Not moderate when you are in any moving vehicles.
The previous models of Steiners only made military grade binoculars for battlefield but now they have the civilian version of the binocular which usable for different outdoor activities.
The Steiner MM 10×50 features 10x magnification, 50 mm objective lens, with 1000 yards or 302 ft field of view.
This binocular adapted for rugged all- around use. It is good for providing clear, battle worth imaging in different light conditions. Its high magnification and large objective lens are perfect for hilly country, terrain and other low light conditions.
The spots autofocus feature of the binocular keeps everything around you in focus from yards 20 to infinity. You can see everything clearly without constant focusing if you have Steiners.
The body construction of the binocular is made with Makrolon housing, it has a light but long lasting polycarbonate chassis that can bear 11 G's in pressure.
You can use this binocular in rain or shine. Its fog and rain resistant and survive in the hardest conditions.
Technical Specifications:
Magnification X Obj Diameter: 10x50mm
Field of view: 302 ft @ 1000 yards
Eye relief: 17 mm
Focusing: Constant Focus
Prism Design: Porro
Lens Coating: Fully Multi Coated
Close Focusing Distance: 20 Ft
Things we liked
Light easy to hold and carry.
Good for single hand operation.
Sharp and clear image.
Rigid and durable.
Shock absorbent rubber armor surrounded.
Things we disliked
The price could be more reasonable.
Need to focus everything manually.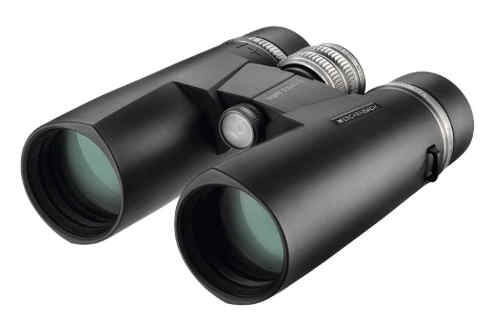 The best binocular under 500 dollar from Eschenbach trophy D 8×42 ED glass binoculars is ideal for wide range of
view and quality performance. This binocular has conventional prisms, the Porro prism it's larger than the regular prism but not that long. It offers better stereoscopic depth in short distance compare than roof prism binoculars.
For better optics, it has ED glass which true light reflection which could break the barrier for a clear view in bright lights. It works for minimizing chromatic defaults and eliminates the color fringes for the edges. So that you can see sharp and realistic images every time in every light condition. It has 8x magnifications along with 42 mm objective lens.
To keep safe the lenses from the water this best marine binoculars under 500 dollars has nitrogen filling which protects the lenses from fog and water.
The body structure of the binocular consist of the metal frame and magnalium alloy and suitable for surviving any rough or harsh condition but it's not 100% shockproof. Even with the high lens capacity, it's quite handy to use. The binocular is only 1.7 pounds and very sleek in design.
Moreover, its extended lenses size makes it so useful in low light condition. If the weather is bad, means cloudy or in the twilight, it shows amazing views every time. However, it does come with a warranty for two years. If there is any malfunction of damage, you will cover up for a couple of years.
Even with a small focal point is has the amazing light gathering property and keen focus ability. It's easy to adjust, mounting in your tripod for watching wildlife or observing the night sky. Also, the weatherproof and other additional facility makes it more useful and very striking to any binocular user.
Technical Specifications:
Magnification X Obj Diameter: 8×42 mm
Prism Type: Roof
Exit Pupil: 5.3
Twilight Factor: 18.33
Eye Relief: 11mm
Close Focus Distance: 8.2 ft
Weight: 27.7 oz
Dimensions: 5.6×2.3×4.9 in
Eyecup Diameter: 41mm
Field of View: 408ft @ 1,000 yds
Lens Coatings: Fully Multi-Coated
Things we liked
Good for showing sharp and detail images in different light condition.
Has got magnalium housing and durable metal wheels.
Waterproof and filled with nitrogen.
Its tripod thread always ensures shake free secure viewing.
Things we disliked
It has a narrow focal point which gives complication sometime in focusing.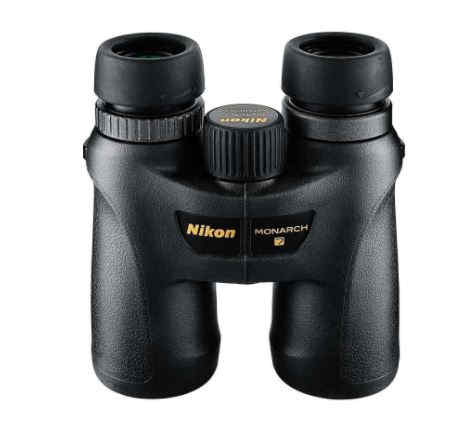 Last but not least our final best binocular under 500 dollars is Nikon 7549 MONARCH 7 10×42 Binocular. This binocular is full of feature and faculty that every men and woman want in their binoculars.
This binocular is very lightweight and sleek in design. It's slim body rugged with soft rubber- but still the binocular is only one pound and feel very nice. It has multi-layered eco-friendly glass lenses with waterproof and fog proof feature.