In this Zeiss Terra Ed, 10×42 Binoculars Review, we will look at all the noteworthy features, specifications, and benefits of this binocular. We also describe the difference between Zeiss terra ED 10×42 vs. Nikon monarch 7 and Zeiss terra ED 10×42 vs. vortex viper HD for you to decide on what will be perfect for you.
Probably the most well-liked, reasonable binocular model is Zeiss Terra ED on the market right now. Zeiss is one of the most trustworthy spotting scope and binocular manufacturers in the optical industry nowadays.
This elegant good looking Zeiss Terra ED is one of the best binoculars, and Zeiss is very concerned about quality.
Technical Specification of Carl Zeiss Terra ED 10×42 Binoculars
Color: Black
Magnification: 10x
Objective Diameter: 42 mm
Dimensions: 1o H X 6.5 W X 7.5 D Inches
Item weight: 1.5 pounds or 1.5 Ibs
Focus distance (minimum): 1.6 m
Exit pupil: 4.2 mm
Eye relief: 14 mm
The angle of view: 2.2 – 1.0°
Focus type: center
Interpupillary Adjustment: 22.6 – 29.9″
The angle of view: 60° (apparent)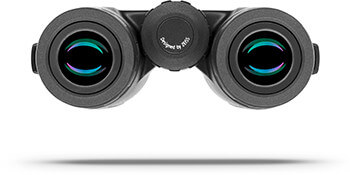 Highlighted features and benefits of Zeiss Terra Ed 10×42 Binocular
Let's dig into the advantage and features of this binocular-
Glass-reinforced Polyamide
More than anything, the Terra ED chassis is made up of Glass-reinforced Polyamide. Generally speaking, various industries use about 35% of polyamide for extreme strength as well as durability. In binocular, it is used for lightweight but durable. Moreover, it's an extra feature for easy to move.
Precision Focusing
The first noticeable feature of this binocular is its close focus, full revolution with the focus wheel. Zeiss Terra comes with 375 feet of field of view and an 8x roof prism. On the other hand, the magnification of 10x42s comes in at 330 feet, which is enough for binocular. So the sharpness and clarity are pretty good.
Hermetic Seals Ensure Waterproof/ Fog-proof
The feature we like to mention is its water resistance. Zeiss designed it with hermetically sealed. So that it protects against internal fogging. At the same time, the hydrophobic coating gives water resistance. We see this hydrophobic coating technology in very few binocular in the market today.
Comfortable Eyecups with large Eye Relief
The Zeiss Terra ED 10×42 binocular comes with stiff eyecups and solid flexibility to low or raise them. The configuration of 8X42 eye relief with the 18 mm eyeglass makes it far better from the rest of the other. On the other hand, 14 mm eye relief is more than enough for almost every eyeglass wearer.
Diopter Adjustment
Being diopter adjustment, it is moving stiffly with great compatibility with the diopter setting. It is a ring placed near the right barrel just ahead of the eyecups. Moreover, it is a special feature of the Zeiss binocular series and appears in this model.
The Tripod Adapter
Thanks to its tripod adapter! It is a must-have feature, and you don't need to spend extra money on it as the tripod is with the binocular. If you are a professional bird watcher, you can understand how even a small amount of movement is unavoidable. Just a slight movement can blur the entire image. So a tripod is pretty helpful indeed.
What we liked
Pretty Lightweight
Easy access
The High-Resolution Field
Low Light Viewing
Close Focus
Rain Guard
What we disliked
The only thing about its cons is its A bit expensive.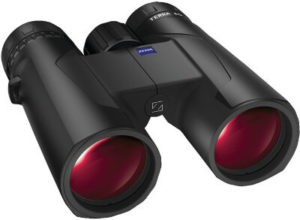 Zeiss Terra Ed 10×42 vs. Nikon Monarch 7
When choosing a powerful binocular with great magnification, Nikon Monarch and Zeiss Terra ED are far better than others on the market right now.
Though both of them are affordable, Zeiss is even cheaper than Nikon Monarch 7.  Being 10×42 binoculars, both of the binoculars provide excellent magnification.
So they can capture long-distance objects as well as great for hunting. At the same time, they come with precious and smooth focusing.
On the other hand, the significant difference between these binocular is the amount of visible CA. in a word, Chromatic aberration or CA is an optical distortion which is used to give a bit blurry and focus various color at the same convergence point.
In Nikon Monarch 7, there is no CA in the center. So if you are sensitive to CA, you should pick Zeiss Terra ED, which has a modest amount of CA in the center and a bit more on edge.
Zeiss Terra ED 10×42 vs. Vortex Viper HD
Zeiss Terra ED and Vortex Viper HD are the popular binocular in the optical industry today. In terms of a budget-friendly binocular, Zeiss Terra ED is ahead, actually.
It's affordable, at the same time great quality and with a decent performance. Meanwhile, the  Vortex Viper HD is a bit more expensive yet worth the higher price.
Zeiss Terra ED 10×42 is pretty solid and nice in design, and the aluminum housing used in it makes it lightweight yet durable. Also, hard-rock non-slip handling gives a trustworthy griping area. It features convenient viewing and comfortable eyecups.
On the other hand, Viper HD is sturdy, solid, and truly well-built. The O-ring seals are capable of preventing dust, debris, and moisture. And the argon gas purging makes it waterproof and fog proof.
A compact package of useful accessories such as a lens cover, a great strap neck, Rainguard, and comfortable carrying case is with this binocular.
Carl Zeiss Terra ED 10×42 Binoculars Video Review

Wrapping up
Modern technology is making some impressive top quality binocular, and this model from Zeiss is such an item.
Hopefully, the Zeiss Terra Ed 10×42 binoculars review will be helpful for you for your next buy. There are varieties of high-quality binoculars out there for a low budget to wrap up this article, but this model's high price is surely worthy of it.
Honestly, it's hard to find a good quality binocular if you're seeking something affordable and functional in one. Still, we are more than happy to recommend this Zeiss Terra Ed 10×42 Binocular.